Restaurants
This new spot serves food until 1 a.m. and has a champagne vending machine
The Ghost Walks debuted in the Theater District on Thursday.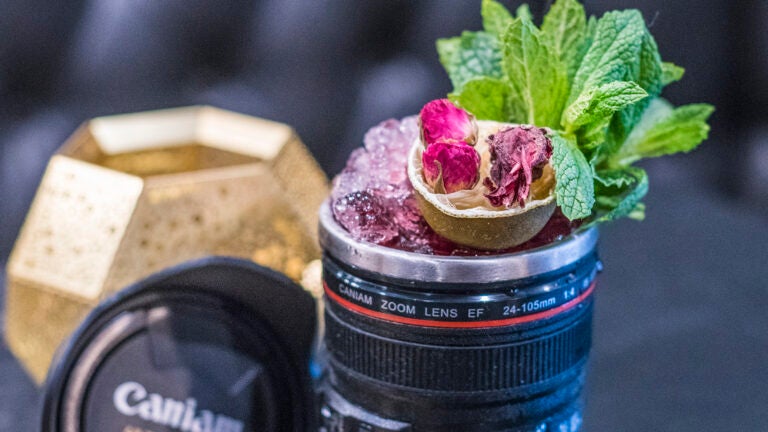 For an essential guide to the city, sign up for How to Boston, Boston.com's weekly culture and lifestyle newsletter.
Hip raised-skull wallpaper, framed top hats at every one of the plush, black leather booths, and a mirrored bar in the center — that's the scene at cocktail bar and restaurant The Ghost Walks, downstairs from club Bijou in the Theater District. It's the newest venture from George Aboujaoude, who already made a splash with Cafeteria in the Back Bay and Committee Ouzeri + Barin the Seaport District.
According to general manager Peter Szigeti, who served as beverage director at Committee, the new venture's name comes from the first act of "Hamlet," when the ghost of the eponymous character walks across the stage. When theater promoters used to have a good week and could pay their actors, it was said that "the ghost walked."
"We wanted to do something as an homage to the neighborhood, so there are touches everywhere for the Theater District," Szigeti said.
Szigeti's bar program includes mixed signature cocktails with names like the Paparazzi and the Box Office. Vessels are popcorn boxes, and glassware comes nested inside camera lenses.
There's also the piece de resistance: the champagne vending machine. Go to the bar and get a token, then head to the corner for mini bottles of bubbly. Wine, local beer, and Jack and Coke fans need not worry, as the old standards will represent, too, but Aboujaoude, Szigeti, and Chef Aaron Lhamon said they're going for anything but typical with their concept.
"Yes, our regulars may know you can get a burger on the secret menu, but it's not meant to be where you come in after work for some big-label beer and a 'bar burger' before a game," Szigeti said.
Lhamon, an alum of Fox's "Hell's Kitchen" who also formerly worked at Sel de la Terre and Troquet on South, brings a collection of small and large plates, along with one of his family favorites inspired by his grandma's slow-roasted Boston-style chickpea baked beans recipe.
"Boston needs to take more chances with food," Lhamon said. "The idea is to push the envelope and get in people headed to Bijou or the theater, where it's a special experience."
Make that a real late night out if you wish, as unlike most places in Boston, The Ghost Walks currently serves food until 1 a.m. It's all part of the culture in Budapest, where Szigeti got his feet wet bartending at clubs that were open until the wee hours.
"You don't have to rush," he said. "There's more time for the types of fresh, creative garnishes and flourishes that we're going to do here."
The Ghost Walks, 57 Stuart St., Boston; tgwboston.com
Update: This article has been updated to reflect The Ghost Walks' amended hours.