Restaurants
A Mexican chef on finding authentic Mexican food in Boston
For Villa Mexico Café's Julie King, authenticity means a combination of passion and tradition.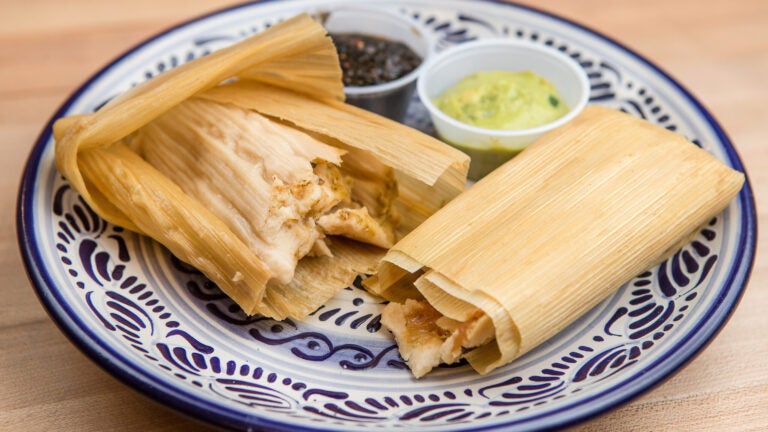 For an essential guide to the city, sign up for How to Boston, Boston.com's weekly culture and lifestyle newsletter.
Julie King is the chef and owner of Villa Mexico Café, the Mexican joint in the Financial District known for its spice-laden burritos and house-made black salsa. But there was a time when Momma King, as she's referred to by her loyal customers, wasn't so fond of the culinary life.
"Before I was married, I didn't like cooking," she said. "My mother would even say that I would burn water."
Still, cooking was an integral part of King's childhood in Puebla, Mexico — she remembers being 5 years old and watching her grandmother stretch dough over her knees for buñuelos, a local fried dough treat. After she got married, she lived with her new grandmother-in-law until she learned her way around the kitchen.
"There was no culinary school then," she said. "We follow the rules of our ancestors. Everything was passed down, and I learned everything by watching."
King moved to the Boston area 18 years ago with no plans to open a restaurant. She said that changed when, craving food from home, she realized there were slim pickings for authentic Mexican restaurants at the time.
"Whenever we went to get Mexican food, it was awful," she said. "It was Tex-Mex or something else, not Mexican. I missed my food too much. I decided to open my own restaurant to teach people what real Mexican food is."
King initially opened in Woburn, and eventually earned notoriety in Boston for serving traditional tacos in a gas station in Beacon Hill. She moved her operation to the Financial District in 2016, after the gas station was demolished to make way for developments. Today, you'll find a line out the door nearly every weekday lunch hour.
King said there are more options for traditional Mexican food in Boston than there were when she arrived, but she still laments the versions of Tex-Mex or fusion cuisines that she says erroneously call themselves "authentic" around the city. She said there's a general misunderstanding about what authentic Mexican food is.
"People come [to Villa Mexico Café] and get upset because there are no nachos," she said. "But, we don't have nachos in Mexico."
At the end of the day, though, King said it's not just the ingredients that make authentic Mexican food special.
"Our food isn't easy to cook," she said. "It takes time, dedication, and a lot of love."
Here are some of King's favorite authentic Mexican restaurants in the Boston area.
Casa Romero
This colorful Back Bay restaurant has been around for 46 years, and it was the only place King thought was up to snuff when she first moved to Boston. Eighteen years later, it still holds water, she said.
"[Owner Leo] Romero is a very good man," King said. "He's a beautiful person. He cares so much."
The restaurant's alley entrance off of Gloucester Street is signaled by a colorful tile sign, and inside you'll find an eclectic dining room with a small bar. Diners can sip mezcal al fresco on a seasonal patio, and shouldn't miss homestyle dishes like enchiladas verdes and hearty chipotle and orange-braised pork loin.
Tenoch
At this local chain, King said it's all about the torta, a Mexican sandwich piled high with everything from chorizo and Oaxacan cheese to fish and cucumber. There are plenty of tacos available, too, and fresh tamales often make a guest appearance. (Call in advance to ask if they're being made that day.)
Tenoch has locations in Medford, Somerville, and the North End, and its food trucks zip around the city most weekdays. Check the website for updated location information.
El Centro
With locations in the South End, Brookline, Belmont, and Dedham, this family-owned restaurant group from Chef Allan Rodriguez has a stronghold on the local carne asada scene. But it's the brunch selections King likes best — she called out the egg dishes in particular. Diners can try machacazo norteno, scrambled eggs with Mexican dry beef, and desayuno Juan Diego, scrambled eggs with cactus.