Restaurants
Boston gets North Shore-style roast beef sandwiches, right in the Back Bay
Mooncusser Fish House and Moon Bar adds Cusser's Roast Beef and Seafood as a lunchtime option.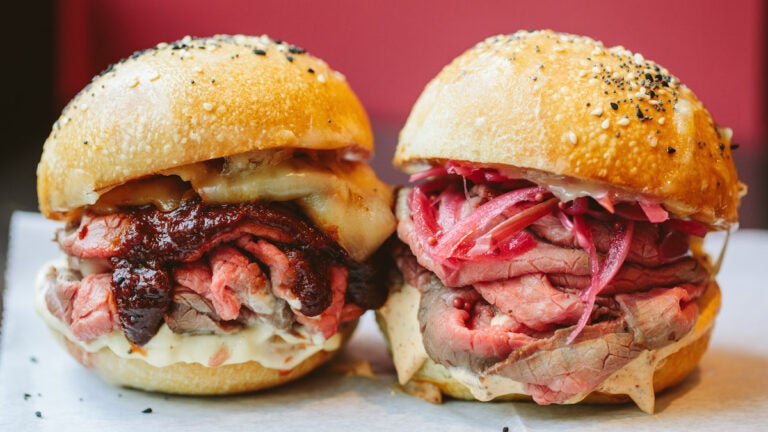 For an essential guide to the city, sign up for How to Boston, Boston.com's weekly culture and lifestyle newsletter.
Dinner-only upstairs Mooncusser Fish House and the more casual ground floor Moon Bar opened last July in the triangular building where Stuart Street, Arlington Street, and Columbus Avenue meet in the Back Bay. Mooncusser has been earning its seafood street cred since; Yankee Magazine's editors recently named its seafood the best of Boston and Cambridge in the publication's 2018 Editors' Choice Awards.
Now, a new ingredient has been added to the equation. As of Monday, during weekday lunch hours, Moon Bar's big, circular bar morphs into a luncheon counter, and a takeout window on Stuart Street opens up. Both serve roast beef sandwiches, lobster rolls, chowder, swordfish souvlaki, and seasonal salads.
The new joint is called Cusser's Roast Beef and Seafood, and it's not a pop-up, nor something co-owners Ian Calhoun, Carolyn Johnson, and Vincent Vela (who also head 80 Thoreau in Concord) did on a whim with the warm spring weather.
"It was always in our original design plans," said Calhoun after the first lunchtime service Monday. "We wanted to use the winter to plan for using the window efficiently. We did a lot of testing and development. We would have opened it in April, but we were slow and so was the spring. I think this is perfect timing."
The takeout window is the finishing touch to the Cusser's concept, which is playfully inspired by North Shore-style casual roast beef and seafood spots. Calhoun said that coming from a fine dining background and not a fast food one meant doing some real legwork.
"In March I worked at my friend's pop-up delis in Los Angeles," he said. "We want to get it right."
While there's plenty of fish on the lunch menu, the new twist comes courtesy of the roast beef sandwiches, which are served in two styles: a North Shore classic (barbecue sauce, mayo, cheese), and one that emulates 80 Thoreau's spicy sauced burger (spicy mayo, pickled red onions, and cheddar).
Calhoun said this new direction fits the Mooncusser concept. Mooncussers were 18th-century shipwreckers who worked on land along the New England coast, luring ships onto rocks with fake beacons.
"Roast beef and seafood are rooted in the area that we're in. But also, a mooncusser is a shipless pirate, so it makes sense he might be eating roast beef," Calhoun laughed.
Cusser's Roast Beef and Seafood is open from 11:30 a.m. to 2 p.m. Mondays through Fridays.
Cusser's Roast Beef and Seafood, 304 Stuart St., Boston; cussersroastbeefandseafood.com