Restaurants
A casual Legal Sea Foods concept is open in Quincy Market
It offers Asian-inspired bowls, clam chowder, and Haymaker's Punch.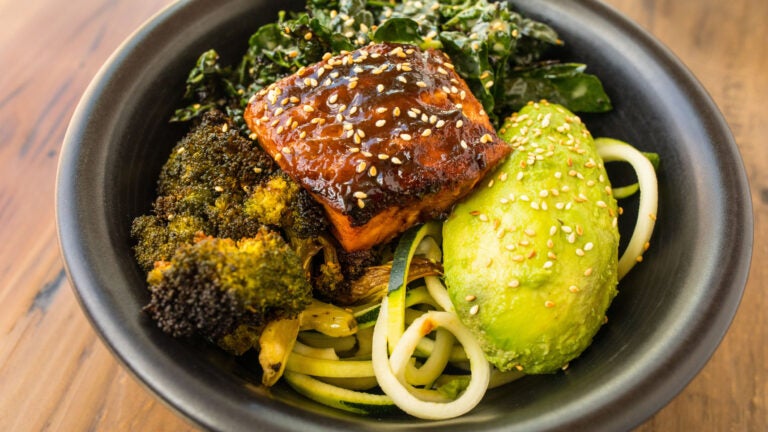 For an essential guide to the city, sign up for How to Boston, Boston.com's weekly culture and lifestyle newsletter.
A little more than one year after the first edition of a fast-casual concept by Legal Sea Foods hit Kendall Square, a new location has revved up for business.
Legal Fish Bowl and its Asian-inspired bowls landed in Quincy Market on Monday.
The stall offers six signature creations, as well as a create-your-own option comprised of five bases, a dozen sides, seven proteins, five "crunchy nibbles," and six dressings, according to a press release.
Signature bowls range from $11.95 to $13.95. Options include the "Noodle It Over Shrimp" with marinated organic shrimp, lo mein, marinated mushrooms, rainbow carrots, spicy roasted sweet potatoes, cucumber, scallions, basil, cilantro, mint, and a tahini dressing; and "Chicky Chicky Bang Bang," with soy ginger chicken, jasmine rice, grilled lemon kale, spicy roasted sweet potatoes, charred broccoli, sunflower seeds, and an orange-chipotle dressing.
Bowls of Legal's famous clam chowder going for $9.95 are also on the menu, for those looking for a more quintessential New England eating experience.
To wash down the meal, customers can grab one of Legal Fish Bowl's three house-made beverages: lemonade, organic green tea, and Haymaker's Punch.
The compact 850-square-foot space inside Faneuil Hall's market features "oceanic elements while incorporating the historic Marketplace character," according to the press release.
Legal Fish Bowl; 4 S Market St.; legalseafoods.com