Restaurants
Where to get great food in Boston without a reservation
Chef Tony Messina shares his favorite spots across the city for delicious food and drinks without the wait.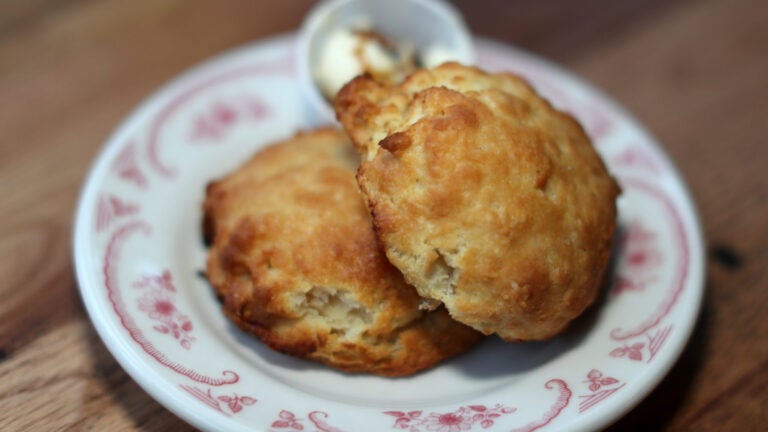 For an essential guide to the city, sign up for How to Boston, Boston.com's weekly culture and lifestyle newsletter.
There's nothing worse than getting to a restaurant on a Friday night and learning that it has a two-hour wait.
Tony Messina, executive chef and partner at Back Bay izakaya Uni, spends a lot of his time in the kitchen. So on nights he's not busy whipping up spring pea cacio e pepe with porcini mushrooms or Uni's famous ramen (which only pops up on the late-night menu after 11 p.m on Fridays and Saturdays), he prefers not to wait around for a table to open up.
Here are a few of his picks to keep in mind for the next time you want good food or drinks fast.
Bar Mezzana
Messina said he's gone into this coastal Italian restaurant in the South End to "stuff his face" more than he probably should have, and recently has been really enjoying its bruschetta menu.
"Colin and Heather [Lynch] are my favorite people in the world," Messina said of Bar Mezzana's owners. "The bar program is fantastic."
Bar Mezzana typically does have a wait, especially on weekend nights, but Messina said that this is one of the best spots in Boston to eat at the bar. (360 Harrison Ave., Boston)
Blackstrap BBQ
Located right in Winthrop Center, Messina said Blackstrap started out as a tiny barbecue joint that has recently expanded in size after getting a lot of great press and recognition for its food.
"Now they have a full-on bar with a TV, so you can kick back and relax there and watch a game. It's usually a bunch of locals, so it's always a good time," he said.
Although Blackstrap has been getting busier as of late, Messina said he can almost always go in and grab a table without a wait.
When trying to decide which direction to take with your order, the answer is simple, Messina said: Go for the burnt ends sandwich. (47 Woodside Ave., Winthrop)
KO Pies
Messina grew up in East Boston and currently lives there, as well, which is why he prefers to spend a lot of his free hours in that part of the city.
Located right in the Boston Harbor Shipyard, Messina said he chooses Australian-inspired KO Pies for its great views, sizeable beer selection, and unpretentious ambiance, especially in the warmer months.
"There's lawn games and it's all outdoors," he said. "It's hard to describe; you just have to go for yourself and really see it. It's such a blast."
Messina said that KO Pies almost always has room for a quick bite. He also said all of the meat pies (for which the spot is famous) are truly excellent, but that its salads are also well worth checking out.
"The shrimp salad is phenomenal, and there's a chickpea salad which is also great. [Owner Sam Jackson] does really great chicken wings, too, and his french fries are actually amazing," Messina said. (265 Marginal St., Building 16, Boston)
Our Fathers
Since opening late last year, Our Fathers in Allston has served up classic Jewish comfort foods like matzo ball soup and pastrami sandwiches. But it's also well-known for its colossal gin list.
"I'm a big gin guy, so I love Our Fathers. It's right up my alley," Messina said.
Although Messina hasn't yet made his way through the entire gin cocktail program, he said he's excited to keep going back.
And while Our Fathers has ample table and bar space, Messina also mentioned the takeout menu for extra-quick sandwiches, salads, and soups. (197 N. Harvard St., Boston)
Southern Proper
For really good fried chicken and even better waffles, Messina said he heads to one of the newest additions to the South End, Southern Proper. The waffles are made with corn, which Messina said he finds particularly appealing because they aren't overly sweet.
One of the best things about this spot, he said, is that the plush velvet bar seats are comfortable enough that, even if you don't get a table, it's still easy to enjoy a great meal. (600 Harrison Ave., Boston)