Restaurants
The 30 biggest restaurant openings of the past year (and 5 more to look out for)
We examine what defined Boston's restaurant scene in the last 12 months — and what will come next.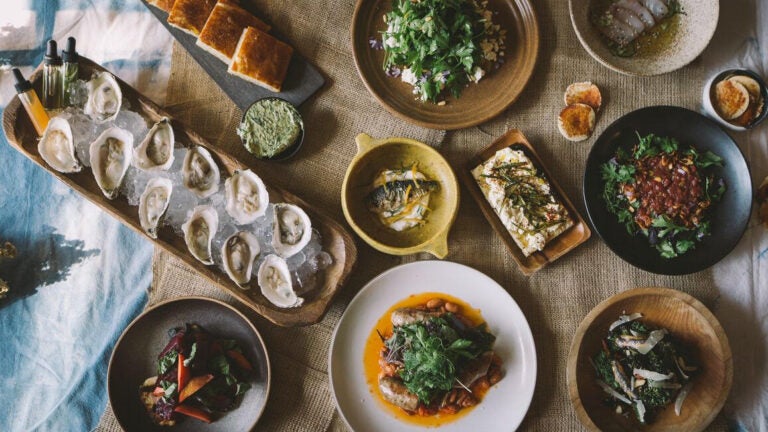 The past 12 months have been a banner year for greater Boston's restaurant scene. Beloved pop-ups such as Better Bagels and Oisa Ramen found their own homes, and neighborhoods from South Boston to Somerville welcomed chef-driven, independent restaurants exploring everything from Japanese-Hawaiian to old-school Italian-American. Here's what we consider to be the 30 biggest openings of the past year, plus five more restaurants to look out for in the coming months.
1. Backyard Betty's
Backyard barbecue-inspired fare comes with a side of Americana at this South Boston newcomer, which offers Nashville hot chicken and steak tips in a retro-themed space filled with red booths, vintage signs, and a hanging motorbike. (170 W. Broadway, Boston)
2. Better Bagels
Better Bagels had been popping up at the South End's Coppa for years, but at the end of 2017 it finally got a storefront of its own. The Seaport location gives fans the chance to pick up hand-rolled, New York-style bagels by the dozen, or indulge in hefty bagel sandwiches, like a pork roll, egg, and cheese number dubbed The Jersey Shore. (83a Seaport Blvd., Boston)
3. Blossom Bar
Ran Duan turned Woburn into a cocktail destination by opening The Baldwin Bar within a Sichuan restaurant started by his parents, and he repeated the trick by transforming Brookline Village's Sichuan Garden into Blossom Bar. However, it's no Baldwin Bar clone: The cocktail program helmed by Will Isaza focuses on South American spirits (largely rum), rather than Tiki. While the mid-century modern space is a far cry from Sichuan Garden's old digs, the former restaurant lives on through a food menu stocked with Sichuan staples. (295 Washington St., Brookline)
4. Bodega Canal
The team behind Ward 8 and North Square Oyster made its second contribution to the streets surrounding TD Garden with Bodega Canal, which caters to post-game and concert crowds with Mexican crowd-pleasers like beef and queso-topped nachos supreme alongside more elevated dishes like a tuna tartare tostada and seven types of tacos. A margarita-fueled drink menu has created a weeked scene that rivals that of Bodega Canal's predecessor, The Grand Canal. (1805, 57 Canal St., Boston)
5. Boston Chops Downtown
The new Downtown Crossing location of Boston Chops packs all the gilded, neo-steakhouse glory of the South End original into a two-story space that once housed a bank. The menu is almost identical to that of the original location, though it also provides dishes including a seared foie gras appetizer and an expanded raw bar, paving the way for plenty of downtown power lunches marked by seafood towers and double-cut pork chops. (52 Temple Place, Boston)
6. Bow Market
Opened in May, Bow Market is a collection of more than 30 small businesses offering everything from home goods to eyebrow shaping. Its first floor is reserved for food vendors, and current occupants include the empanada-slinging Buenas, farmer's market favorite Jaju Pierogi, and macaroon maker Maca. Forthcoming food spots include global eats-focused Nibble Kitchen and a vegetarian outpost of Saus. (1 Bow Market Way, Somerville)
7. The Broadway
The Broadway is the successor restaurant to (and from the same ownership of) The Boston Beer Garden, and it continues the casual vibes of its precursor with a laidback, industrial space and a menu heavy on comfort foods and innovative, wood-fired pizzas. Of course, there are some decidedly un-Boston Beer Garden touches that set it squarely apart, such as a nitro espresso martini on draft. (726 E. Broadway, Boston)
8. Casa Caña
The Lower Allston renaissance continued in August  with the opening of Casa Caña, a "New Latin" restaurant and rum bar, in the Studio Allston Hotel. The menu, focused mostly on snacks and small plates, dishes up both the familiar (ceviche, cubanos) and the less well-trod (tostones, yuca fries). A smaller selection of full-sized plates exist in the form of short rib ropa vieja, moqueca (Brazilian seafood stew), and whole-grilled black bass. (1234 Soldiers Field Road, Boston)
9. Celeste
Union Square has been home to a small clutch of mom-and-pop Peruvian restaurants for years, but the opening of Celeste represented a new chapter in the area's relationship with Peruvian fare. Celeste's team — which includes the duo responsible for one-time pop-up Kriollo Real — serves a small menu of home-cooked Peruvian dishes, such as ceviche, spicy potato terrine, and cilantro stew in a thoroughly modern space. (21 Bow St., Somerville)
10. Chickadee
Backed by No.9 Park veterans, Chickadee opened a 120-seat restaurant within the Innovation and Design Building that focuses on seasonal ingredients from local farms. It is "Mediterranean-inspired," but doesn't box itself in. Expect an eclectic menu stocked with the likes of sour cream and onion doughnuts, spiced lamb tartare, and pastas like squid ink fusilli and cavatelli with loukaniko sausage. (21 Drydock Ave., Boston)
11. Citrus and Salt
Jason Santos put Back Bay Harry's out to pasture in favor of Citrus and Salt, and the former's Art Deco digs have been replaced by cacti, strung lights, and a Día de Muertos-inspired mural. A "coastal Mexican" menu translates into sea-oriented dishes like Jonah crab tostadas and beer-battered fish tacos, but Santos being Santos, expect a few out-of-left-field inclusions like duck confit flautas and Dole whip. (142 Berkeley St., Boston)
12. Cusser's Roast Beef and Seafood
In May, Cusser's Roast Beef and Seafood completed the all-under-one-roof restaurant trilogy, joining the upscale Mooncusser Fish House and wine-focused Moon Bar, and it's by far the most casual of the three. Inspired by the "roast beef and seafood" shacks of the North Shore, Cusser's dishes out slightly more elevated forms of that fare (like a tarragon mayo lobster roll and a roast beef sandwich served "North Shore-style" with barbecue sauce, mayo, and cheese) from a street-level takeout window. (304 Stuart St., Boston)
13. Eventide Fenway
Longtime Portland, Maine, favorite Eventide Oyster came to Boston not as a clone of its original self, but as a fast-casual spot. You'll find a slightly bigger version of its infamous brown butter lobster roll, plus other quick, pre-Sox game options like a fried chicken katsu sandwich and brown butter soft serve. The "oyster" part may have been dropped from this location's name, but there are still plenty of mollusks alongside several crudo dishes. (1321 Boylston St., Boston)
14. Exodus Bagels
Another nomadic bagel maker to set down roots in 2018, Exodus opened a cafe in Jamaica Plain, so you can now find its cold-fermented bagels made from a six-hour quick sour starter in one place. Bagels are also served as sandwiches with classic fillings, like smoked salmon and cream cheese, and as part of a regularly changing, typically over-the-top sandwich special. (3346 Washington St., Boston)
15. Fat Baby
Fat Baby marked another notch in the continually evolving dining scene of South Boston, offering an eclectic twist on sushi that resulted in off-kilter rolls like the Miso Philly (smoked salmon, miso cream cheese, cucumber, caper dill crema) and the So Beefy (short rib, spicy queso fresco, stout aioli). A selection of Pan-Asian comfort classics like Korean fried chicken and crab rangoon rounds out the menu. (118 Dorchester St., Boston)
16. Field and Vine
Field and Vine picked up where tasting menu spot Journeymen left off in Somerville's Union Square, providing an often-changing menu of small plates focused on local farms and seasonality. Field & Vine also sends some of its goodies like buttermilk ranch popcorn and a crispy chicken sandwich over to cocktail bar Backbar. (9 Sanborn Court, Somerville)
17. Fool's Errand
Tiffani Faison's Fenway mini-empire grew once more with Fool's Errand, a diminutive standing room only spot connected to Sweet Cheeks. In contrast to the gargantuan portions of the latter, Fool's Errand serves snack-sized portions of raclette and truffle sandwiches, and lobster skewers with crushed garlic bread. (1377 Boylston St., Boston)
18. The Ghost Walks
At first glance, The Ghost Walks seems like another glitzy nightlife venue in the Theater District. But a closer look reveals an inventive drink menu crafted by Committee's Peter Szigeti that matches Instagrammable gimmicks (popcorn boxes and DSLR cameras are used as vessels) with inventive flavors to create drinks that taste every bit as interesting as they appear. (57 Stuart St., Boston)
19. Grassona's Italian
Fairsted Kitchen may have gone to restaurant heaven, but its team stayed on to turn its former space into Grassona's, an Italian spot with a delightful focus on red sauce. Slow-braised meatballs and Bolognese are on call any night of the week, but you'll have to drop in on Tuesdays to score the two-day-marinated take on that holy grail of Italian-American cookery: chicken Parmesan. (1704 Beacon St., Brookline)
20. Highland Fried
The closure of Inman mainstay East Coast Grill was eased by the arrival of Highland Fried, which combines the high-low stylings of Highland Kitchen with a menu of barbecue platters and tiki drinks. While fried chicken — available by the piece, as a dinner, or a whole bird — is the centerpiece, barbecue platters and comforting fare like griddled cheeseburgers and Highland Kitchen's popular buffalo-fried Brussels sprouts are also on hand. (1271 Cambridge St., Cambridge)
21. Momi Nonmi
Momi Nonmi brought a specific but welcomed sub-genre — Japanese by way of Hawaii — to Cambridge in a small, stark space marked by rough hewn woods. Its izakaya-style menu blends the familiar (yakitori, wagyu beef dumplings) with more island-specific dishes (a teppanyaki loco moco topped by a grass-fed beef patty and a fried egg). (1128 Cambridge St., Cambridge)
22. Moody's Delicatessen
A trip to Waltham is no longer required to find one of the best pastrami sandwiches (or any type of sandwich, for that matter) in the state, thanks to the Boylston Street location of Moody's Delicatessen. Charcuterie afficandos will also discover a wide range of chef/owner Joshua Smith's New England Charcuterie in the deli section, alongside other pantry-stuffing goodies like pickles, hot sauce, and mustards. (500 Boylston St., Boston)
23. Nathálie
The latest move from the team behind Downtown Crossing's Haley.Henry is Nathálie, a natural wine bar within the new Pierce Boston tower in the Fenway. While the newly opened restaurant retains Haley.Henry's focus on wine, its kitchen program goes beyond the tinned fish offerings off the first project, featuring dishes like corn bisque with Jonah crab and gorgonzola and lamb-stuffed tomatoes. (186 Brookline Ave., Boston)
24. Prairie Fire
The team responsible for Steel & Rye in Milton brought its magic to the Boston area in the form of Brookline's Prairie Fire, where a centerpiece wood-fired oven turns out roasted oysters, fennel sausage pizzas, and ribeye steaks. A handful of satisfying, just-interesting-enough pastas, like squid ink campanelle and lemon fusilli, round out the neighborhood-pleasing menu. (242 Harvard St., Brookline)
25. Oisa Ramen Slurp and Go
With only 12 seats — six of which are standing — Oisa is just about as small as restaurants come. The former pop-up found a home for itself next to Tiki Rock downtown and treats slurpers to a small menu of bowls that range from traditional tonkatsu to a smoky shoyu made from vegetarian stock. (1¾ Broad St., Boston)
26. Our Fathers
The oft-overlooked Allston scene got a boost from Our Fathers, which aims to supply "modern Jewish cooking" by serving everything from chicken liver to a pastrami sandwich on twice-baked rye. A separate takeout shop menu offers that acclaimed pastrami sandwich alongside other classic Jewish deli fare like reuben sandwiches and bagels with lox. (197 N. Harvard St., Boston)
27. Southern Proper
Boston has seen a flare-up of Southern restaurants in the last several years, but Southern Proper stands out by eschewing the expected barbecue in favor of a menu inspired by North Carolina and low country cooking. What that means: charred okra, spiced honey hushpuppies, and fried chicken with corn waffles, served in a pine-filled space meant to evoke grandma's living room. (600 Harrison Ave., Boston)
28. Talulla
Twelve-table Talulla changes its menu daily based on supply from local farmers, and its fare can be experienced a la carte, as part of a three-course prix-fixe menu, or as a more wide-ranging seven-course tasting. Either set meal can be spruced up with wine pairings or washed down with a selection from an aperitif-style cocktail program. (377 Walden St., Cambridge)
29. Yume Ga Arukara
Cult Porter Square ramen spot Yume Wo Katare — known for serving exactly one type of ramen, plus "dreams" — debuted an udon-focused sister restaurant within Porter Square's Lesley Exchange building. Like its sibling, there's just one dish on the menu: at this spot, a bowl of udon noodles accompanied by tender, thinly sliced beef. You may not be able to order a dream, but you can always ask for extra noodles or beef. (1923 Massachusetts Ave., Cambridge)
30. Whaling in Oklahoma
Tim Maslow returned from his post-Ribelle wilderness years to open, along with Matt Hummel, Whaling in Oklahoma in the South End at the end of August. This cryptically named "modern American brasserie" within the old Tremont 647 space takes liberal inspiration from Japanese cooking, serving dishes like oyster karaage, raw bluefin tuna on rice crackers, and a tonkatsu sandwich. For $80 per diner, a not-quite-truthfully named "All You Can Eat" option provides a sampling of the menu for the entire table. (647 Tremont St., Boston)
5 More to Look Out for
1. &pizza X Milk Bar
Think of it as an out-of-town doubleheader: D.C.'s &pizza is teaming up with NYC's renowned, Crack Pie-making Milk Bar under one roof in Harvard Square. They're taking over the spaces that once held Tory Row and Crimson Corner, but the exact opening time is unknown. (3 Brattle St., Cambridge)
2. Fox and the Knife
As a James Beard Award winner, "Top Chef" vet and longtime Myers + Chang executive chef Karen Akunowicz deserves a place of her own. That's finally happening in the form of Fox and the Knife, an Italian enoteca primed for a November 2018 opening in Southie.
3. Fuku
David Chang and his fried chicken sandwich concept need little introduction, and are coming soon to a space in the Seaport District. While the opening timetable remains unknown, we feel comfortable predicting some epic lines. (43 Northern Ave., Boston)
4. Santeria
The latest project from the Yvonne's and Ruka team is shrouded in mystery, and "Santeria" may not even be its final name. But it will take inspiration from Cuban fare, and is projected to open downtown during the first quarter of 2019. (10 Post Office Square, Boston)
5. Shore Leave
Tiki stylings have been present at Bar Mezzana since its opening, but Beverage Director Ryan Lotz will be able to fly his tiki flag at full mast when he and the rest of the Mezzana team open tiki bar Shore Leave across the street. The sister establishment is expected to open sometime in late 2018. (345 Harrison Ave., Boston)