Restaurants
The Maine Department of Health is investigating the restaurant that gives its lobsters weed
Charlotte's Legendary Lobster Pound is in hot water.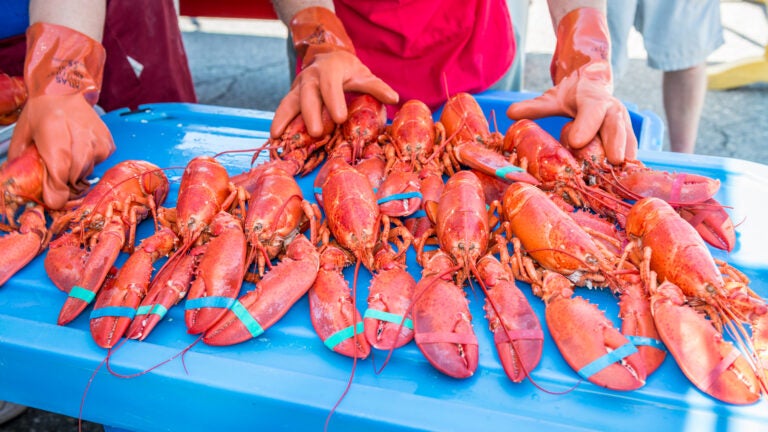 Charlotte Gill of Maine restaurant Charlotte's Legendary Lobster Pound gained national attention last week for giving weed to lobsters in order to ease the pain and suffering she believes they feel when they're cooked alive.
The Maine Health Inspection Program (HIP) has since stepped in to say: Not so fast.
Emily Spencer, a spokeswoman for the Maine Department of Health and Human Services, said in an email to Boston.com on Friday that the restaurant is violating part of the Maine Food Code. They first contacted Gill on Thursday to let her know about the restaurant's violation. 
"Currently, Maine HIP would treat food served to consumers at licensed eating places and affected by marijuana, as has been described with this establishment, as adulterated and therefore illegal," she wrote. "The marijuana in this case would be the adulterant."
Spencer went on to say that the Maine Health Inspection Program is still investigating the situation, and that "the Maine Medical Marijuana Program within the Department of Administrative and Financial Services regulates medical marijuana and would therefore determine whether the cannabis is being used appropriately."
She also said that the HIP "does not have information on the health implications or effects of 'sedating' lobsters with marijuana."
Gill — who had not yet begun serving the cannabis crustaceans to customers — posted a note on the restaurant's website on Friday morning.
"We are not currently selling this meat, (nor have we)," she wrote in the note. "The lobster that we have prepared thus far was purely for our own testing and study as well as to be able to have a conclusive base of information to work from when we were eventually met with these questions."
Gill told Boston.com last week that both she and her 82-year-old father have tested the effects of the altered lobsters on themselves.
Gill also wrote that the restaurant is adjusting some processes in order to be in "undeniable compliance" with the state, and that she expects the medicated lobsters to be on the menu by mid- to late-October.
In written correspondence with Boston.com, Gill would not reveal what those adjustments would be.
"I don't want to show our hand on this yet. It's to [sic] important," she wrote.
The note posted to the restaurant's website also states that the restaurant is not planning to charge extra for the marijuana lobsters, and that prices may even be lowered "if enough volume is generated."