Restaurants
A renowned fried chicken restaurant opens in the Seaport on Saturday
Fuku will serve two dishes that are specific to the Boston location.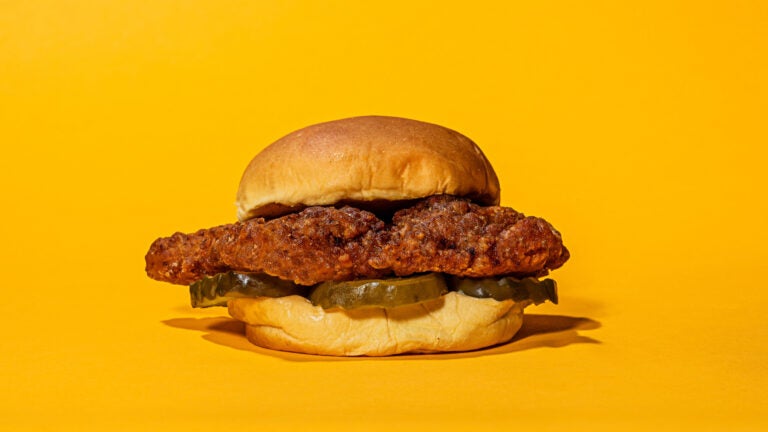 The wait is almost over: The Seaport location of Fuku, chef David Chang's popular fried chicken restaurant, will officially open to the public for lunch on Saturday, starting at 11 a.m.
This is the first Fuku location outside of New York for Chang's Momofuku Restaurant Group, which includes Momofuku, Ssäm Bar, and Majordōmo. Chang is also a James Beard Award winner and the current star of the Netflix series "Ugly Delicious." Another of the group's restaurants, Milk Bar from Christina Tosi, is scheduled to open in Harvard Square.
The Boston outpost of Fuku, located at 43 Northern Ave., will keep the restaurant's primary focus on fried chicken sandwiches. Many of the items will be the same as those on New York's menu: the sweet and spicy Koreano with pickled daikon and a sweet and spicy glaze; the spicy fried chicken sandwich with a habanero chicken thigh, pickle, butter, and potato roll. There will be chicken fingers and wings, too, which diners can pair with a dry or wet glaze and a number of sauces (the knockout sauce is a fan favorite).
But this Fuku won't be just a replica of the locations in New York. There will be two Boston-specific dishes making their debut: the BOS and the B.F.C. The BOS is a spicy fried chicken sandwich with crispy squash rings, ranch, and a spicy glaze, while the B.F.C. is a dine-in only deal that's good for two people: half of a whole habanero fried chicken, sweet and spicy chicken fingers, five-spice wings, mac salad, fries, sauces, two potato rolls, and two house drinks.
"Spicy" is a word you'll see frequently on the menu, meaning a solid drink lineup is necessary. Fuku will have that covered with Yuzu-8, oolong iced tea, and sweet peach iced tea, plus slushies that will come in strawberry lemonade and blood orange flavors.
The Seaport location will have seats for 45 diners, including seating on its outdoor patio, and takeout will be available for those who would rather eat their fried chicken on the go.
Fuku, 43 Northern Ave., Mondays–Sundays from 11 a.m. to 9 p.m.; eatfuku.com