Restaurants
A seasoned restaurant industry vet just opened his first restaurant in the West End
Tom Schlesinger-Guidelli brings the Massachusetts farm coast to Lovejoy Wharf.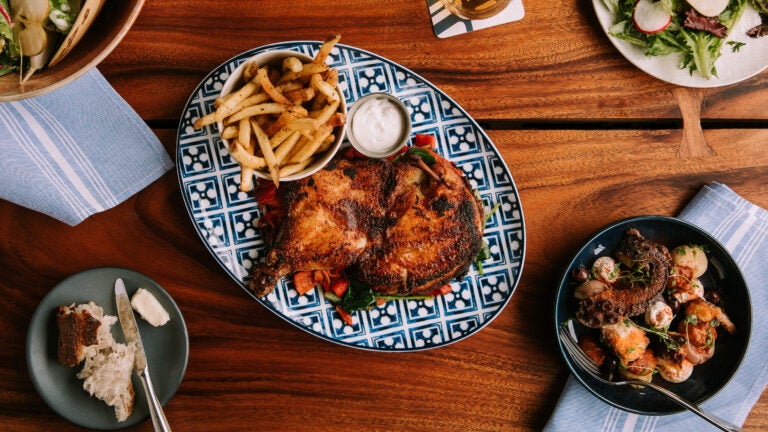 You may recognize the name Tom Schlesinger-Guidelli, a Boston restaurant industry vet who has cut his chops at places like Eastern Standard Kitchen & Drinks, Craigie on Main, and Island Creek Oyster Bar. (You may also have heard of his uncle, James Beard Award-winner Chris Schlesinger, who owned East Coast Grill and The Blue Room in Cambridge, and The Back Eddy in Westport.) On Wednesday night, Schlesinger-Guidelli debuted his very first restaurant, Alcove, now open for dinner.
Located at Lovejoy Wharf near TD Garden, Alcove is a love letter of sorts to the Massachusetts farm coast with a menu that focuses heavily on seafood and vegetables.
"I think one of the things that's so unique [about that region] is the meeting of land, field, and sea, in a way that a lot of farming communities don't interact with in the same way," Schlesinger-Guidelli said. "When you look across this country, most of our produce comes from large swaths of inland farming. There's nothing wrong with that. But the opportunity to see fisherman also interact with produce and animals is special."
Chef Maxime Fanton has put together a dinner menu that includes dishes like pan-seared sea bream with golden quinoa, grilled swordfish with eggplant caponata, and a roasted half chicken with spinach. A raw bar is also available, as is charcuterie and cheese, snacks, and shareable small plates like Spanish octopus with marbled potatoes. Pastry chef Alexandra Artinian makes black sesame pot de creme, chocolate cassis tart, and olive oil semifreddo for a a sweet finish.
Beer, cider, and wines are all available, and with Schlesinger-Guidelli's experience behind the bar at Eastern Standard, you can be sure that cocktails are a central focus on the drink menu. Craft concoctions (most around $11) include drinks like Squash the Julep with cognac, rum, honey, and spice.
"I really want people to feel comfortable in the restaurant," Schlesinger-Guidelli said. "I want people to come in and have a beer and a burger for $20 on any random night, and celebrate an anniversary or a birthday or a promotion, and everything in between those experiences."
He believes that comfortable feel is reflected in the neighborhood, which has been going through a period of transition.
"I think in the same way that I'm talking about the food being an intersection of different elements, Lovejoy Wharf is, too," he said. "It's on the water, [right by] North Station, the Garden. … Really, this is an up-and-coming neighborhood that hasn't traditionally been [given] attention by the restaurant community. It's in a really unique spot at a unique time. Lovejoy Wharf has a certain coziness to it, a little less hustle bustle."
Designed by architect William T. Ruhl, Alcove is a visual nod to the coast with gray and blue details, plus copper and steel accents. As a first-time restaurant owner, Schlesinger-Guidelli was surprised to find a great deal of enjoyment in the design process (dealing with the lease was not as fun, he said). It was all worth it: He's been wanting to open his own restaurant for most of his life.
"There's always been a sort of romanticism to the business," he said. "In my early 20s, I would have told you I would never do this. But … Craigie on Main was a real game changer for me. I think when I left Eastern Standard to go to Craigie on Main, I never looked back on this being one of the goals."
Now that his goal has been achieved, patrons can eat dinner at Alcove seven days a week, with brunch and lunch launching later this year.
Alcove, 50 Lovejoy Wharf; Mondays–Thursdays from 5 p.m.–midnight, Fridays and Saturdays from 5 p.m.–1 a.m., and Sundays from 4:30 p.m.–midnight; alcoveboston.com