Restaurants
How one chef is bringing the devil to the dinner table
The Devil's Dinner Party will take place at the Satanic Temple of Salem on Oct. 25.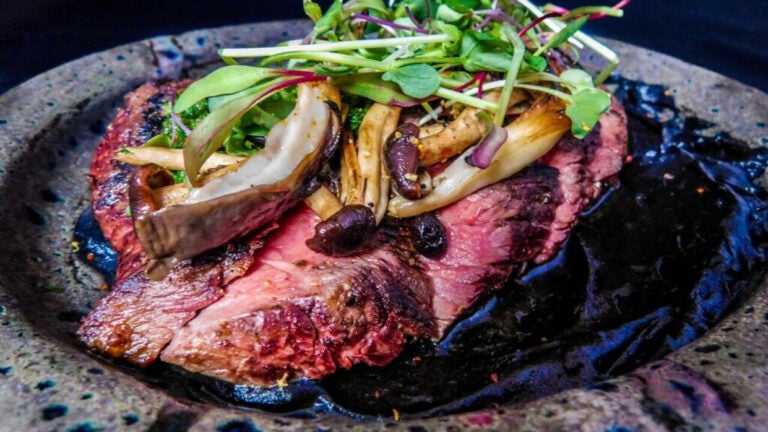 Adam Dodge doesn't think there's much of a difference between being a Satanist and being a chef.
"Satanism indicates rebellion and a passion for romance," he said, "which is essentially what a chef wants."
On Thursday, Oct. 25, the self-dubbed Satanic Chef will prepare a multi-course meal at the Satanic Temple of Salem for the Devil's Dinner Party, an event that promises fine dining and debauchery.
Guests are asked to arrive in their most "formal surrealist attire." For $125 a ticket, they will be entertained with a burlesque performance by San Francicsco-based dancer Szandora LaVey and participate in an "esoteric cleansing ritual inspired by my work in the restaurant industry," said Dodge, which is not his real last name but the one he uses professionally; he asked to use his alternate name because his family has received threats related to his beliefs. As the official chef of the Satanic Temple, he hopes to replicate this devilish event across the country.
The 38-year-old started cooking when he was 15, after a car crash temporarily impaired his mobility. Cooking was a way to get out of bed, Dodge explained, and he eventually turned it into a career, most recently working with chef Louis DiBiccari at Fort Point restaurant Tavern Road before it closed in September 2017.
Another thing that happened when he was 15: Dodge purchased his first Satanic bible. Raised by an Episcopalian mother and a Jewish father, both of whom encouraged him to explore all religions, Dodge joined the Satanic Temple in Salem, founded by his friend and former roommate Lucien Greaves, in 2010. There are numerous fractions within Satanism — some are theist-based and believe in Satan as a deity, while others, such as the Satanic Temple, are more focused on social justice and political activism, using seven tenets to drive their belief system.
"Satanism is in everything I do," Dodge said.
That includes cooking, Dodge said, though the experience he described is probably not as sinister as the one you're imagining.
For him, Satanic cooking "is about pleasure and passion. It's about feeding your desires. Some types of cooking are about restrictions and self-denial, but Satanic cooking is not that."
He doesn't use any specific types of ingredients or techniques. While Dodge said that Satanic cooking centers around alchemy and "the idea that a chef or bartender or waiter can take water and turn it into gold," he also said that this refers to the general idea of turning the ordinary into the extraordinary — in other words, turning simple ingredients into complex dishes.
He does, however, give innocuous dishes haunted names. For example, in addition to creating Satanic dinner pop-ups, Dodge is working on a cookbook, called "Devilish Delights;" in it, there's witch's crudo with tuna, grapefruit, and peanuts; and Crab Louie salad, which originates from San Francisco, where the Church of Satan was founded.
And contrary to what some may assume about Satanism, no real sacrificial practices are involved in Satanic cooking — though dinner party guests can expect a symbolic sacrificial beet red hummus: a spin on traditional hummus that uses pureed beets along with the usual chickpeas, garlic confit, and tahini.