Restaurants
A pop-up arcade bar just landed next to Fenway
The games are available at House of Blues until Nov. 15.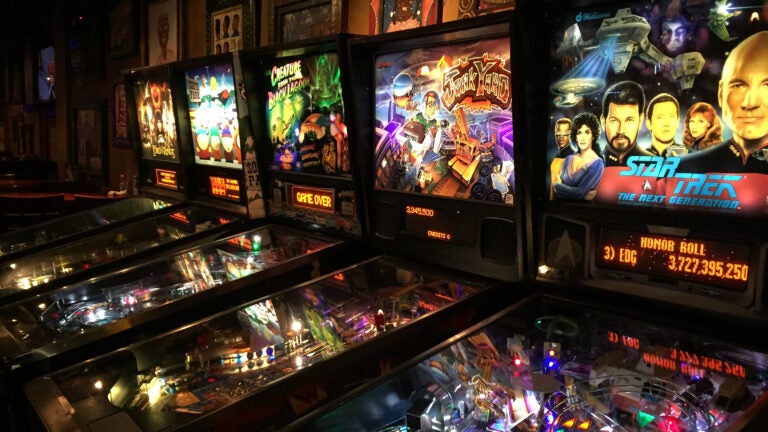 Arcade bars, it turns out, aren't going anywhere. Just weeks after Versus opened in Downtown Crossing, a temporary arcade bar — appropriately named Pop-Up Arcade Bar — is now open at the restaurant at House of Blues and will operate daily until Nov. 15.
The pop-up is a joint venture between House of Blues Boston and Shelter Arcade Bar, an arcade in Providence, R.I. attached to Fete Music Hall. Mike Maven, owner of Shelter, teamed up with House of Blues's owners for the collaboration.
"The opportunity to share our passion for arcade gaming and pinball with the city of Boston is a gift for us," Maven said in a press release, going on to tell Boston.com that, because he already owned an arcade attached to a music hall, the partnership "just made sense."
Pop-Up Arcade Bar quietly opened on Friday and is available to the public daily starting at 5 p.m. All ages are welcome until 9 p.m., at which point it switches to 21-plus until close. The restaurant is still in full operation, and arcade patrons don't need a ticket to the music venue to play games.
Speaking of games: Maven installed 28 games from Shelter's extensive collection housed in Providence, including both pinball machines and arcade cabs.
"I brought my favorite [pinball machine], Creature from the Black Lagoon," he said. "I love the game's theme and the artwork."
You can expect plenty of tried-and-true arcade classics, including Ms. Pac-Man, Mortal Kombat 2, X-Men, NBA Jam, and Q*bert, many of them variations on the games at Shelter. A sizable pinball lineup features Star Trek: The Next Generation, Junk Yard, Lord of the Rings, and The Walking Dead. All of the games take quarters, and a change machine is available on-site.
Maven hasn't mapped out any other pop-ups once this one ends on Nov. 15, but larger projects are in the works.
"We're planning on opening a Worcester location [of Shelter] in 2019," he said, explaining that it would be a bigger space than the original location, with room for more table hockey and Skee-Ball games.
As for the fortuitous timing of the Fenway-adjacent pop-up during the World Series, Maven said he feels lucky.
"We couldn't have picked a better time," he said.
Pop-Up Arcade at House of Blues Restaurant and Bar, 15 Lansdowne St.; Mondays–Sundays from 5 p.m. to close, restaurant is open two hours earlier prior to Red Sox games; houseofblues.com/boston/restaurant