Restaurants
This is the No. 1 restaurant in Boston, according to Boston magazine
The rankings are back, and Uni is in the top slot.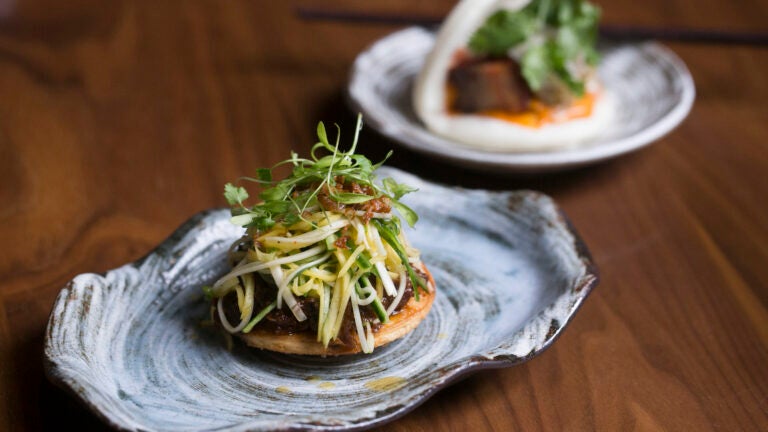 Wondering which restaurants are winning over the hearts of Boston media these days? One publication is singing the praises of sashimi.
On Tuesday morning, Boston magazine published a list of the 50 best restaurants in Boston, the first time the publication has created such a list since 2014. Coming in at No. 1 was Uni, a small izakaya at the Eliot Hotel from chef-partners Ken Oringer and Tony Messina.
The list — which was edited by Scott Kearnan and written by Liz Bomze, Jacqueline Cain, Jacqueline Houton, and Jenna Pelletier — introduced Uni with a bold claim: "Right now, Boston dining — the entire city, really — is defined by tension between old and new. Let's look to Uni for guidance." Highlighting Uni's "innovative sashimi, sophisticated Asian street food, and freewheeling fancies," the publication praised the restaurant's successful merger of old ideas in a new space, and stated that it could work for Boston as a whole.
Uni is no stranger to the publication's accolades. For the past three years, Boston magazine has focused on producing a list of brand-new restaurants, rather than an overall "best of" list, and in 2016 — the year the restaurant expanded from a sashimi counter to a full-blown izakaya — the magazine named Uni the city's No. 1 best new restaurant. Uni also showed up on 2014's ranked list, landing at No. 2. That year, O Ya, the swanky sushi and omakase bar, secured the No. 1 spot; this year it came in at No. 2.
The 2018 list is dominated in the first 10 spots by upscale, intimate restaurants that feature tasting menus, including Tasting Counter, Asta, The Table at Season to Taste, and Craigie on Main, which just launched a prix-fixe only format in the dining room. Those that don't have tasting menus — including Sarma, Bar Mezzana, SRV, and Yvonne's — are nonetheless known for their high-end ambiance and offerings.
"Nearly half of our top 50 restaurants didn't exist when the last list ran in 2014," the article states. "That's not owing to some nerdy obsession with newness; rather, it's a reflection of the accelerating rate of culinary innovation in a rapidly evolving city."
Still, four of the top 10 restaurants in 2014 made it to 2018's top 10 list; a couple (T.W. Food, Ribelle) have shuttered in the last few years.
Find the complete list of all 50 here.