Restaurants
In a pumpkin latte battle between Starbucks and Dunkin', who comes out on top?
We compared the two in a blind taste test.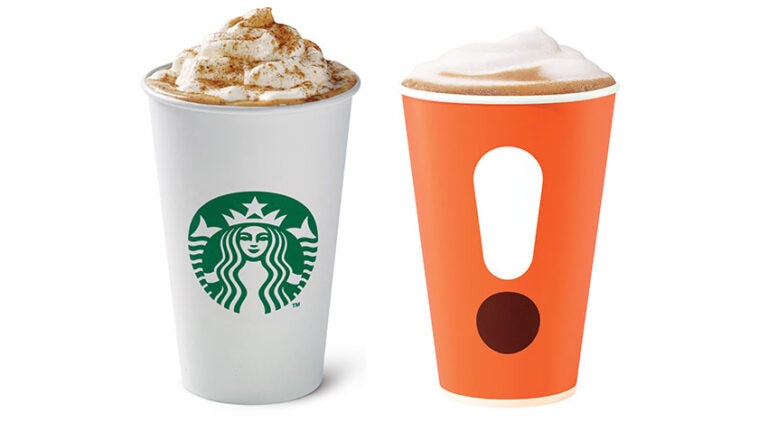 Pumpkin Spice Latte season is well underway, as the heavily perfumed scent of cinnamon, nutmeg, and artificial pumpkin flavoring dominates coffee shops across the region. While Starbucks is generally associated more with the autumnal beverage, Dunkin' has also jumped on the pumpkin bandwagon with their own version of the latte featuring pumpkin-flavored coffee. Always game for a good-natured face-off, 14 members of the Boston.com team decided to pit the two against each other in a blind taste test and see which would emerge victorious.
Pumpkin beverages were procured at both Dunkin' Donuts and Starbucks, then divided into cups labeled '1' and '2.' For each cup, tasters were asked to rate the drink on a scale of 1 to 5 in the following categories: pumpkin presence, texture, sweetness, overall taste, and whether they would order it again. They were also asked to guess which cup was Dunkin' and which cup was Starbucks, a task that was, surprisingly, not so easy: Five people incorrectly labeled the Dunkin' cup as Starbucks.
In each category that pertained to the drink's flavor profile — pumpkin presence, texture, and sweetness — Starbucks proved to be the more aggressive beverage. Tasters found that the Starbucks sample was more generously spiced, thicker, and far sweeter than Dunkin' Donuts.
That did not, however, translate into overall better taste. On a scale of 1 to 5, with 1 being terrible and 5 being outstanding, Dunkin's pumpkin latte scored an average of 3.43 while Starbucks's PSL came in at a 3.1. It was clear that sweeter didn't mean better, with many of the comments mentioning that Starbucks was far too saccharine. Another popular Starbucks note? Its distinctly orange hue.
"Tastes more artificial for some reason. Definitely more of a pumpkin orange color."—Chris Gavin
"Too orange, it freaks me out." —Calli Remillard
"Noticed its rusty color and extra sweetness." —Alison Goldman
In fact, the color of Starbucks's PSL was mentioned six times in the tasters' comments. The PSL also had the most polarizing results in terms of overall taste; while its overall score was lower than the Dunkin' sample, many people gave the Starbucks drink a 2 or a 4, compared to the steady 3 that most people bestowed upon Dunkin'.
Perhaps the most meaningful measure of the drink's overall victory was the final question: Would you order this again? (1 = absolutely not, 5 = in a heartbeat) Despite strong opinions about its overpowering flavor, Starbucks narrowly eked out a win with an average score of 2.93 compared to Dunkin's 2.86:
"More round sweetness, better balance." —Gary Dzen
"Still fairly sweet, but not cloyingly so." —John Waller
What does it say about us when we'd rather order a drink that scores similarly or less than another beverage? Maybe this comment sums it up best:
"Though I rated both as a 3 for [ordering] again, #2 is better." —Kevin Slane
We want what we want, even if it's not really what we want on paper.