Restaurants
The parent company of Papa Gino's and D'Angelo is filing for Chapter 11 bankruptcy protection
The news comes after approximately 95 Papa Gino's and D'Angelo chains closed over the weekend.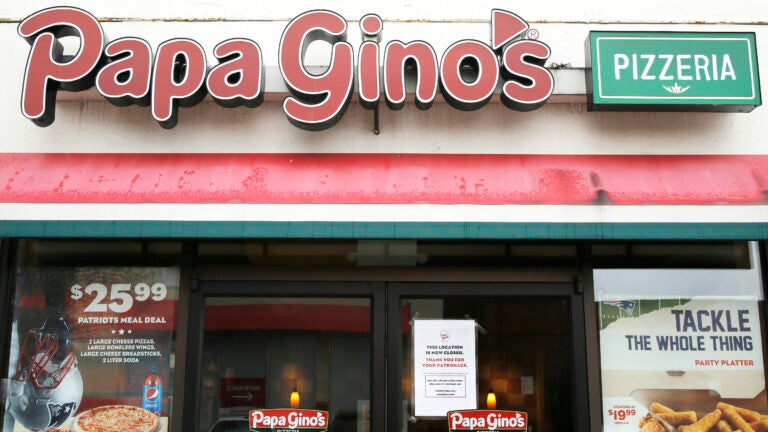 After the startling news on Sunday that Papa Gino's and D'Angelo Grilled Sandwiches closed several of its stores over the weekend, PGHC Holdings, Inc., the Dedham-based parent company of both popular chains, announced in a press release on Monday morning that it had filed petitions for Chapter 11 bankruptcy protection. The company also said it "has reached an agreement in principle" to sell the company to Wynnchurch Capital portfolio company, a private equity investment firm.
PGHC Holdings, Inc. said the sale would allow the company to strengthen and remodel the remaining locations, as well as to open new restaurants throughout New England and to beef up its online ordering system. Terms weren't disclosed. The release also said that the company filed for protection under Chapter 11 in an effort to maintain operations at the restaurants that were still open while pursuing the sale.
"For some time, we have been pursuing a plan to strengthen our financial footing and secure capital for investment in our restaurants, while also addressing our significant debt load," said chief financial officer Corey Wendland in the release. "We are confident that the agreement with Wynnchurch achieves all of those goals."
The release also confirmed the closure of "approximately 95 under-performing restaurants" on Sunday.
"These were hard decisions but decisions we believe were absolutely necessary to allow Papa Gino's and D'Angelo Grilled Sandwiches to continue serving New England now and for years to come," Wendland said in the release.
In a Facebook post on Monday, Papa Gino's wrote, "We were overwhelmed to receive the passionate response of our guests who were disappointed by the recent closure of several Papa Gino's restaurants (we were unable to comment on the news until this morning's press release, announcing our impending sale)."
According to the release, PGHC Holdings, Inc. now has 141 company-owned restaurants in Connecticut, Massachusetts, New Hampshire, and Rhode Island. 
A number of employees were laid off without notice over the weekend due to the abrupt closures.
Employees at several remaining Papa Gino's referred phone calls from a Boston.com reporter to the corporate office, which did not immediately respond to requests for comment.