Restaurants
Take a look at Kamakura, Boston's new Japanese restaurant opening on Tuesday
The restaurant will offer sushi omakase, tasting courses, and bento-style lunches.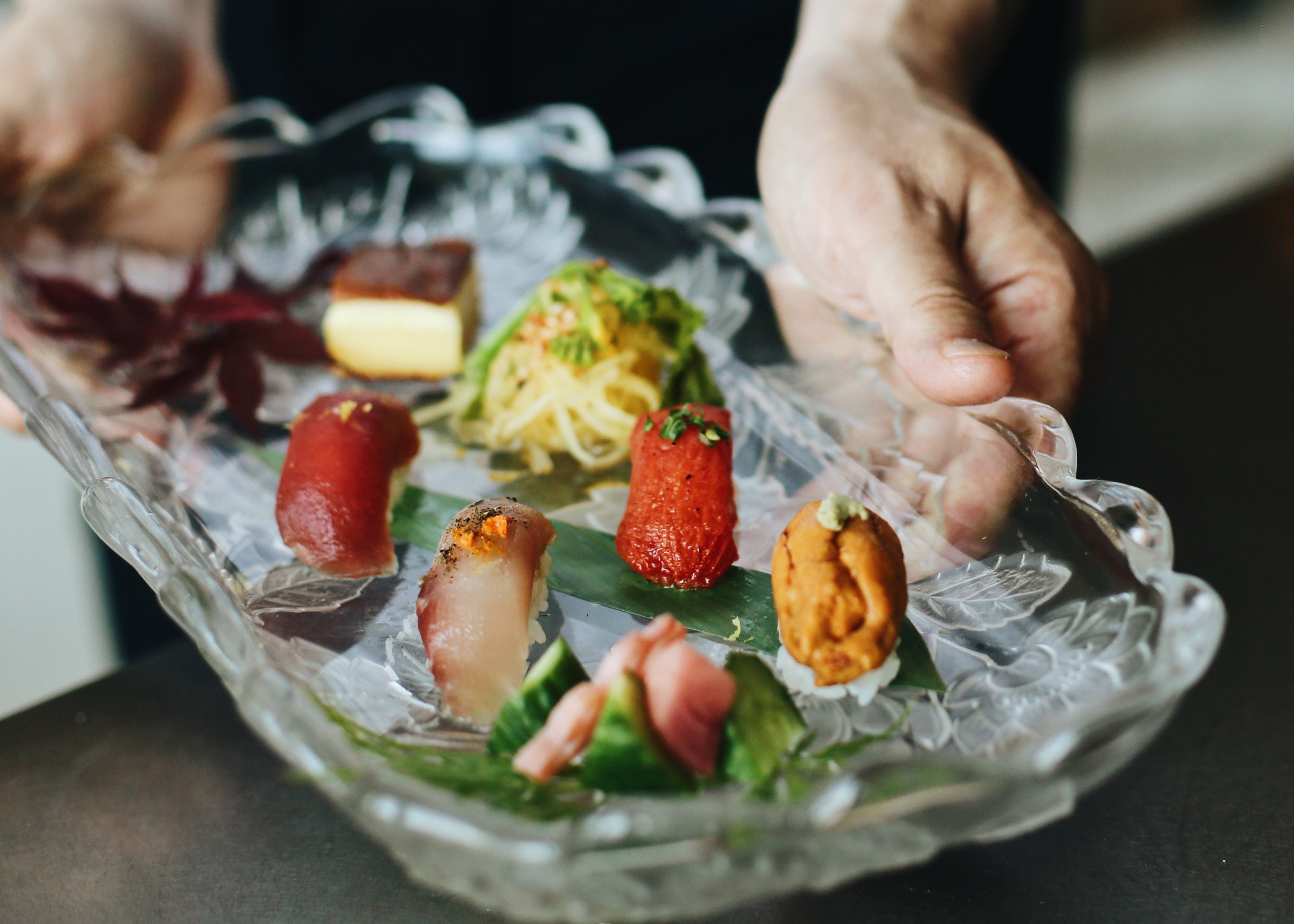 Chef Youji Iwakura first knew he wanted to open a restaurant when he was still in the single digits.
"One day when I was seven, I visited a restaurant, and the chef came out of the kitchen and he said something to me," recalled Iwakura, noting that the details of the conversation are fuzzy. "At home my mom always cooked for me. My dad never cooked. Seeing a man as a chef, a cook, and then come and speak to me, it was totally different."
His world opened up, he said, and the thought of owning a restaurant, bar, or coffee shop was planted firmly in his mind.
When Iwakura's first restaurant, Kamakura, opens in the Financial District on Nov. 13, that dream will finally be realized.
Each level of Kamakura, which is named after Iwakura's hometown in Japan, will offer a unique experience for the diner. On the first floor, guests will be able to sit at a kaiseki bar for set tasting courses; the first iteration, called cha kaiseki, will feature black cod sashimi, wagyu sirloin, and fried crab fish cakes. It is a modern interpretation of traditional kaiseki, a multi-course meal that calls for frequent dish changes (even from guest to guest) depending on seasonal produce.
For something more casual, diners will be able to head to the second floor for washoku bistro fare: tofu and sea urchin, baked lobster on the half shell, sashimi, and sashimi plates, all served à la carte. In the first two days of service, Kamakura will focus on lunch, and will offer bento box lunches like the Kamakura bento ruby with sashimi, rice, soup, pickles, and egg custard. Dinner will be added on Nov. 15.
There will also be a rooftop bar and lounge called Kumo, which means "cloud" in Japanese, with a retractable roof, plenty of sake, and Japanese wine, which Iwakura is particularly passionate about.
"I tried to share my dream of [Japanese wine] with chefs and distributors for the last 15 years, but nobody was pouring it," he said.
The chef, who previously worked at Uni, Basho Japanese Brasserie, and Snappy Ramen, has organized Japanese wine tastings at various points in his career. Iwakura described the style of the wine as one close to Sauvignon Blanc and a perfect choice if you want to enjoy a bottle over the course of a few days.
"What's good about Japanese wine is that it lasts longer," Kumo said. "Cap it, put it in the fridge later, and it tastes just as good."
But Iwakura doesn't want his customers to stop at the wine. He wants people to enjoy the sake, too — lots of it — in the way that he said samurai did 300 years ago and businessmen do today.
"Every time they have an agreement or disagreement, they do a high five with sake," Iwakura said with a laugh. "In here, what I want to see is many sake high fives."
Kamakura, 150 State St.; Nov. 13 and 14: 11:30 a.m.–2:30 p.m., Nov. 15 onward: Mondays–Fridays from 11:30 a.m.–2:30 p.m. and 5 p.m.–10 p.m., Saturdays from 5 p.m.–10 p.m., Sundays from 5 p.m.8 p.m.; Kumo bar and lounge, 2:30 p.m.–10 p.m. daily; kamakuraboston.com