Restaurants
Chick-fil-A is planning to open its first Boston location
The fast food restaurant is hoping to replace a Boloco in the Back Bay.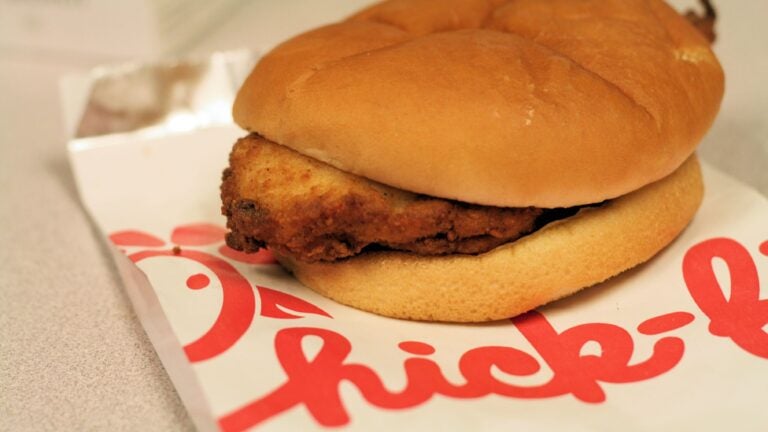 Chick-fil-A wants Boston to "Eat Mor Chikin."
The fried chicken sandwich chain with a cult following confirmed to Boston.com that it is planning to open a location in the Back Bay — its first within Boston city limits.
"We are always looking for new opportunities to serve Massachusetts customers and are excited about the prospect of joining the Back Bay neighborhood," Amanda Hannah, external communications at Chick-fil-A, Inc., said in a statement. "While we are still early in the approval process, we can confirm that we are pursuing a location at 569 Boylston St."
The potential new outpost is currently occupied by one of nine locations of Boston-based fast-casual restaurant Boloco. Chick-fil-A did not provide a potential opening date, and Boloco did not immediately respond to a request for comment.
Meg Mainzer-Cohen, president of the Back Bay Association, said Chick-fil-A first contacted her over the summer.
"They said that they wanted to move to Back Bay and were interested in a site on Boylston Street," she said. "When I realized the [exact] spot, I felt like it was the ideal location for it. There are other similar fast food places [in the area]. Burger King, Wendy's is there, and it's right across the street from Copley Square."
Mainzer-Cohen stressed that it could take up to a year before Chick-fil-A opens in the neighborhood, as they still need to obtain licensing and meet with the city and the Back Bay Architectural Commission.
Despite its avid fan base, many consider Chick-fil-A controversial due to comments CEO Dan Cathy has made regarding same-sex marriage. In 2012 during an appearance on "The Ken Coleman Show," Cathy reportedly told the radio show, "I think we are inviting God's judgment on our nation when we shake our fist at Him and say, 'We know better than you as to what constitutes a marriage.'" Cathy also told the Baptist Press in 2012, "We are very much supportive of the family — the biblical definition of the family unit. We are a family-owned business, a family-led business, and we are married to our first wives. We give God thanks for that."
In response to Cathy's statements, the late Boston Mayor Thomas M. Menino said he would oppose Chick-fil-A opening restaurants within the city.
Mainzer-Cohen, however, isn't worried about backlash.
"I can't anticipate how people will react," she said. "My understanding is that the company has evolved and that Boston has evolved. For us, the big priority is, is it a business that is going to flourish in the location."
Currently, the closest Chick-fil-A to Boston is located in Dedham, and a list of future openings on the company's website indicates that a location will open in Methuen at the end of November.