Restaurants
Local food tech company Spyce was just named one of Forbes' 30 Under 30
The restaurant with a robotic kitchen launched in May.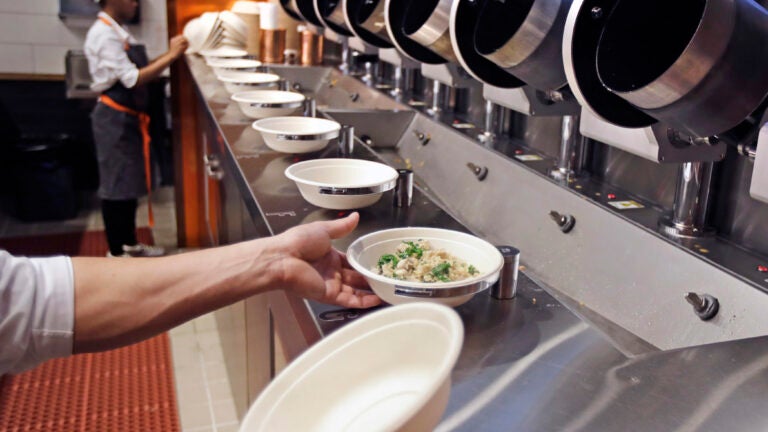 On Tuesday morning, Forbes released its annual 30 under 30 list, honoring innovators and entrepreneurs in various industries across the United States and Canada. In the food and drink category, one local company stuck out: Spyce, the fast-casual restaurant founded by four MIT grads with a penchant for robots.
Spyce opened in May, bringing hearty, affordable bowls to Downtown Crossing. It operates much like a Sweetgreen or a Chipotle, except instead of humans assembling your vegetables and proteins, robots do all of the work behind the counter.
The tech-centric restaurant was founded by Michael Farid, Brady Knight, Kale Rogers, and Luke Schlueter, who then partnered with Michelin-starred chef Daniel Boulud to create a nutritious concept with a reasonable price point: bowls that start at $7.50. Customers place their orders using a touch-screen menu at a kiosk, then wait in line while their bowls are assembled in autonomous cooking pots that are capable of heating, mixing, and self-cleaning.
According to Forbes, Spyce has secured $24.8 million in funding — no small feat for a company that currently only has one location.
Other locals on the 30 under 30 list include Mikaela Shiffrin, the 23-year-old Team USA alpine skier who attended Burke Mountain Academy in Vermont; and Jonny Sun, the 28-year-old author of "Everyone's a Aliebn When ur a Aliebn Too" and illustrator for "Hamilton" creator Lin-Manuel Miranda's newly released "Gmorning, Gnight!" book. Sun, a doctoral student at MIT, will unveil his public art installation "The Laughing Room'' at the Cambridge Public Library on Nov. 16.
Check out the complete list of Forbes' 30 under 30 recipients here.