Restaurants
Descend underground to Shore Leave, Boston's newest tiki bar
Tropical drinks, Pacific Rim-inspired food, and plenty of island vibes are heating up the South End.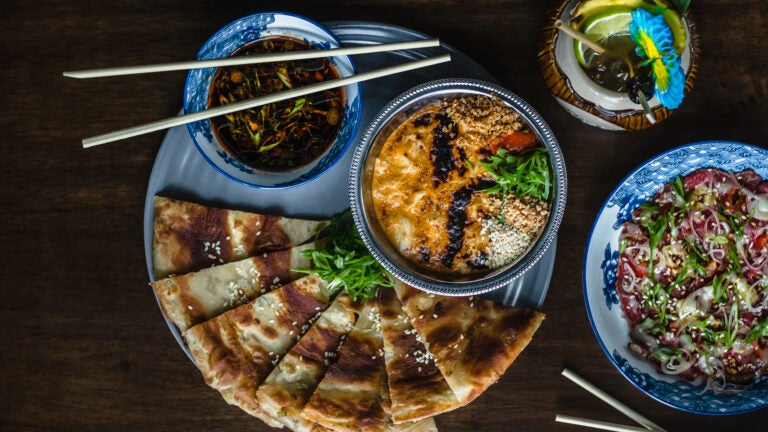 Just in time for winter's first snowfall, a tropical paradise will land in the South End on Monday with Shore Leave, Boston's newest tiki bar from the team behind Bar Mezzana.
But first: You'll have to find the place.
Located at the bottom of two flights of stairs, Shore Leave sits like a sunken treasure in the basement of 345 Harrison Ave., a luxury apartment complex across the street from Bar Mezzana. With walls painted a gradually darker shade of blue at each level, the stairwell becomes a makeshift ocean; a deep navy blue surrounds the bar's entrance to evoke the sea floor.
Through the door — flanked by LED tiki torches that depict "a flaming portal," in beverage director Ryan Lotz's words — Shore Leave opens into a long, narrow space with communal booths, private tables, and a lengthy bar that sits 37 guests. A long, skinny high top runs through the middle of the room, accommodating those who want to stand while setting down their drink.
Lotz and chef Colin Lynch assembled an all-star team to run this tropical paradise, including a handful of industry vets who previously gave up bartending to pursue other careers — and are donning an apron again to make tiki drinks here once or twice a week.
"We're very lucky," Lotz said. "I don't know how or why we were lucky to find a bar team of about 15 people in the state that the city is in right now, when no one can seem to find bartenders, but we found 'em."
That team includes bartenders Hannah Rae Moore (Bar Mezzana, Spoke, Lord Hobo) and Mellie Wiersma (Drink), general manager Gwen Hagerty (Bar Mezzana), and a slew of other local and national bartenders who, like Lotz, have a passion for tiki.
And with a cocktail lineup that boasts 15 original creations — 12 meant for individual servings, three meant to be shared — the seasoned help is crucial. Rum is a prominent spirit that runs throughout the menu, of course, but so are tequila, mezcal, bourbon, and vodka, though you won't find them in any classic tiki cocktail.
Take the Amaro di Cocco, a piña colada/negroni mashup with dark and Jamaican rums, toasted coconut, and pineapple juice (all tiki staples), but also Campari and sweet vermouth. Or the Good Clean Funk, a vodka soda with aromatic yuzu and a "top secret ingredient." Mai Tais and Singapore Slings will not be making an appearance, "but if someone really wants a daiquiri, we'll make 'em a daiquiri," Lynch said.
"There are some riffs on classics, but these 15 are entirely original to the opening menu," said Lotz, who developed a passion for tiki while working at The Hawthorne, and who has tried to sneak tiki-style drinks onto every cocktail menu he's developed since then.
Similarly, Lynch's food menu starts with a Pacific Rim influence and then runs in another direction.
"I like to do riffs on flavor profiles, so I think people are going to be able to find a really traditional Filipino dish, but also my play on a raw beef Vietnamese salad," Lynch said.
With chef de cuisine Sam Olivari in the kitchen, guests can expect to see dishes like mushroom gyoza, beef tongue pastrami bao, bluefin tuna poke, and scallion pancakes. There will also be a whole roasted duck that comes with all the fixings: pancakes, herbs, baos, grapefruit Sriracha, and more.
"The biggest thing about the food is that we want to make sure that it's easily shareable," Lynch said. "We want everything to be easily accessible, [using your] chopsticks or fingers. And you can order food from anywhere [in the bar], if you can find space."
When designing Shore Leave, Lotz and Lynch, along with Bar Mezzana partners Heather Lynch and Jefferson Macklin, wanted to create an entirely immersive experience, one that didn't just mimic a clichéd tiki bar. They worked with Hacin + Associates, the Boston design firm whose other restaurant clients include State Park and Myers + Chang.
"We were really excited to work with them on figuring out how we can make tiki interesting in a basement without cultural appropriation," Lynch explained. "Trying to bend more towards the tropical and jungle themes and less towards the Polynesian idol themes was really important to us, and to not make it look like we just hung a bunch of knickknacks everywhere."
For Lotz, the vibe needed to include more than what was just in the glass.
"In this day and age, people have taken to tying up a paper banner, giving everyone a plastic lei and putting a drink in a tiki mug and saying that this is tiki," he said. "But tiki is the [restaurant's] soundtrack, which we have collaborated with [DJ and curator] Brother Cleve; it's the design, the food, the drinks, it's all that stuff. Tiki drinks are the work of someone's hand who is very deftly weaving together a myriad of ingredients to make something greater than the sum of its parts. And to make something taste like something you've never tasted before, or something that's exotic and that's going to spark your palate or make you question what's in your glass. That's what we're aiming to do — we're aiming to bring that level of tiki and that thought and attention to detail into the Boston culture."
Shore Leave, 11 William E. Mullins Way at Harrison Ave., Daily from 5 p.m. — 1 a.m., shoreleaveboston.com