Restaurants
Sip on The Hebrew Hammer at Maccabee Bar, a Hanukkah pop-up bar downtown
The five-day experience takes over Better Sorts Social Club.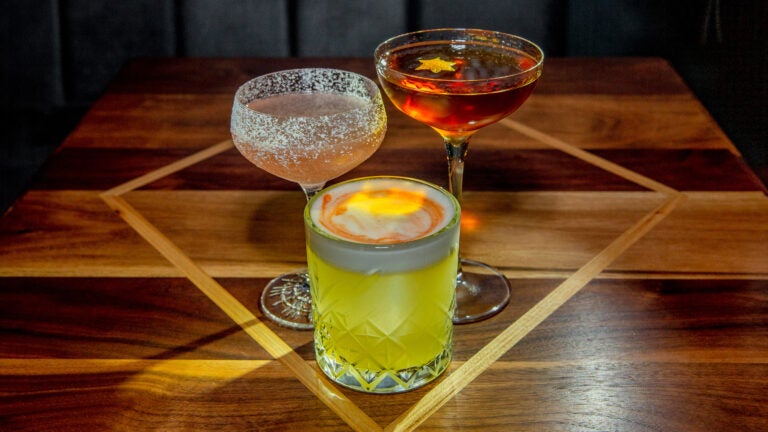 Thanksgiving had barely passed before Christmas celebrations took hold around Boston, some in the form of Miracle pop-up bars at the Kimpton Marlowe, The Citizen, and Mystic Station, which are spreading holiday spirit with themed cocktails until December 24.
Hanukkah also deserves its own boozy tribute, and one downtown cocktail haven is honoring the Festival of Lights in the form of a five-day Hanukkah-themed pop-up.
From Dec. 4 to Dec. 8, Better Sorts Social Club will morph into Maccabee Bar, a concept dreamed up by head bartender Naomi Levy and executive chef Steve Hamilton. What they're calling "Boston's first Hanukkah pop-up bar" lands in the middle of the holiday this year, which runs from Dec. 2 to Dec. 10.
At Better Sorts, which opened in early October, Levy and Hamilton will revamp the menu with festive cocktails and bites for Maccabee's transformation, though the regular food and drink menus will still be available. On the docket: The Hebrew Hammer, a vodka-based drink with raspberry, "leavened" sugar, and lemon, as well as the Latke Sour made with apple brandy, potato, lemon, egg white, and bitters. The Manishevitz Martinez is a playful nod to Manischewitz wine using gin, housemade vermouth, and maraschino.
"Hanukkah is all about fun, family, and fried foods. What more could you ask for?" Levy said in a press release.
Chef Hamilton will incorporate latkes, too, with his curried sweet potato latkes using pickled crab apples and labne. Other dishes include smoked brisket with roasted onions and mushroom, and huckleberry jam doughnuts with chestnut honey and cocoa nib.
As with the Miracle pop-up bars, Maccabee will come to life with detailed decorations enveloping both the bar and lounge.
Maccabee Bar at Better Sorts Social Club, 90 Tremont St., Boston; Tuesdays and Wednesday from 5 p.m.–midnight, Thursdays–Saturdays from 5 p.m.–2 a.m.; bettersortsboston.com