Restaurants
Allston restaurants reopen after partial building collapse
Common Ground Allston and Kimchipapi Kitchen are making a comeback after a serious incident that left two people injured.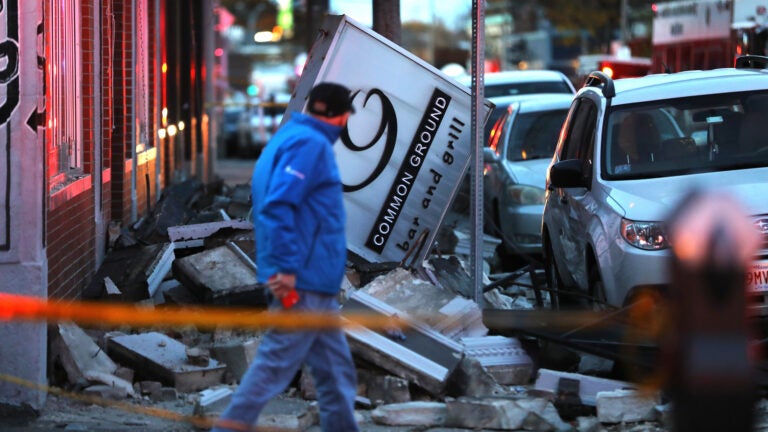 Following a serious structural collapse on Nov. 4 at the Allston building that houses Common Ground Allston and Kimchipapi Kitchen, one that resulted in two injuries, the two restaurants have reopened to the public.
Common Ground Allston resumed business on Thanksgiving Eve and is already operating at its normal hours (daily from 11 a.m. to 2 a.m.). Kimchipapi Kitchen reopened on Monday and currently has reduced hours: Mondays through Thursdays from noon to 9 p.m., and Fridays and Saturdays from noon to 10 p.m. Kimchipapi owner Joon Sun said the restaurant might resume with Sunday hours starting in January — it was previously open daily — but that he wants to see how things go.
"The scaffolding is up right now, and it's hard for people to find us," Sun said. "Our signage got destroyed. We ordered a banner, but it's a little intimidating to walk up to this [with the construction]."
Sun said that being out of business for three weeks has been challenging, and that dealing with the restaurant's insurance company has been especially difficult.
"We had to throw away a lot of the [food]," he said. "It's not like [the insurance company] is just going to hand us the check. We had to calculate how much food was wasted, which has been hard."
When the parapet above the restaurants collapsed in early November, two people were hurt, including one woman who was critically injured after being trapped underneath concrete blocks, according to The Boston Globe. Officials determined that long-term deterioration and blustery weather contributed to the collapse, which caused an estimated $500,000 in damage.
Bob O'Guin, owner of Common Ground Allston, told the Globe that there was no warning.
"I heard what I thought to be an earthquake," O'Guin said. "The whole building felt like it was shaking."
Construction is still ongoing, but the restaurants' recent rebounds have come faster than the estimated six months that O'Guin told the Globe it was going to take before Common Ground Allston could open its doors again.