Restaurants
A meat-heavy poutine restaurant is going vegetarian with its second location
Score free fries and sauce at Saus's official grand opening at Bow Market.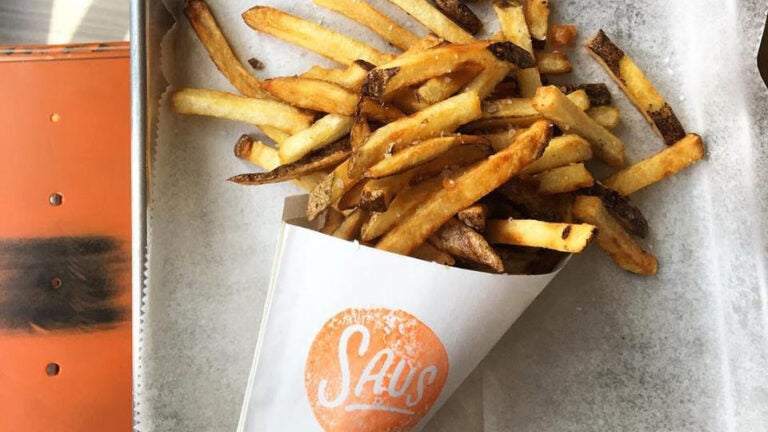 Bow Market now has its first vegetarian tenant with the opening of Saus, a poutine shop that made its name serving fried chicken sandwiches and fries covered in pork belly at its original location on Boston's Union Street.
Pork belly poutine is a far cry from vegetarian fare, but Saus's new location, which has been in soft open since Nov. 29, is decidedly meat-free. It's a move that co-owner Tanya Walker said was a result of a change in lifestyle by herself and the other owners, Renee Eliah and Chin Kuo, as they all have incorporated more of a plant-based diet into their lives.
"We wanted that to reflect in our business. When we opened the first location, we were in our early 20s, and it reflected how we ate and wanted to eat. As we developed the second one, we wanted it to reflect our new chapter."
The Somerville Saus offers a similar menu format as the Boston location: Pick the size of your fries, the sauce, and any toppings. In addition to poutine, there are sandwiches, burgers, and hot dogs, though you won't find any pork or beef here. The fried chicken sandwich has been swapped out for a crispy tofu sandwich. There is a veggie burger, but also a BBQ Impossible Burger made with wheat and potato protein, among other ingredients. Vegetarian bowls are served over arugula or farro. Everything on the menu can be modified to be vegan.
"We always thought Somerville would be a good second location," Walker said. "So we were keeping an eye out. We were introduced to [the Bow Market] developers through a mutual friend. We heard their vision, and it's very different from our original location. We just loved the whole idea of what they were doing. It was just a really awesome concept."
The location may be an ideal one, but the space is much smaller than the Union Street location — so much so that everything is prepped in the Boston restaurant and then brought over to Somerville twice a day. Walker said that they've used every square inch in the new spot for guest space.
Saus at Bow Market is in soft opening hours, though Walker said that really just means they'll be open "whenever we can be." During its grand opening, which will be held on Saturday, Dec. 8 starting at 11:30 a.m., customers will be able to stop by for free petite fries and any dipping sauce.
Saus at Bow Market; One Bow Market Way, Somerville; Wednesdays—Saturdays from 11:30 a.m.–10 p.m., Sundays from 11:30 a.m.–8 p.m.; sausboston.com