Restaurants
Mamaleh's is giving out free sandwiches for an entire week
Plus, a cannabis dinner, a Hanukkah bar, and more in this week's Tips Included.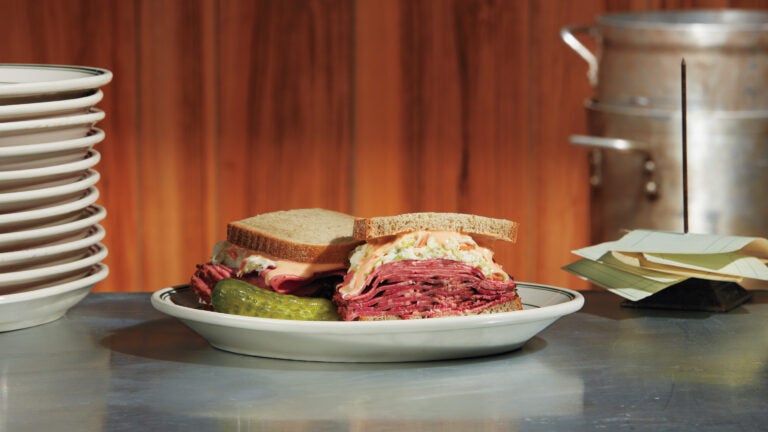 Welcome to Tips Included, a digest of the most important (and interesting) Boston restaurant and bar news right now. Each week, we bring you can't-miss food events and openings, from neighborhood food festivals and pop-up dinners to the newest places to get your brunch fix. Looking for more food news? Check out everything going on in the Boston food scene at boston.com/food.
What's happening
Maccabee Bar
While Miracle pop-up bars in the Boston area are embracing Christmas, Better Sorts Social Club is offering its own holiday transformation: The downtown cocktail lounge will turn into Maccabee Bar starting Tuesday. Sip on Hanukkah cocktails like the vodka-based Hebrew Hammer from head bartender Naomi Levy, and pair your drink with curried sweet potato latkes from chef Steve Hamilton. (Through Saturday, Dec. 8 at 5 p.m.; Better Sorts Social Club, Boston; drink prices vary)
SRV cicchetti takeover
Uni chef Tony Messina will take over the bar at SRV on Wednesday with his version of cicchetti, or Italian-inspired snacks. He's keeping his menu on the DL; all you have to know is that it will be free and, most likely, incredibly good. Make sure also to grab a glass of wine at this dreamy Italian haven in the South End. (Wednesday, Dec. 5 at 5:30 p.m.; SRV, Boston; free at the bar)
Repeal Day party
Prohibition came to a screeching halt on Dec. 5, 1933, ending 13 years of banned liquor consumption and sales. On Wednesday, Lion's Tail will celebrate both that historic occasion and the South End bar's own second birthday with a Repeal Day bash, complete with 1930s music, Prohibition-era cocktails, and an invitation to dress in your best period-inspired clothing (prizes will be awarded to the best dressed). (Wednesday, Dec. 5 at 8 p.m.; Lion's Tail, Boston; prices vary)
Eat Sacrilicious
You can have your weed and eat it, too, at Eat Sacrilicious's upcoming cannabis dinner in collaboration with chef Joe Sasto, a "Top Chef" season 15 finalist. Hosted at American Rhino Lodge, a retail, café, and event space at Faneuil Hall, the eight-course dinner will feature dishes like scallop crudo, prime rib, and squid ink cavatelli, all infused with either THC or CBD. A welcome reception will include CBD cocktails to kick off the night with a buzz. (Friday, Dec. 7 at 6:30 p.m.; American Rhino Lodge, Boston; $225)
Grinch-themed doughnut pop-up
Harvest's pastry chef Joshua Livsey is not one to shy away from a theme. His last doughnut pop-up embraced the world of Harry Potter, while his next one — this upcoming Saturday — will be all about the Grinch. For $3 each, you'll be able to purchase doughnuts like the mint-flavored Where are you, Chris-mint?, the eggnog-soaked Who Pudding, and the pistachio-centric You're a Green One, Mr. Grinch. Get there early, though — Livsey's pop-ups are known to sell out of doughnuts quickly. (Saturday, Dec. 8 at 10 a.m.; Harvest, Cambridge; $3 per doughnut)
Free sandwiches at Mamaleh's
If you're a fan of "The Marvelous Mrs. Maisel" and deli sandwiches, Mamaleh's upcoming giveaway is a pastrami dream. From this Sunday, Dec. 9 through next Saturday, Dec. 15, the Cambridge deli will give away 50 "The Maisel" sandwiches each day in celebration of the Amazon series' new season. The sandwich will feature pastrami, salami, coleslaw, and a special sauce on rye bread, and will be available for free daily until the deli runs out. (Sunday, Dec. 9 through Saturday, Dec. 15 at various times; Mamaleh's, Cambridge; free)
What's new
Mighty Squirrel Brewery
Another day, another brewery opening, as Mighty Squirrel Brewery gears up for its grand opening on Friday. The Waltham beer haven is set to debut its 24,000-square-foot space with a main bar that holds 40 tap lines (another private taproom features a 20-tap bar). Look out for beers like Cloud Candy and Mocha Stout, and be sure to go back in early 2019 when the Central Rock climbing gym will open next door.
100% Delicias Express
If the name alone doesn't entice you, perhaps this Jamaica Plain restaurant's empanadas will. With a sister restaurant on Hyde Park Avenue, 100% Delicias Express, which opened on Sunday, serves a variety of empanadas (ricotta and spinach, crab meat), rotisserie chicken, yucca patties, grilled seafood plates, and more. Stop by for breakfast, and you'll be rewarded with fruit smoothies made to order.
Cava
This D.C.-based Mediterranean restaurant recently opened another Boston area location, this time in Kendall Square. Just down the street from other newcomers Dumpling Daughter and Vester, Cava offers a fast-casual setting with grain bowls, salads, and pitas, all customizable using dips and spread, proteins, and toppings.
Saus
Consider it Saus 2.0: The second location of the Boston poutine shop has gone vegetarian, serving its classic poutine dishes, sandwiches, and burgers, but this time without the meat. A grand opening at Bow Market on Saturday will give customers the opportunity to score free small fries and a sauce. But don't skip out on Saus's Impossible Burger, spicy crispy tofu sandwich, or Nutty Cilantro bowl.