Restaurants
Want to play a game? At a North End bar, 20 cocktails stand between you and victory.
Parla's Dungeon Master game challenges guests to leave their cocktail orders up to chance.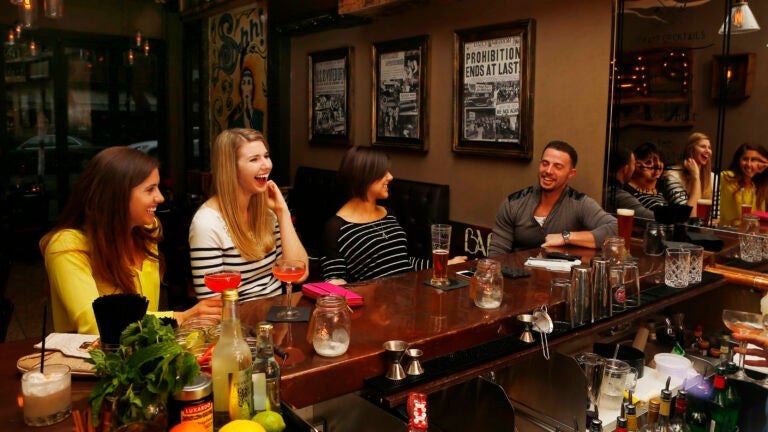 We shed our coats inside the tiny, dimly lit North End restaurant, placed Dungeon Master cards on the table in front of us, and waited for someone to come by to take our order.
"Are you rolling?" asked our server at Parla, and all but one of us nodded. He disappeared behind the bar and came back with a large tin cup and a 20-sided die. "Who's first?"
I have never played a game of Dungeons & Dragons, have never once been invited to a D&D party. The cards, which we had asked for on previous visits, were for cocktails — 20 of them, though we weren't yet sure which ones — that are part of Parla's Dungeon Master game. I may be clueless about D&D, but I know how to drink.
Parla opened in 2014 and has remained a reliable neighborhood spot for both drinks and modern Italian food. The Dungeon Master game originated in the summer of 2016, a few months after Matt Schafer joined the team as general manager. Schafer is prone to creating secret menus and side projects, and admits to "making things more complicated than they should be." Inspired by another Boston bar, Audubon, at which one drink menu item is determined by rolling dice, Schafer dreamed up a 20-deep, off-menu cocktail list, which customers could access by rolling a 20-sided die (a signature component of D&D, which prompted him to christen the game Dungeon Master). The only way customers knew about the challenge then was by reading a little blurb at the bottom of the menu.
Now it has its own dedicated page.
My friend Natasha rolled a 12, and after consulting with the bartender, our server scribbled, "Stella," on her card. Jess's die showed a 6, the "Pros. Melone," and my 16 garnered a "Nordic Fizz." Allyson rolled a 19, the die rattling loudly enough that it prompted groups and couples at tables nearby to look over and eavesdrop. She had already rolled a 19 on a prior visit, and while the rules of the game allow you to stick with a number you've landed on before, Allyson was on a completion mission. She rolled again — a 4 this time. Our server wrote down, "Gin, My Fav Flav."
And then we waited, with no idea what was about to be placed in front of us.
Back in 2016, Schafer didn't have a system for keeping track of which drinks each person had already tried: "I made a dry-erase, laminated thing where people would come in, they'd tell me what they'd had [last time], I'd fill it in, and they'd roll," he said. "That worked for like three more nights, and then that got too busy [to keep track of]. It wasn't feasible."
A few weeks after the game had launched, Schafer was designing new business cards for the restaurant. Maybe, he thought, cards for customers would work for the Dungeon Master game, too, and would ensure that each person could hold onto their list of completed drinks. He found an image of a Beholder — a one-eyed, Medusa-like D&D monster — and printed it on the front of the card, along with spaces for the customer's name and the date they started the game. The back read, "Campaign Map," with numbers one through 20 followed by blank lines and a small space at the bottom reserved for allergy notes.
As we waited for our drinks, my friends and I pored over our cards, discussing which cocktails were favorites, which ones had the best names ("Espionage: Clyde" was a winner, though no one had tried the rumored "Espionage: Bonnie"), and which numbers were missing among us. Some had been at this game for a few months, others were only a couple visits in, but we all had a common goal: to finish the damn thing, even if it took an entire year.
Dungeon Master has become so popular that Schafer has had to create a second level — Dungeon Master II, also with 20 cocktails — for those who have completed the first level. There is a loose structure to the Dungeon Master lists, Schafer explained. Lower numbers generally correspond to cocktails that are more approachable, while higher numbers accompany drinks that have more polarizing profiles or ingredients: spicy, salty, bitter, vegetal; drinks with with egg white or egg yolk. The entire staff, most of whom have contributed at least a couple of cocktails to each menu, needs to know both the regular Parla drink menu and the Dungeon Master I menu by heart, an impressive catalog of around 50 house cocktails. The menus change roughly twice a year, with some shifting that occurs between them: Cocktails on the regular list might move to the Dungeon Master II list, which later might be transferred to the Dungeon Master I list. It's strategic, Schafer said, in that "it avoids the potential pitfall of people rolling something they've had before."
Some cocktails, though, have never moved from the Dungeon Master I list, like the "Dutch Martini" (no. 19). The drink, which Schafer described as "delightfully weird," looks like a traditional martini in a coupe glass, and features gin, vermouth, Bols Genever, and Kümmel, a liqueur flavored with caraway seed, cumin, and fennel. But then there's the garnish: a plastic doll hand holding an edible octopus tentacle saved from the kitchen's seared octopus dish.
"That one is definitely polarizing," Schafer said, and not just because it's a strong, funky drink. "You get something like the 'Dutch Martini,' where some people don't like gin. Some people don't like octopus. Some people don't like a hand in their drink. So there are many levels that somebody might not get down with a 'Dutch Martini' — each drink has its own dimensions."
But part of the Dungeon Master experience is tapping into different palates, which helps Parla's customers learn what they're drawn to in the process of trying something new.
So far, more than 50 customers, called "nobility," have completed the Dungeon Master I list, and fewer than 10, called "royalty," have finished Dungeon Master II. Upon completion of either list, victors take a photo with the staff and then consult with the bartenders about which drinks they enjoyed the most during the process. They're then rewarded with a custom-tailored drink on the house, which they get to name before the recipe is written on a blank Dungeon Master card for them to keep. A third level, for those incredibly prolific Dungeon Master II champions who have powered through 40 off-menu cocktails, is open-ended and requires the drinker to pull three cards from a standard deck; each card corresponds to a category of spirit or mixer, which the bartender will then use to create a custom drink.
"One of my buddies was like, 'You should make better prizes for completion!' And I said, 'No, I don't want the focus to be the end prize,'" Schafer said. "It's more about the process."
My friends and I are still at the beginning of our Dungeon Master quest. As the drinks landed on our table, our bartender gave us a rundown of each one: the mezcal-based "Stella," the "Pros. Melone" with a prosciutto and melon garnish, the egg white-topped "Nordic Fizz," the herbaceous "Gin, My Fav Flav." We compared notes: this drink we loved, this drink we wished was milder, this one could use less, uh, prosciutto. All of us were itching to discover the cocktails behind the numbers we hadn't yet rolled.
Schafer, though, thinks the mysteries of both the game and of other hidden treasures he said are at Parla should be revealed slowly.
"I like the Easter egg-y approach to things," he said. "I get people who come in, it's their first time at Parla, and they're like, 'What's this thing that people are doing? Why didn't you tell me right off the bat?' I'd rather everyone discover it a little bit at a time."
To start playing Dungeon Master, simply ask for a card on your next visit. Parla, 230 Hanover St., Boston; Mondays–Wednesdays from 4:30 p.m.–11:15 p.m., Thursdays and Fridays from 4:30 p.m.–12:15 a.m., Saturdays from 11 a.m.–12:15 a.m., Sundays from 11 a.m.–11:15 p.m.; parlaboston.com