Restaurants
Would you like free tunes with your beer? Aeronaut's new black IPA comes with an indie rock album.
The Lights Out is releasing another album in collaboration with the Somerville brewery.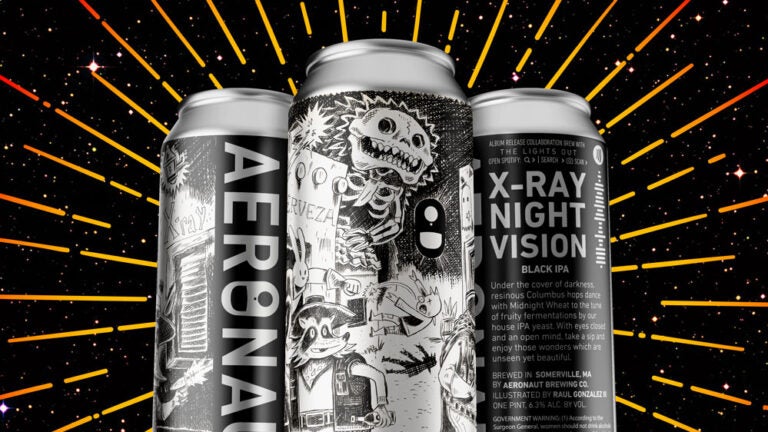 Not that you need another incentive to drink good beer, but here's one anyway: Aeronaut Brewing Co.'s new brew, a black IPA called X-Ray Night Vision, comes with a Spotify code, one that links to a brand new album from Boston-based indie rock band The Lights Out.
The Somerville brewery first collaborated with The Lights Out in 2016, when they worked together on "T.R.I.P.," the name of both the last The Lights Out's album and a corresponding Aeronaut beer. In search of a new, innovative way to release an album, The Lights Out incorporated Twitter: Customers who purchased T.R.I.P. beer received access to the band's album via a hashtag; when tweeted at the band, the hashtag automatically triggered a reply sent to the customer with a link to a landing page, where they could read about the album and stream or download songs. 
This time around, The Lights Out is using Spotify. X-Ray Night Vision has a Spotify code on the label that, when scanned, will link to the band's new album, called "Night Vision." The code allows fans to access the album before its official release date on Jan. 4.
"We learned that when you give someone a beer and ask them to type something [on Twitter], there are going to be misspellings," said Adam Ritchie, guitarist in The Lights Out. "Also, not everyone has an active Twitter account. More people have Spotify. And the world has only gotten more digital. The way most bands address it is going the throwback route with vinyl records. We keep wanting to go forward."
Both the band and the brewery found themselves wanting to collaborate on another project over the summer.
"Either by complete coincidence or cosmic force, we found ourselves in the exact same time alignment," Ritchie said. "We gave them a rough cut of the album, and they brewed the beer. They never tell us what kind of album to write, and we don't tell them what kind of beer to brew."
Aeronaut's X-Ray Night Vision, coming in at 6 percent ABV, was released on Saturday, and features Columbus hops, Midnight wheat, and Aeronaut's house IPA yeast. Because only one batch of the beer is made, X-Ray Night Vision will be available at the brewery and in stores until it runs out — during the last collaboration, Ritchie said it was available for a little over a month.
"The brewers at Aeronaut were the first people outside the band to hear this record, and it guided our approach to this beer," said Aeronaut co-founder Ben Holmes in a press release. "When we showed the band the beer label art, they created a special track order to underscore the story told on the illustration. That's a collaborative feedback loop! This project celebrates the boundless power of simple ingredients to create sensory journeys at new frontiers."
The beer label art was illustrated by Raul Gonzalez III and depicts a cast of anthropomorphized animals causing mayhem in an Old West setting. Ritchie said the scene of utter pandemonium caused them to open the track list with "Saturday Night," the band's most danceable song.
Catch The Lights Out debuting its new album live on Jan. 4 at Thunder Road in Somerville. Tickets can be purchased here. Can't wait to hear the album until then? Visit Aeronaut Brewing at 14 Tyler St. in Somerville to purchase X-Ray Night Vision, which comes with a Spotify code.