Restaurants
A downtown ski lodge is popping up with Shot-Skis and fire pits
Plus, where to find free hot cocoa, an all-you-can-eat dim sum party, and more in this week's Tips Included.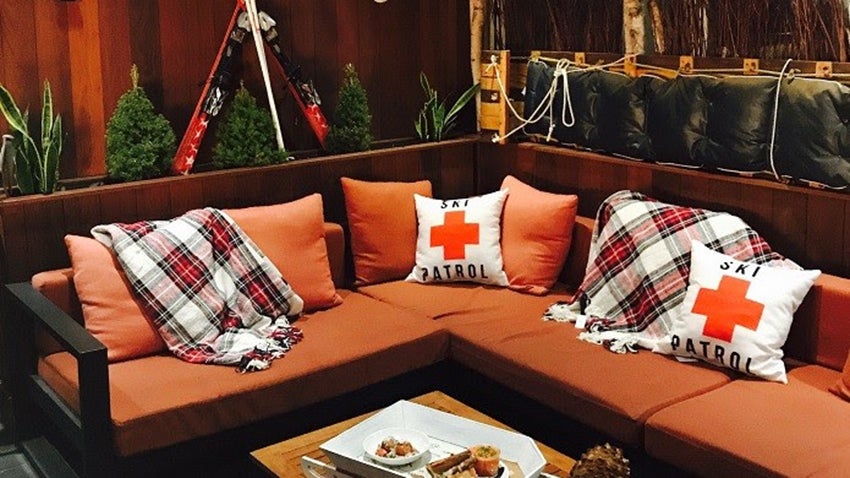 Welcome to Tips Included, a digest of the most important (and interesting) Boston restaurant and bar news right now. Each week, we bring you can't-miss food events and openings, from neighborhood food festivals and pop-up dinners to the newest places to get your brunch fix. Looking for more food news? Check out everything going on in the Boston food scene at boston.com/food.
What's happening
Down & Dirty Dim Sum Party
Night Market is turning 4 years old, and the Cambridge restaurant is celebrating with an all-you-can-eat dim sum party featuring underground specials and Night Market classics (even the revered Korean Rice Cakes will make an appearance). For $40, you'll have access to the celebratory feast — but it's first come, first served, so be sure to get there early. (Wednesday, Dec. 12 at 5 p.m.; Night Market, Cambridge; $40)
Christmas in the City at Anna's Taqueria
Anna's Charity Roller series will continue this week as Santa gets behind the Davis location's counter for a cause. Customers will be able to purchase any regular burrito, plus chips and salsa, for $10, and all of the proceeds will go toward Christmas in the City, a nonprofit group that aims to spread holiday cheer to those who have faced homelessness and poverty. (Thursday, Dec. 13 at 6 p.m.; Anna's Taqueria, Somerville; $10)
Free hot cocoa at the Fairmont Copley Plaza
It's going to be a cold one on Thursday — how about some complimentary hot chocolate to warm you up? The Fairmont Copley Plaza is celebrating National Cocoa Day with an hour-long pop-up up cocoa bar that will serve free L.A. Burdick hot chocolate. Choose from dark or milk drinking chocolate, plus nab free muffins from OAK Long Bar + Kitchen's pastry chef on your way to work. (Thursday, Dec. 13 at 7:30 a.m.; Fairmont Copley Plaza, Boston; free)
The Lodge at Publico
If you haven't been able to make it to the slopes yet this season, the returning Lodge at Publico might hold you over for the time being. Popping up at Publico Street Bistro, the après ski-inspired lodge will be decked out with artificial snow, hot seasonal drinks, flannel blankets and pillows, fire pits, and a ski lift chair for Instagram-worthy shots. Shot-Skis will also be back, meaning guests will be able to take up to four house-made shots out of a custom ski. (Friday, Dec. 14 through March 31 on Fridays at 4 p.m. and Saturdays and Sundays at 11 a.m.; Publico Street Bistro, Boston; prices vary)
Cozy at Bow
Bow Market is embracing the cold with a toasty party this weekend, offering blankets, space heaters, and food and drink specials throughout the outdoor market to keep you warm and well fed while browsing for holiday gifts. Try hot mulled wine at Rebel Rebel, spicy miso soup at the newly opened Saus, Mom's lasagna at Buenas, and more seasonal treats. (Saturday, Dec. 15 and Sunday, Dec. 16 at noon; Bow Market, Somerville; prices vary)
What's new
Tender Greens
Fast-casual chain Tender Greens is expanding with its second Boston location in Copley Place. Along with its usual M.O. of using healthy, sustainable ingredients in salads, sandwiches, and plates, this location will feature murals by local artist Mia Cross, and indoor and outdoor patio spaces. Doors officially open on Wednesday; starting at 11 a.m., the first 50 customers will be given a free lunch.
Poké Station and Kitchen
Not that Boston needs another poke place, but there's nothing wrong with more to choose from. Poké Station and Kitchen recently opened by Northeastern, serving a variety of poke bowls along with dumplings, bao, musubi, and fried chicken. For those hoping for something more substantial, Poké Station also offers the ultimate mash-up: poke burritos.