Restaurants
10 Boston restaurants where it isn't terrifying to dine alone
Take advantage of great bar seating, free bites from the kitchen, and more.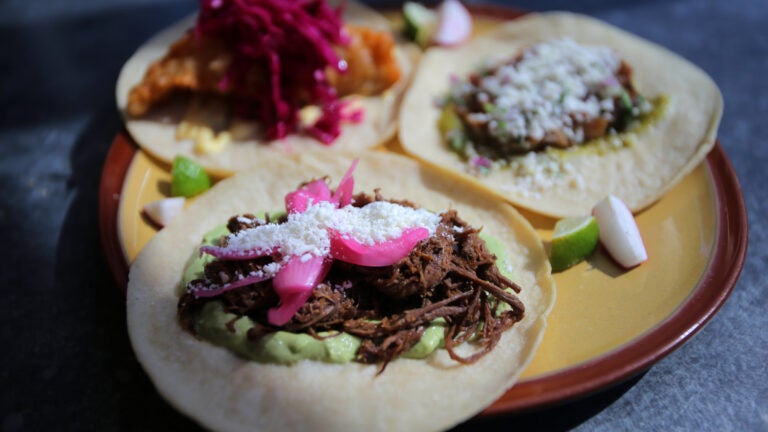 You can dine alone anywhere. There is no rule against walking into even the most upscale of restaurants and asking for a table for one, enjoying an entire meal by yourself without having to share bites or keep up conversation.
But for many, going out to eat alone can be an intimidating prospect. So in the spirit of having the best stag meal possible, here are 10 spots where you can take yourself out for a memorable dining experience. While most fast-casual restaurants, chains, and cafés are conducive to dining alone, we focused on restaurants that might seem daunting but are, in fact, perfect for it, whether it's because they offer a great bar setup or extra bites from the kitchen.
The Brewer's Fork
Craft beer fans who also appreciate a good solo meal will find that The Brewer's Fork, a Charlestown restaurant specializing in wood-fired pizzas, makes for easygoing solitary eating. At the long bar, diners face a daily beer list and a handful of TVs, but it's just as simple to talk beer with the knowledgable bartenders who are happy to recommend their favorites. In the summer, the outdoor patio area has small tables where you can dig into pies (like the knockout pork and kimchi) in the sunshine. (7 Moulton St., Boston)
Committee
Here's the beauty of Committee: Not only does it have multiple bars where you can drink and dine alone, its seating and lounge areas are expertly set up for guests to meet others if they want to. In the center of the Seaport's Mediterranean restaurant, communal high-tops encourage social interactions, while a lounge with chairs and sofas makes for a casual dining situation. Breakfast, lunch, and dinner are all served at Committee, along with meze plates that let you try a few different items. Just don't be surprised if you wind up sharing plates with your neighbor. (50 Northern Ave., Boston)
Fool's Errand
Worried about not getting a seat at this tiny Fenway spot? Nobody has a seat at Fool's Errand. The standing-room-only bar from chef Tiffani Faison is primarily a cocktail bar, but it has a great list of snacks from which solo diners can create a meal: Italian croquettes, a lobster bun, ham and jam on Ritz crackers (throwback!). Order a couple items and a drink, situate yourself next to a stranger, and offer them a croquette to get the conversation started. (1377 Boylston St., Boston)
Lone Star Taco Bar
Talk to a Texan living in Boston, and they'll likely bemoan the lack of great tacos — breakfast or otherwise — like the ones back home. At Lone Star's two locations in Allston and Cambridge, the pain is made a little more bearable with exceptional tacos, like the beef barbacoa and Dallas spicy beer taco. Both locations also have massive bars that comprise the majority of the restaurants' seating options, so dining alone never feels like you're sticking out like a sore thumb. Plus, beers for under $5? We're sold. (479 Cambridge St., Boston; 635 Cambridge St., Cambridge)
Marliave
Going out to eat by yourself in the middle of downtown Boston can be challenging, but Marliave is tucked away enough that you feel a world's away from nearby Downtown Crossing. While the upstairs area is designed more for big groups, the downstairs offers a lengthy bar where diners can make a meal out of the hefty appetizer portions. But first, start with oysters, which are discounted to a dollar from 4 p.m. to 6 p.m. and 9 p.m. to 10 p.m. daily. The French onion soup, escargot, and duck liver ravioli are all perfect for single diners, as is the hamburger (which you can order with a side of Boston baked beans, a dish that seems to be disappearing from local menus). (10 Bosworth St., Boston)
Myers + Chang
Yes, you should go to Myers + Chang on a date, or with your friends, or on a friend date. But the South End restaurant also makes it incredibly easy to dine by yourself. To start, there's the kitchen-facing bar, where guests can stay entertained by watching flames flare up from piping hot woks. Single diners often get complimentary treats from the kitchen, whether that's a couple dumplings or a set of spring rolls. But the best part is the option to order half portions, which you can do to make room for other dishes that might be too much to consume on your own. (1145 Washington St., Boston)
Picco
Settle onto a stool at Picco's bar and you'll likely encounter a handful of other solitary diners ready to dig into a personal-sized pizza. Which is smart, because the pies here are too good to share; The Alsatian, made with sautéed onions, shallots, garlic, crème fraîche, bacon, and gruyere, is a rich indulgence. You can also make a meal out of the "snacks & pieces" section of the menu, choosing from small bites like tamales, tacos, and meatballs to create your own hodgepodge of a meal. Don't skip the dessert: Picco serves fantastic ice cream worthy of taking yourself on a date. (513 Tremont St., Boston) 
Shojo
There's so much going on at Shojo, a graffiti-splashed restaurant in Chinatown, that you won't even feel the reflexive need to reach for your phone. Ideal for solo diners who feel more comfortable in a loud, boisterous environment, Shojo is like a neighborhood house party that you just happened to wander into — sit down at the bar and stay awhile. After ordering some bulgolgi beef baos or miso-buttered ramen noodles, and perhaps a drink or two, there's a good chance you'll have already made friends with your fellow bargoers. (9A Tyler St., Boston)
Tres Gatos
At the center of Tres Gatos, a tapas bar located in a charming Jamaica Plain house, a wraparound bar serves as a solo diner's dream, one where you can chat up the friendly bartenders while you dig into polenta with oxtail or patatas bravas. To the right of the bar, another row of stools sits below a ledge jutting out from the wall, a better spot if you want a more secluded dining experience. Need some reading material to keep you occupied during your meal? A small shop at the back of the restaurant sells books and records; pick up a novel to crack open once the chickpea fritters land in front of you. (470 Centre St., Boston)
Trident Booksellers and Café
Speaking of books: Head to Trident if you need some quality alone time among them. After buying a couple paperbacks at this Newbury Street bookstore, sit and read (or study, or people watch) at the adjacent café, either at the bar or, if you're lucky, in a seat by the window, where you can look out onto the street and dream about writing the Next Great American novel. Trident's signature bowls are a solid bet for a filling lunch, along with its sandwiches and burgers. Pro tip: Upgrade your fries to spicy fries. (338 Newbury St., Boston)