Restaurants
The biggest restaurant openings of December
Plus, where we're looking forward to eating in January.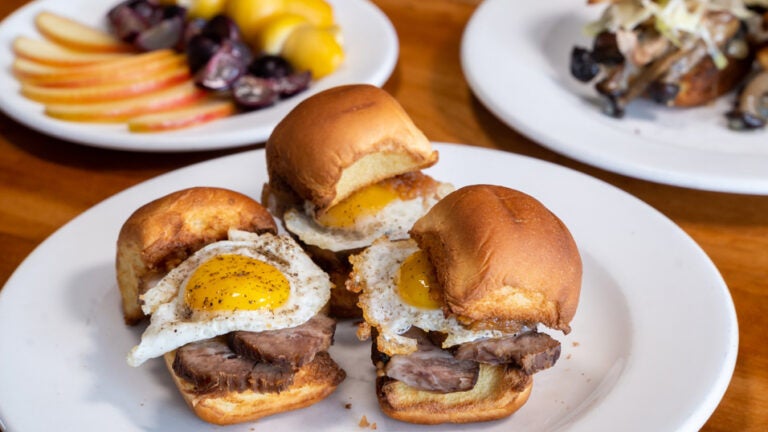 Can't keep up with all the restaurant and bar openings happening around Boston? We highlight the need-to-know newcomers that made a splash on the dining scene this month, plus a handful of restaurants that are expected to open any day now. 
Here now
At Bow Market: Saus and In Season Food Shop
Bow Market continued to expand in December with the addition of two new vendors at the Somerville destination. A vegetarian iteration of Saus brought crispy tofu sandwiches and a BBQ Impossible Burger to the market, along with meat-free versions of the poutine that it is best known for. In Season Food Shop also opened, becoming Bow Market's first vendor to function as a grocery store, deli, and bodega. On the shelves you'll find local produce, plus grain bowls, soups, and smoothies.
Forcella
Proof that there's no such thing as too many Italian restaurants, Forcella debuted in the North End on Dec. 20 with old-world Italian food that ranges from porcini rubbed pork to gnocchi with braised rabbit. Owner Nino Trotta took over the former Carmen space and transformed it into a romantic, candlelit nook, one where he hopes both locals and tourists passing by on the Freedom Trail will pop in for dinner.
Adventure Pub
This past month, Adventure Pub — located in an old Arlington bank — began offering diners a chance to enjoy playing Cards Against Humanity with a side of sliders, skewers, and fries. The gaming bar, which will get its liquor license in the new year, even has a Wizard's Tower for campaign-based games like Dungeons and Dragons.
Wahlburgers in Dorchester
The Wahlburgers empire has exploded since launching in 2011, but there hasn't been a location in Dorchester — where the Wahlberg family grew up — until now. Wahlburgers arrived at the South Bay Shopping Center on Dec. 20 with the usual lineup of burgers, sandwiches, and salads. Welcome home.
Coming soon
Longfellow Bar
Chef Michael Scelfo is almost ready show off his third project to the public. Longfellow Bar, a watering hole in the space above Alden & Harlow, will serve finger foods and cocktails. Check out the interview we did with Scelfo here, where he talked about the bar's "no utensils" approach.
Tanám
Bow Market isn't done adding to its list of vendors. Tanám, a Filipino restaurant from Ellie Tiglao, is scheduled to soft open at the beginning of 2019, with a 10-seat space that will feature a multicourse, prix-fixe meal. An outdoor bar is set to open in the spring.
Westland
This Symphony-area bar and restaurant is also scheduled to open any day now. It's been a long time coming: Owner Douglas Bacon purchased the liquor license for the space in 2012. Diners can expect to enjoy tavern classics (burgers, grilled pizzas) and an extensive American whiskey collection.
Tony & Elaine's
On the outskirts of the North End, Tony & Elaine's has its sight set on a mid-January opening, when the retro Italian American restaurant will start serving its award-winning meatballs (seriously, they won top marks in the North End's Best Meatball contest over the summer), lobster ravioli, and chicken parm.