Restaurants
'We have an old restaurant that has a menu geared to people who want to reminisce about the old days'
Durgin-Park, a Faneuil Hall stalwart, is preparing to close after almost 200 years.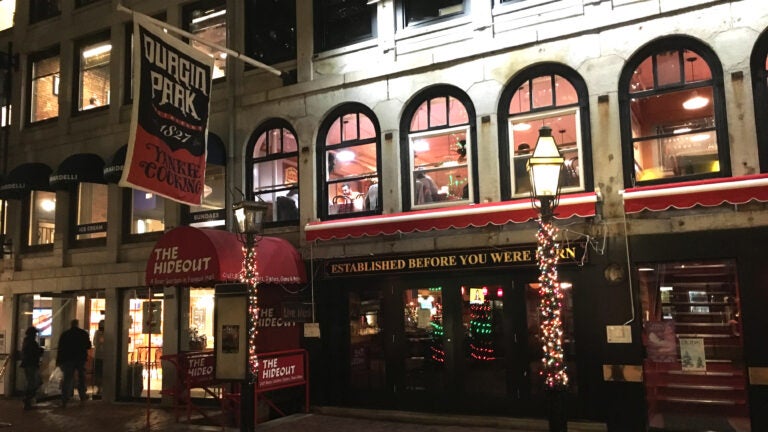 The first sign of trouble for Richelle Mazzone, a Durgin-Park bartender for over 30 years, came at the end of 2018.
"I knew something was up when we were closed on New Year's," Mazzone said. "We never close on New Year's."
On Wednesday, the staff at Durgin-Park was informed that the 192-year-old restaurant would be shuttering on Jan. 12. Mazzone said that texts and calls had been flying back and forth, but an official memo went out on Wednesday letting the staff know about the restaurant's future. The news of the closing was first reported on Thursday by NBC's Jonathan Choe.
Ark Restaurants, which purchased Durgin-Park in 2007, confirmed the closure to Boston.com.
"We'd been thinking about [closing] for the last year," said Michael Weinstein, CEO of Ark Restaurants. "First of all, our landlords are terrific. It's an expense problem that we've been facing. We [own] several venues across the country that are facing a minimum wage increase. As part of that, we're facing an increase in liability, property, and health insurance."  
Weinstein also stressed that the decline in customers has been a major issue, and said that he believes the newer, younger Seaport has been taking a lot of business from Faneuil Hall.
"I can't point to anything specifically," he said. "But we have an old restaurant that has a menu geared to people who want to reminisce about the old days. We're not edgy in the way a lot of restaurants are. If we were going to keep Durgin-Park and try to reinvigorate it, and I'm not sure if that's what our current customers want, you either have to change the whole concept to stay there or find somebody who can take over."
Joe O'Malley, general manager of Faneuil Hall Marketplace, said in a statement that "Durgin-Park is still under a lease agreement with Faneuil Hall Marketplace. No formal closing notification has been submitted."
Weinstein explained that Durgin-Park is currently under two leases: The main building is under a long-term lease, while the lease for a section of the third floor, which is used as an expansion of the dining room, is coming up at the end of the year.
"That's not even an issue though," he said. "It's another factor. The biggest factor is that the revenue just doesn't support the new expense profile."
In 1827, John Durgin, Eldridge Park, and John G. Chandler purchased the dining hall where Durgin-Park now resides. After Durgin and Park passed away, Chandler renamed the restaurant in 1877 after his former partners. It has remained a bastion for New England classics: baked beans, Yorkshire pudding, shepherd's pie, crab cakes, and steamers. The James Beard Foundation awarded Durgin-Park an America's Classics Award in 1998 — the very first year the award was introduced.
Aside from its butter-soft prime rib and red-checkered tablecloths, Durgin-Park was famously known for the surly, yet playful, attitude of the waitstaff, which extended to service at both the ground-floor bar and the second-floor restaurant.
Durgin-Park also runs The HideOut Beer Garden, a comedy club and bar, in the basement. A second location of the restaurant opened in 2013 at Logan Airport's Terminal E, though Weinstein said that Ark Restaurants merely leases out the name to this location.
"We notified them several months ago about the closure, and they really had no response," he said.
The fate of the storied restaurant isn't set in stone — Weinstein revealed that over the past year they have had a couple conversations with potential buyers, one of which is still ongoing.
"These things take a long time," he said. "We're cutting off on January 12. If the landlord wants to continue those conversations with or without us, we'll help in any way we can."