Restaurants
'Game of Thrones' is taking over Precinct Kitchen + Bar on Friday
Winter is coming to the Back Bay bar.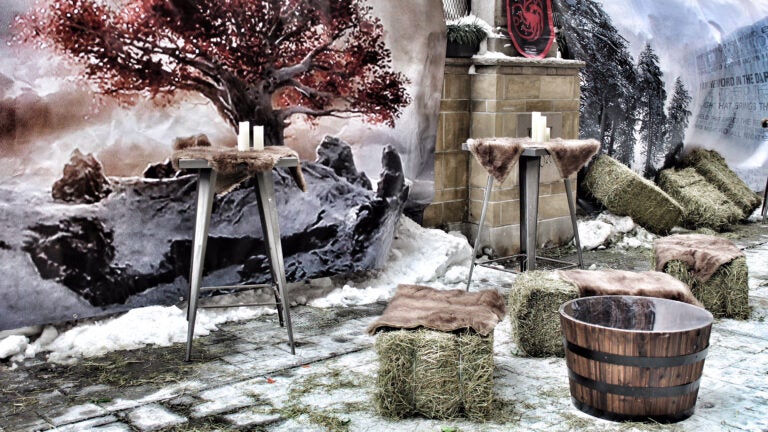 Since the penultimate season ended in August 2017, fans of HBO's "Game of Thrones" have had to wait more than a year for the final season, which airs in April.
If season eight still seems too far away, there's a quick fix: a "Game of Thrones" pop-up at Precinct Kitchen + Bar.
On Friday, the GoT-inspired pop-up will return to the restaurant's patio in the form of three houses from the land of Westeros: Stark, Lannister, and Targaryen. Guests will be able to channel their favorite characters with wearable furs provided by the restaurant while sipping on dishes and drinks that pay homage to the show: the Dracarys, a rum-based cocktail with lime juice, simple syrup, and muddled dragon fruit; or Cerseis Poison, made with gin, Cointreau, Lillet Blanc and lemon juice. Dishes are appropriately named, too. Little Fingers is garlic bread grilled cheese served with Chipotle ranch sauce, and the Three Rye Raven is a roast beef sandwich with cheddar, jalapeño jam, pickled red onions, and arugula on rye. Going with a friend? Precinct is offering "The Mountain," a 32-ounce Tomahawk ribeye for two that comes with grilled white asparagus, fondant potatoes, and red chimichurri sauce.
Inside, Precinct will be decorated like a scene from the Red Wedding, complete with character appearances but without all the violent betrayal.
If the eating, drinking, and faux fur-wearing revelry aren't enough, guests can keep the theme going with an overnight stay in the Night King room at Loews Boston Hotel. The room will be available for the duration of the pop-up — Jan. 11 to Feb. 2 — for $359 per night, with themed decor that includes crow and raven figurines, specialty mugs and glassware, and a faux fur robe.
Game of Thrones pop-up at Precinct Kitchen + Bar; 154 Berkeley St., Boston; Jan. 11–Feb. 2; 4 p.m.–11 p.m.; precinctkitchenandbar.com