Restaurants
Jen Royle's new North End restaurant is a 'social experiment before it's a dining experiment'
At Table, dishes are passed around family-style, and strangers are your new relatives.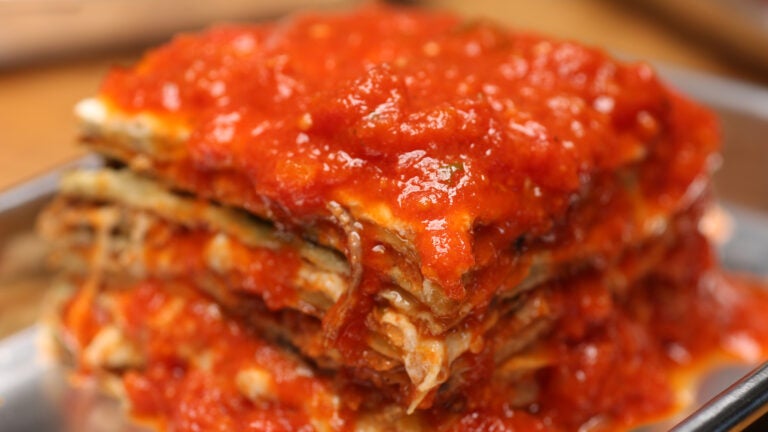 It's one thing to dine solo, surrounded by strangers but otherwise confined to your own personal bubble. But going to a restaurant with the knowledge that you'll not only share a table but also your food with strangers is a whole new ball game. And it's one that Jen Royle, a sports reporter-turned-chef, is hoping takes off.
Table by Jen Royle is scheduled to open in the North End on Jan. 22 in a cozy space that, until six months ago, was a nail salon. Open from Tuesday to Saturday, the restaurant will offer two seatings (around 40 people each) per night, with brunch eventually served on Sundays. Forget making a reservation on OpenTable or Resy, though: Diners can only secure their seat by calling the restaurant or sending an email, which Royle said makes the whole reservation process very old-school. [Update: On Jan. 11, Royle tweeted, "You can now make a reservation @TableBoston via the link below. Too many emails… had to call an audible."]
"I'm not even calling it a restaurant," she said. "I want it to be a food speakeasy."
So what awaits guests who enter this speakeasy? Two large tables, reclaimed wood, and Julia Child quotes hanging on the walls. And, of course, plenty of food for sharing.
Each dinner will consist of five courses, kicking off with a focaccia bread course that will come with roasted garlic, white bean dip, marinated olives, and arugula pesto. The menu, which will change every month, is still being tinkered with, but Royle said that in addition to the focaccia, another confirmed course will include a braised short rib served over homemade cavatelli. A short menu of sides also will be available, with options like calamari and vegetables that can be purchased a la carte. The price tag for the entire dinner will be between $68 and $75.
"You're going to pass the bowls to somebody you might not know," Royle said. "The only rule is no double-dipping. That's literally my only fear."
Royle said that beer and wine will eventually be available.
It's easy to see how Royle's upbringing — which included loud family dinners every Sunday at her Italian grandparents' house — led her to open Table, but her professional culinary path wasn't a traditional one. A sports reporter for 13 years, the Mansfield native covered the New York Yankees and Baltimore Orioles, among other teams, before moving to Boston in 2013 to host a show on WEEI. Later that year, she joined the Boston Herald as a sports reporter. Royle's trajectory changed dramatically, though, when she decided to audition for season three of the ABC cooking show "The Taste."
After making it to the final round (where she was subsequently eliminated), Royle realized that she wanted to focus exclusively on cooking. She worked at Mario Batali's Babbo in the Seaport, then launched her own private cooking company called Dare to Taste. Despite opening Table, Royle said she'll still maintain a few of her clients, as she loves cooking for private events.
When conceptualizing the restaurant, Royle curated everything down to the clipboards.
"I looked at 100 different chairs and found the perfect ones," she said. "I found the perfect benches. I had a friend in Rhode Island make my tables. I have a bar cart for my water bottles and glasses that somebody made for me. All my clipboards were all handmade. I spent a lot of time in here in my pajamas, sitting on the floor, painting, sanding down fixtures, taking light fixtures apart, and spray-painting in a different color."
But is dining with strangers — even ones who are happily sharing great food — a restaurant concept that can succeed in Boston? Royle is optimistic.
"We're about to find out," she said. "I've said this before: I think it's a social experiment before it's a dining experiment. I don't care who I'm sitting next to as long as the food is good."
Table by Jen Royle; 445 Hanover St., Boston; tableboston.com. Reservations can be made by calling 857-250-4286 or emailing [email protected].