Restaurants
Love, loss, and prime rib: Durgin-Park, and the end of a family tradition
Most everyone who grew up around Boston has a Durgin-Park story. Mine is just like countless others': My grandparents took me there when I was young, and since they've been gone, I hadn't been back.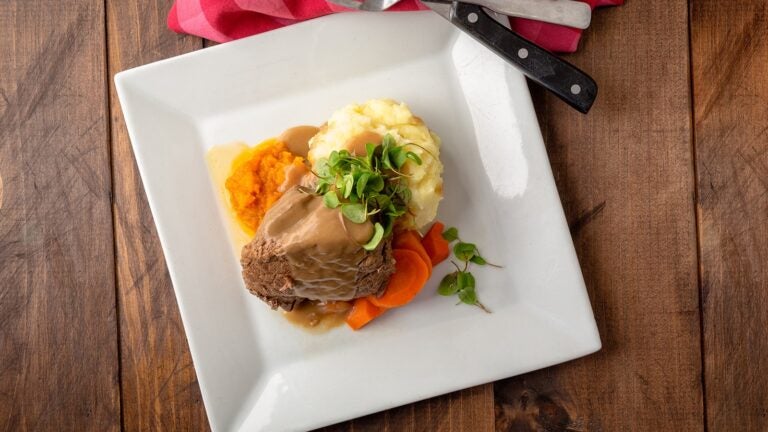 It's a familiar story: You take for granted something you've always had, until you don't have it anymore. That happened for a lot of people on Jan. 3, when news broke that nearly 200-year-old Faneuil Hall restaurant Durgin-Park would be closing in less than two weeks.
When I was young, my grandparents would visit my mother and me in Attleboro, and we'd go into town for the day. Maybe we'd do something fun like head to the aquarium, or maybe we'd do something that felt like torture then, like a winter walk on the Freedom Trail. No matter what, we'd end the day at Durgin-Park, where there would be an endless wait for a seat upstairs, and waitresses who did not suffer fools — or overtired children — would bring plate after plate of food I didn't fully understand, but that my usually reserved grandfather would eat with sheer joy. He loved it so much that we'd go back with uncles and aunts and cousins, with people who aren't here anymore, and with people who maybe won't ever make it to Boston again in their lifetimes.
My grandfather started eating at Durgin-Park when he was in college at Boston University in the 1950s, when, as my mom said, he would "scrape together two nickels" to dine on prime rib, oyster stew, and Indian pudding with the gang of friends that he held on to his entire life.
When you lose someone, you don't lose them all at once — or, at least, you don't feel the entire impact of that loss in one moment. You realize what's gone over years. In my grandfather's last months, it didn't occur to me that we'd never again sit across the table over Durgin cuts of prime rib and baskets of that simple, savory cornbread, when he'd tell stories about his college buddies and the BU theater productions where my grandparents met and fell in love. It's another of those little traditions that I complained about more than I appreciated, that I wish now I could get back.
At least with Durgin-Park I know when the end is coming. Jan. 12 will be the last day of restaurant service (though there is talk of new buyers who will keep the history alive, but nothing is confirmed yet). When we heard, my mother and I went for one last meal: chowder, of course, and my first honest-to-goodness Yankee pot roast, and Indian pudding so good that we ate all of the first round — and most of the second that a server brought over by mistake.
It was 6:30 p.m. on a Monday, and we could barely get in because the kitchen had just closed. It took a fair amount of pleading to snag a little table in the corner. We watched heaps of lobster and prime rib come out of the kitchen, all carried by servers who were warm and engaging, which was the opposite of what I was expecting — even if they did see me taking notes and give me some gentle warnings that I'd "better be writing something good."
My mom kept looking around the room, placing her memories in the context of what she was seeing: where we all sat when we came here with her uncle when I was a baby, who was there that time our New York family came to town.
"I make Indian pudding because of this place," she said.
We had just had it on Christmas.
"Sorry," I said, "but this one is better."
I was as happy to be there as she was. I wanted to take in everything and really make it count.
So many people have been doing that this week that Durgin-Park has been closing by 7 p.m., rather than 9 p.m. or later, simply because it's been running out of food. Maybe that interest will be enough to carry the 192-year-old restaurant into its third century. Maybe it has people thinking about how traditions only stay alive if we work to keep them that way. Or maybe, like me, they just want one last taste of a time we'll never have back again.
—
Julie Tremaine is a travel and food writer for Forbes.com, Yankee, Spoon University, Grok Nation, and more. She was formerly the executive editor of Providence Monthly. Follow her at Travel-Sip-Repeat.com.