Restaurants
Get to know Longfellow Bar, from the chef behind Alden & Harlow and Waypoint
It opens this weekend with international bar snacks in Harvard Square.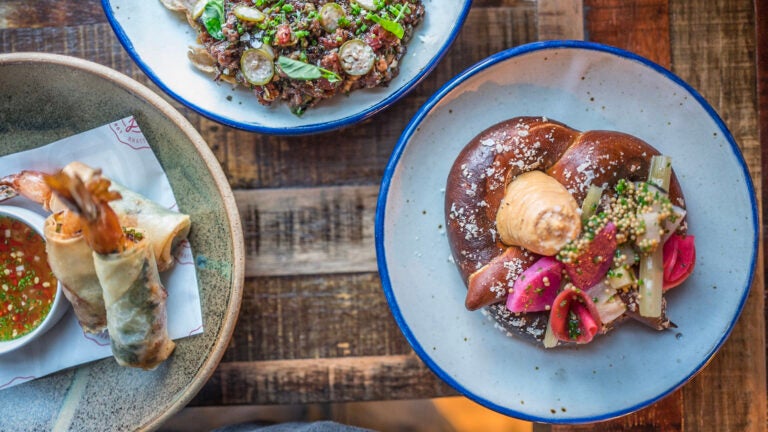 At Cambridge's Alden & Harlow and Waypoint, chef Michael Scelfo has successfully created two dining destinations: the first with thoughtful small plates, and the second with seafood-focused, Mediterranean fare. For his third act, Scelfo just wants to have a good time.
"I want this place to be fun," he said, sitting in an upstairs corner nook at Longfellow Bar, a bright, two-story space above Alden & Harlow that opens on Saturday, Jan. 19. "I can see myself workshopping for both restaurants right here, treating it like my creative space to have fun and hang out [in], play some records and have a cocktail."
One look at the menu, which Scelfo said his team has been working on for over a year, and you can tell that fun is the operative word here. Bar snacks take on both a familiar and international approach: You'll find bites like pigs in a blanket, deviled eggs, Alden's award-winning burger, and a fried chicken sandwich that you can dunk in Nashville-style hot sauce. There's also an Ethiopian-style steak tartare, short rib kifto, and fried sweetbread served with caviar and ranch dressing — like a hi-low chicken nugget, Scelfo explained.
Along with puff pastries and pita bread, pastry chef Kenny Hoshino has made smoked grain bread with house cultured butter.
"It's a great vehicle for eating this kind of food," Scelfo said. "We've noticed that we keep coming back to the bread as a vehicle to enjoy and mop and rip and dip and everything else."
There is also a dish on the menu called Emil's Plate: fried caper crumbs, lamb fat tahini, and pita. It's a tribute to Emile Durzi, the former owner of Cafe Algiers, a beloved Middle Eastern restaurant that occupied the space before closing in 2017. Durzi passed away in November 2018. The plate, Scelfo said, is an homage to him.
"I was friendly with him only for the time I was here in the space, but being in the square for a decade now, he was someone I always knew," Scelfo said. "He was always standing on the front stoop, watching the action. He was one of those old-time kind of guys."
While the space has undergone a number of renovations — the second floor opening that looked down onto the first floor was closed — many of the building's original structural elements have stayed the same.
"All the brick was here," said Scelfo, running his hands over the walls upstairs. "I didn't want to mess with it. Once we uncovered it, I was like, we have to just leave it. I didn't want to clean it. I wanted all the old square nails to stay there."
The vaulted ceiling was left untouched, and a mural of the 130-year-old building's blueprints is displayed above the stairwell leading downstairs. Each floor holds around 35 to 40 people, with both an upstairs patio and a street-level patio scheduled to open when the weather gets warmer. ("It's going to be a vibe," Scelfo said.)
Dan Pontius, who started out at Alden & Harlow five years ago, will run the bar program, and has created a menu that includes 10 original cocktails, five staff picks that are all about classics (Scelfo's favorite, a Boulevardier, will be on the opening bar menu), three low-ABV cocktails, and three no-ABV cocktails, along with a small list of craft beer and wine. The original cocktails will all be named after tracks from albums, starting with Pontius's favorite: "Nebraska," by Bruce Springsteen.
"I redid a lot of drinks that were originally for downstairs [at Alden] with a lot of tweaks," Pontius said, noting that with a smaller capacity at Longfellow, the bar team will be able to spend more time on new drink technologies and techniques here.
Take, for example, My Father's House, track number nine on "Nebraska."
"One of my favorite drinks downstairs has creme de cocoa in it," Pontius said. "So upstairs I can make a really nuanced creme de cocoa, and I don't have to worry about making truckloads. I can make it in small batches every week, and it can taste exactly how I want it."
Harvard Square has witnessed a number of closings in the past few months, including coffee shop Crema Cafe. Scelfo said that he thinks, in order to make a go of it in the square, you have to be "a few different animals under the same roof." He said he hopes that people will come in for dinner at Alden and then come up for a drink at Longfellow, stop by for snacks and a drink before going to a nearby show, or come in for a pre-dinner drink.
"No one wants to see anything close, especially in a small community, and we're losing some of our great classics," he said. "Places are going to close, but places are going to keep opening, too, and hopefully we'll have new memories to make."
Longfellow Bar; 40 Brattle St., #3, Cambridge; Mondays–Thursdays from 11:30am–1:00am, Fridays from 11:30 a.m.–2 a.m., Saturdays from 3 p.m.–2 a.m., Sundays from 3 p.m.–1 a.m.; longfellowharvard.com