Restaurants
Sunset Cafe was demolished after a 4-alarm fire broke out in Cambridge
Korean restaurant Kimchi Kitchen also sustained damage.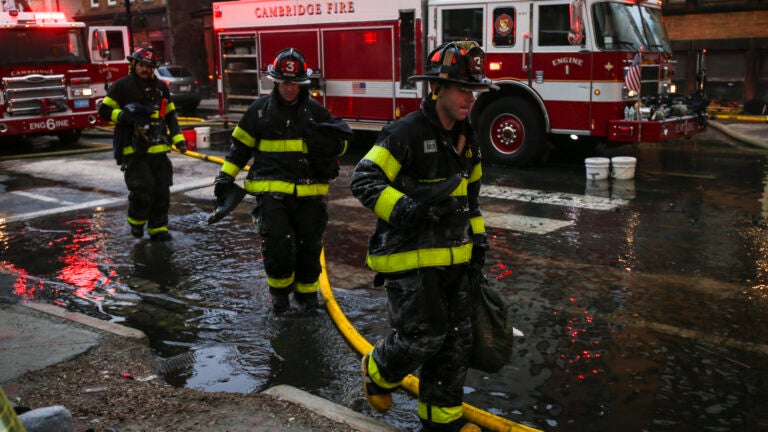 On Monday morning, a four-alarm fire broke out at 6 Hunting St. and 851 Cambridge St. According to a release from the City of Cambridge, 22 residents were displaced by the fire, and two restaurants were impacted: Kimchi Kitchen, which is located next door at 847 Cambridge St., and Sunset Cafe, which was located at 851 Cambridge St. and was destroyed after the subsequent demolition of the building.
In a Facebook post on Wednesday night, Sunset Cafe, a Portuguese restaurant and lounge, showed a sobering video of a bulldozer tearing down the building that it has operated out of since 1965.
"All our hard work, passion and love for this place gone forever!!" the post reads.
Debbie Song, co-owner of Korean restaurant Kimchi Kitchen, told Boston.com that she first heard about the fire from her floor manager, who alerted her at 8 a.m. on Monday.
"He went to check what was wrong, and he couldn't even pass the cars near there," she said. "[The fire department] said that there was no fire damage [to Kimchi Kitchen], but there is water damage."
One of Song's main concerns as of Tuesday morning was that there was still food inside the restaurant that needed to be thrown away, and which, according to a Tuesday evening Facebook post, the staff was still unable to access.
https://www.facebook.com/kimchicambridge/posts/2389947447745261?__xts__[0]=68.ARC2hVtz-t8yhVsTYZ6myhvlr5Lhn4KFBOq1Q9ecR2scuUEwzXlwSCsQpLDHb3f9BfPaJAMQya6KySG9twv2WSg8aMp6QnXt4AxSsFPugU_MfCXkrBDing4SxwF8eHBLNeif0dvJLOuYxKUOCGw7UUkuEVmuDL2fSDecuuhERtgOhVExaY3AsPYh_9aJdCozKp0CaglI-NimpZzrE8nQKTkwKKAoYqYQaRaJql66nb_0DJMvIpWhTBiaBScxMcwNiN724g2t-hjSYPOAHS-TEuhOA_jcd4YjjbqpNZG7znKXSNMqfl_DjoqShfmaB9oQAiemj6BvVJnCZx3EQTIExg&__tn__=-R
According to the release from the City of Cambridge, the cause of the fire was most likely electrical.
"Investigators determined that the fire started in a void space between the first and second floors on the Hunting Street side of the building and eventually broke out into the apartment undergoing renovations," the release states. "It also extended horizontally and broke out in the Sunset Café. It appears that the fire burned undetected in the void space for an extended period of time. There is no evidence of an intentionally set fire and there is electrical wiring in the area where the fire started."