Restaurants
An ice cream shop with soft serve in a fish-shaped cone is coming to the Seaport
Taiyaki NYC is an Instagram all-star.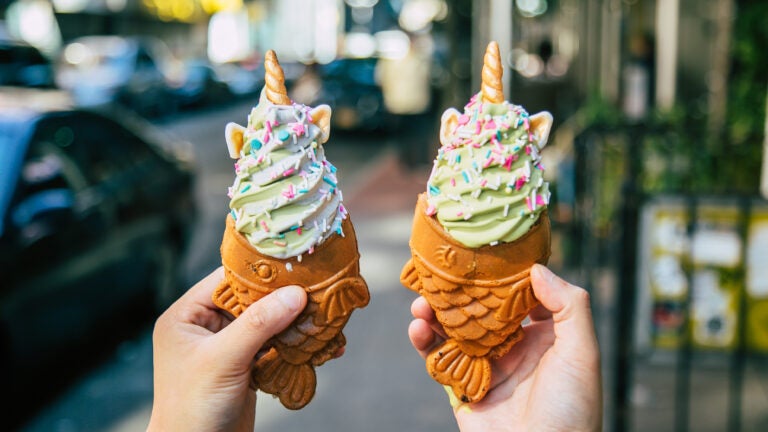 An ice cream shop known for its unicorn floats, fish waffle cones, and Instagram fame is set to open at 121 Seaport Blvd. this spring.
Taiyaki NYC launched in Manhattan in 2016, immediately garnering long lines for its photo-ready dessert: soft serve swirled high inside waffle cones modeled after taiyaki, a Japanese fish-shaped cake. The shop expanded to Miami, Brooklyn, and Toronto, and now has its sights set on the Seaport.
Co-founder Jimmy Chen confirmed that Taiyaki is aiming for an April opening.
"Boston is a tremendous city full of lively college students, rich history, and was always on our radar," Chen wrote in an email to Boston.com. "Being presented the opportunity to work with a great company like WS [Development] and being around their passion and vision for the Seaport area in Boston was also extremely attractive for us as well. We are tremendously excited for this next venture and cannot wait to share our treasure with the Boston community."
Taiyaki features soft serve flavors like matcha, black sesame, vanilla, and chocolate, and Chen said that, although they are in the early stages of planning, the menu in Boston will be similar to other Taiyaki shops.
"We will definitely have the unicorn taiyaki as well as the unicorn floats," he said, referring to a couple of the shop's most popular orders. "For the other flavors, we are still in the brainstorming stage."
There are a handful of ice cream and tea shops around Boston that already serve some version of taiyaki, including TeaMoji and Yotopia. But Taiyaki has been a social media powerhouse, implementing Instagram-friendly concepts from the beginning. Case in point: Its fish-shaped cones have become one of the most recognizable taiyaki variations in the country.
Taiyaki NYC; 121 Seaport Blvd., Boston; taiyakinyc.com; coming in spring 2019