Restaurants
How to taste and buy chocolate like a pro, according to a chocolate shop owner
Use your senses, ask questions, and don't take it too seriously.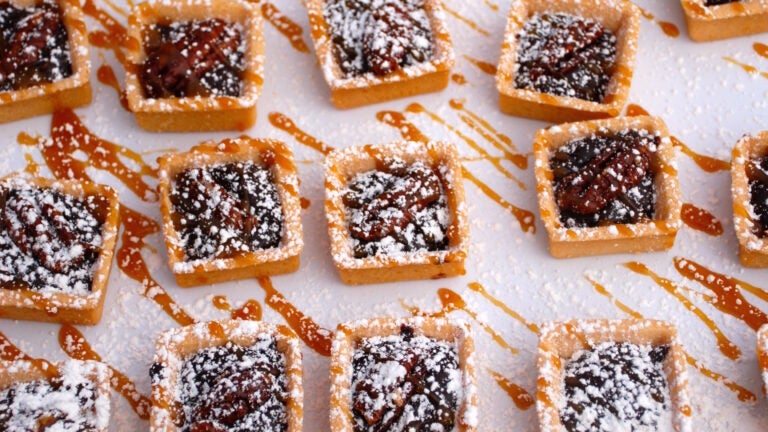 Danielle Anderson has a strong opinion about her line of work: "Chocolate makes everyone happy."
Anderson, along with her husband Kevin, own Seacoast Sweets, an artisan chocolate company that they purchased in 2018 from founder Kirstyn Pearl. Operating out of an old, restored mill in Pawtucket, R.I., Seacoast Sweets is one of the dozens of chocolate shops, coffee shops, and restaurants that are participating in the 11th annual Taste of Chocolate Festival in Harvard Square, which will run from Friday, Jan. 25 to Sunday, Jan. 27. They'll be handing out chocolate samples during Saturday's free tasting in Brattle Plaza from 1 p.m. to 2 p.m., which includes live music along with plenty of cocoa consumption.
We chatted with Anderson about the best way to taste and purchase chocolate — even if you aren't going to the Harvard Square festival.
Know your preferences
Anderson suggested that before you even start to taste, ask yourself about your own chocolate preferences.
"People should look at their own experiences as far as how often do they indulge in chocolate," she said. "It all goes back to the individual person."
Are you a diehard chocolate fan or do you gravitate towards vanilla? Are you a purist looking for grainy chocolate, or do you like a more sweet and creamy style? Do you prefer chocolate that is savory or sweet?
Anderson said it's important to use your other senses before taking a bite.
"You're going to use your eyes — 'Wow, that looks good, let me try it.' Or maybe you'll see chocolate in its raw form that doesn't look as polished. You're going to snap the chocolate. I don't think it matters where you start, but try at least three [chocolates] so that you have a range."
Cleanse your palate
Whether you're at a chocolate festival or a friend's house, Anderson said that it's important to cleanse your palate between chocolates in order to fully appreciate the flavor notes.
"If you're at an intimate dinner party and you want to have chocolates out, sometimes a slice of apple will be good [as a palate cleanser]," she said. "If you're at a festival, just grab a bottle of water to wash and cleanse your palate so you can actually enjoy the different samples."
Above all, she recommended taking your time and not rushing through bites.
"It's an indulgence," she said.
Make it social
It's not often that you'll get a chance to try dozens of chocolate variations in one afternoon. If you're going to a tasting, take advantage of the smorgasbord by asking plenty of questions.
"Some people want to meet the makers and confectioners and get their feedback, learn about the story and types of chocolate," Anderson said, noting that she always encourages people to research the chocolate's long and storied history.
Don't feel hesitant about asking where the chocolate is sourced, how it's made, what it can be paired with, or, if you have dietary restrictions, whether any alternatives might be available. Anderson also advised tasting with a friend or group to share notes.
"Even if you're not a big chocolate person, don't be intimidated," she said. "You get to meet other people and absorb everything. And don't take it too seriously — just enjoy it."
Purchase with purpose
When it comes to buying chocolate, "it's important to understand what you're using it for," Anderson said.
Bakers should look for chocolate that leans towards a bitter profile, while confectioners who are looking for chocolate to mold might want something with less cocoa butter in it, making the product more pliable.
But if you're just looking for chocolate to eat, Anderson recommended going back to the basics: personal preference.
"For me personally, I have a really big sweet tooth," she said. "My husband likes more savory, but you can find all of those things in chocolate, too. I love my dark chocolate with peanut butter. At Seacoast Sweets, we have an amazing peanut butter patty. I love that contrast of sweet and salty."