Cambridge
'It's never been about the glory': Chef Tony Maws looks back on 10 years at Craigie on Main
The Cambridge restaurant began rolling out new changes to its bar and menu in early January.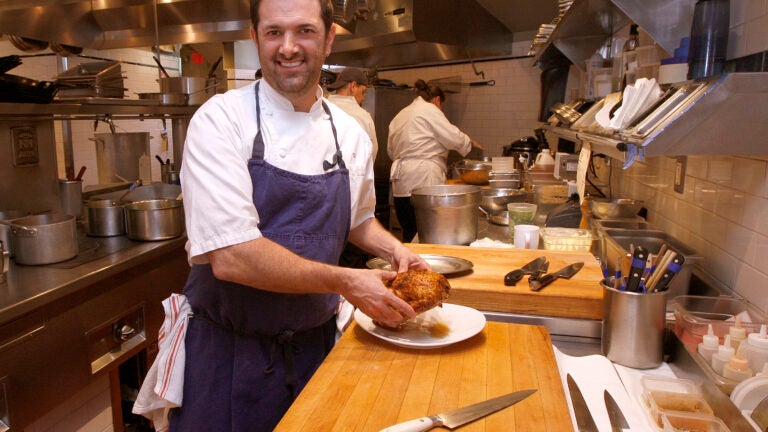 Tony Maws wasn't thinking 10 years ahead when he opened Craigie on Main in November 2008. An extension of Craigie Street Bistrot, which Maws founded in 2002, the new restaurant was supposed to provide a bigger space — one with a bar! — where the chef and his team could continue focusing on exceptional French fare, this time on a larger scale. He signed the lease for the building at 853 Main St. in Cambridge — and then the stock market crashed.
"I thought, 'Oh my god, what am I going to do,'" recalled Maws, who had a 3-month-old baby at the time.
As it turns out, he had nothing to worry about. Craigie on Main, which turned 10 years old at the end of 2018, is now a Cambridge mainstay with a cult following. It remains open during snowstorms ("I remember checking skis one year like it was a valet," Maws recalled), and has served as a springboard for other successful Boston chefs, like Carl Dooley at The Table and Lydia Reichert at Sycamore. In 2011, Maws won the James Beard Best Chef: Northeast award for his cooking at Craigie — not that it changed anything. "This isn't going to make my food taste better," he stated after receiving his award, an outlook that he said remains true today.
"It's never been about the glory," he said. "It's about making people happy and cooking delicious food. We're not following trends or making it look like other places just because, or doing something because it's a trendy thing to do."
That doesn't mean that Maws — or Craigie — is content to stay stagnant. At the beginning of January, the restaurant made some significant changes. The bar officially became COMB, serving a more casual à la carte menu with Turkish spiced stew, herbed goat cheese, monthly rotating burgers, and Buffalo Sundays; while the menu in the main dining room transitioned into an exclusively prix-fixe, four-course experience. Maws said the changes were subtle, but acknowledged that they were the result of a shift in dining expectations.
"We're trying to connect the dots on a bunch of conversations we've had," he said. "We're sort of thinking how the diner has changed, the way they want to eat. It's not just about one experience anymore; it's about being able to provide a couple of opportunities for people."
He also thinks it's a chance to highlight Craigie's bar, a section of the restaurant that has often been overshadowed by the main dining room.
"I think that the bar at Craigie, from day one, is the best bar around," he said, though he knows his opinion is, well, a little biased. "It's where I would want to eat and where I'd want to drink, but we don't always get known for that because of all the other things we want to do. We have such a great history of hospitality, and I wanted to give [the bar] its own name."
The bar's new rotating burger program — which includes iterations like the Burger Lyonnaise in January, the venison burger in February, and the pork confit burger in March — is a testament to the cultural phenom that is Maws' burger. Earlier this month, it was announced that the chef would be one of the star-powered vendors at the new Time Out Market, scheduled to open in the Fenway this spring. Maws is partnering with longtime friends and restaurateurs Michael Leviton (Lumière) and Nick Zappia (The Blue Room) to create an outpost dedicated to exceptional burgers.
"We've been talking for a few years now about doing something together," said Maws, explaining that, until now, there hasn't been the right opportunity to create a Craigie-like burger at a higher volume than what is produced at the restaurant. "There's a crazy world of fast casual now, but no one in our minds is focusing on quality to the level we want, or highlighting sustainable products."
After Time Out approached him, Maws went to Leviton and Zappia and said this was the moment.
"If we can take the sort of philosophy and the ethos we have and turn it into something that's not just your fast food, standard burger, and turn it into a quality, thick burger, and we have the sourcing and the ability to pull that off…." he said, his voice trailing off. "As we've sort of grown with that burger, technology has improved. It's a very exciting time."
That's not to say it isn't a challenging time, too. The Newton native has seen plenty of changes to the Boston area, and fears that its dining scene is going in a direction that embraces corporate-style restaurants.
"Public transportation is godawful, and the minimum wage hike doesn't come close to covering what's happening with rental markets," he said. "The whole formula is way out of whack."
Which is why, perhaps, a 10-year anniversary is nothing to scoff at in this culinary climate. Maws said that when he signed the lease, he had no idea what his life would look like a decade down the road. As it turned out, when it comes to Craigie on Main, it looks like a pretty good one.
"As you reflect over the years, you have to ask questions about how much you love doing what you do," Maws said. "And as I reflect, I'm like, Yeah, I love this restaurant."
Craigie on Main; 853 Main St., Cambridge; Tuesdays–Sundays from 5:30 p.m.–midnight; craigieonmain.com