Restaurants
The West End continues to grow, with Blake's Kitchen + Bar opening inside Hotel Indigo
Located near the Garden, the upscale pub makes for a solid pregame spot.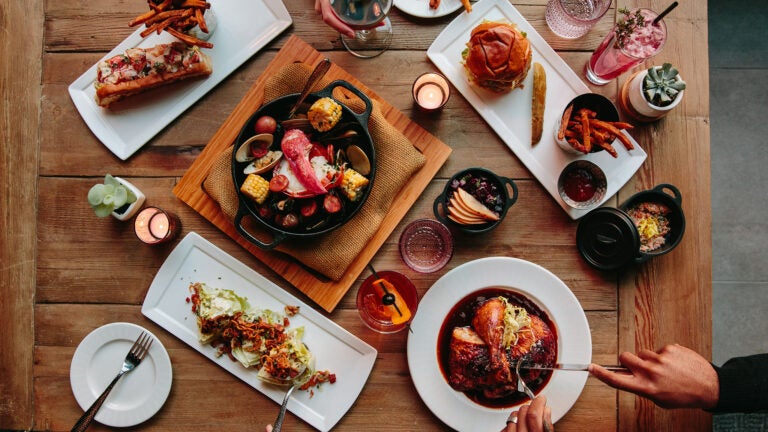 A new restaurant landed in the growing West End neighborhood last week, as Blake's Kitchen + Bar soft opened on Jan. 17 inside the Hotel Indigo.
Blake's serves breakfast and dinner (sorry, no lunch!) seven days a week, with a concise morning menu that includes a breakfast sandwich, lobster Benedict, stone cut oatmeal, and the ubiquitous avocado toast. During the evening, the menu features a raw bar along with celery salt chicken wings, sandwiches, a burger, steak tips, and a hefty New England clam bake with steamers, mussels, potatoes, lobster, and chorizo.
Cocktails, beer, and wine are all available, including Blake's Honey Blond, a saison made exclusively for the restaurant by Cambridge Brewing Co. using Styrian Aurora and Chinook hops. As for the cocktails, diners will find classics like an old-fashioned, winter Pimm's cup, and rum runner.
Blake's, which is located across the street from TD Garden, is still undergoing interior design changes while in soft open, and is aiming for a grand opening in a few weeks. Until then, diners can stop by for burgers and drinks before a Celtics game, or a plate of bacon and eggs for an early morning indulgence.
Blake's Kitchen + Bar; 276 Friend St., Boston; Mondays–Thursdays from 6:30 a.m.–10:30 a.m. and 4:30 p.m.–10 p.m., Fridays from 6:30 a.m.–10:30 a.m. and 4:30 p.m.–11 p.m., Saturdays from 7 a.m.–11 a.m. and 4:30 p.m.–11 p.m., and Sundays from 7 a.m.–11 a.m. and 4:30 p.m.–10 p.m.; blakesboston.com