Restaurants
The Boston bar community is joining forces on Wednesday to celebrate the life of a talented bartender
ArtScience's Tenzin Samdo passed away after battling advanced stage liver cancer.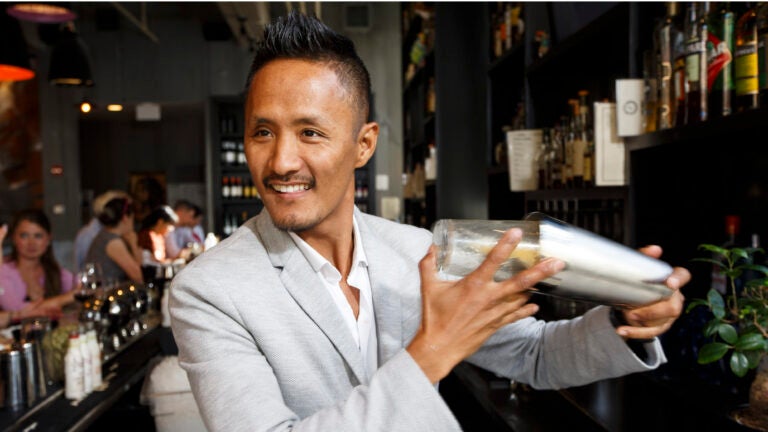 Tenzin Samdo, a beloved fixture in Boston's bar community, passed away Sunday after battling liver cancer, Samdo's PR firm confirmed.
Samdo was a partner in contemporary Cambridge spot ArtScience Culture Lab & Café, as well as its bar director. A Tibetan refugee who moved to Cambridge in 1996, Samdo made a name for himself in the bar industry with his creative cocktails and his own brand, Bostonmixdrink, and he won numerous awards throughout his career from Boston magazine, Thrillist, and Eater.
His death has caused an outpouring of condolences and support on social media.
To celebrate his life and career and to raise money for the education of Mila, Samdo's 8-year-old son, ArtScience is hosting a benefit on Wednesday, Jan. 30, from 8 p.m. to 1 a.m. The food industry will be out in full force to show its support: Chefs Benjamin Lacy (ArtScience), Jody Adams (Trade, Porto), Ryan Boya (ArtScience), Kate Holowchik (Lincoln Tavern, Capo), Tony Susi (Ripasso at Wink & Nod), Louis DiBiccari (Create Boston), and Corey Seeker (Lolita) will serve hors d'oeuvres from 8 p.m. to 11 p.m., while guest bartenders — including Jarod Sadoian (The Hawthorne), Ryan Lotz (Bar Mezzana, Shore Leave), and Ezra Star (Drink) — will honor Samdo's talent by serving his latest cocktail menu inspired by endangered ocean species.
Those who want to support Samdo's family are encouraged to purchase a ticket to the event or donate to a GoFundMe page set up on his behalf. Tickets for Wednesday's fundraiser are $20, and can be purchased online or at the door. During the event, screens around ArtScience will show photos from attendees that use the hashtag #teamtenzin, with $1 for each photo donated from sponsors to Tenzin's fund.