Restaurants
Tony & Elaine's is now open in the North End with award-winning meatballs
"I want every seat in here to be a good seat," owner Nick Frattaroli said.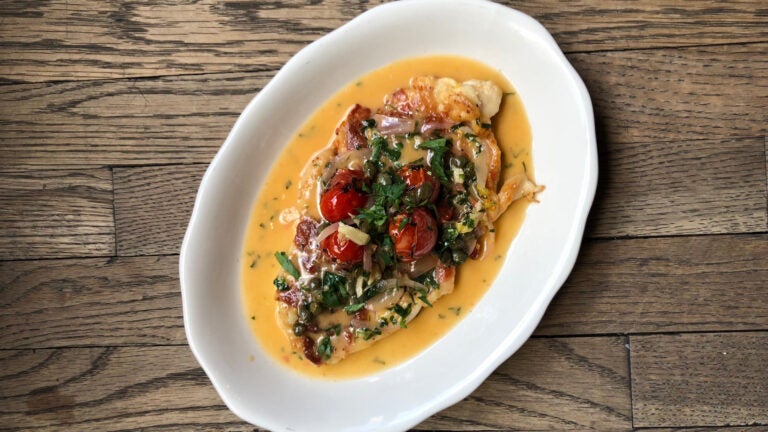 Nick Frattaroli loves chicken parm. When talking about Tony & Elaine's, his fourth restaurant, he mentioned the dish at least three times in the first 15 minutes of our conversation.
"There's nothing wrong with doing a really good chicken parm," he said, and then, later: "I've had it since I was a little kid. It can be gooey, saucy; there's bread there, you can make it a sub, you can put it on the side."
Frattaroli was waxing poetic about the old-school dish while perched in a booth at Tony's & Elaine's, which opened in the North End on Monday night. It was a fitting topic: His latest restaurant, named after his parents, is all about nostalgia, throwbacks, and the classic red sauce dishes that many who grew up in the neighborhood will remember from their childhood.
The restaurateur — whose All Day Hospitality Group also owns Ward 8, North Square Oyster, and Bodega — has firsthand experience with that kind of upbringing. His father was born in Italy and moved to Boston when he was a teenager, while his mother grew up in the Boston area.
"They worked at Lucia on Hanover Street," Frattaroli said. "It was my father's brother's place. So I was kind of always in there as a kid, and this was the type of thing that was going on there — American old school, red sauce."
To create a new restaurant with an old-school vibe, All Day Hospitality's interior designer Justin Power outfitted the former Amici space with red-checkered tablecloths, wood paneling, cozy banquettes, black and white tiles, and mismatched photos. While the first floor retains a casual, family vibe, the downstairs dining area is dark, cozy, and date-ready.
"What we hope is that when people come in here, they won't necessarily know if it's tongue-in-cheek retro, or if this place was here for 30, 40 years," Power said. "It should toe that line. Ideally, younger people will come in here and say, 'Oh, I get exactly what they're trying to do here,' whereas if our parents came in here, they would say 'Oh this is the cutest restaurant in the North End, it's been here forever.'
All Day Hospitality's executive chef Eric Buonagurio designed the menu, and while there is the aforementioned chicken parm, there is also veal saltimbocca, lobster ravioli, street arancini, and other "grandma stuff," as Buonagurio called it.
"Maybe a little more technique than what a grandma would use," he said, laughing.
Along with fresh pasta, Buonagurio serves his award-winning meatballs, which won first place at the North End Best Meatball competition last summer.
"You may think you know what a good meatball tastes like, but we want you to be like, wow, this is what a meatball can taste like," he said. "We're taking it back to basics."
Beer, wine, and cordials are also offered, and lunch takeout will be available in a few weeks, featuring Italian subs, meatball sandwiches, and chicken parm heroes.
Most of all, Frattaroli wants Tony & Elaine's to eschew the tourist stamp that brands the North End and instead be known for fresh ingredients and a come one, come all vibe.
"I want every seat in here to be a good seat," he said. "And I feel like it is."
Tony & Elaine's; 111 North Washington St., Boston; Mondays–Sundays 11 a.m.–11 p.m.; tonyandelaines.com