Restaurants
Tom Brady and Chris Hogan's jokes about being old and slow inspired a Sam Adams beer
Too Old, Too Slow, Still Here will be released at the brewery on Thursday.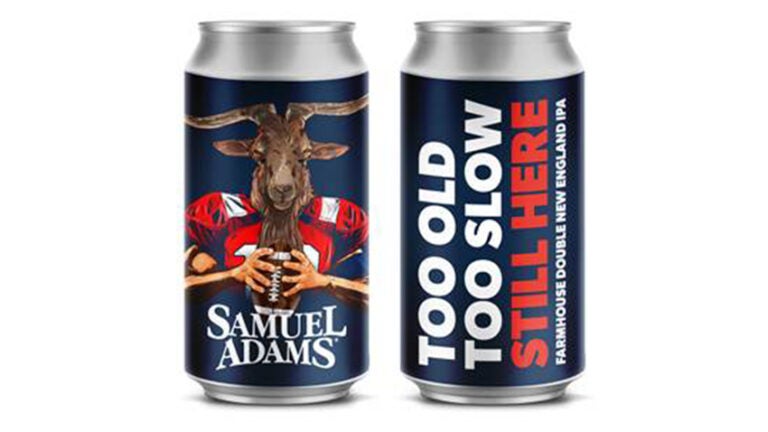 Just in time for the 2019 Super Bowl, Sam Adams has released details about its latest beer: Too Old, Too Slow, Still Here is a tongue-in-cheek nod to Tom Brady and the Patriots' 2018-2019 season.
Inspired by both playful banter between Brady and Patriots receiver Chris Hogan ("I'm too old, you're too slow," Brady joked) and Brady's rousing "We're still here" chant, Sam Adams' new farmhouse double New England IPA will debut during a release party at the Boston Brewery & Tap Room on Thursday, Jan. 31 from 4:30 p.m.–7:30 p.m. The first 199 people — in honor of Brady's 199th selection in the 2000 draft, of course — will be able to purchase one limited-edition crowler per person. For everyone who doesn't score a crowler, the beer will be available on draft in the tap room until the kegs kick.
Along with the Patriots-inspired beer, the brewery also will offer free Buffalo Wild Wings, commemorative swag, live entertainment, and samples of Too Old, Too Slow, Still Here for everyone in attendance.
"We're behind [the] New England Patriots 100% as they head to the big game," said Sam Adams founder and brewer Jim Koch in a press release. "The best way we could think to honor the team was to brew a beer for fans that can't make it to Atlanta and a New England style Double IPA with as much spirit as the players felt like the perfect beer. We haven't doubted them all season and can't wait to watch them on Sunday with a beer in hand that honors their hard work."
Too Old, Too Slow, Still Here comes in at 7.8% ABV, and contains notes of candied peach and pineapple — probably not part of a TB12 diet, but something tells us Brady might make an exception.