Restaurants
The owners of Harvard Square's Milk Bar and &pizza want to get you ridiculously excited about eating pizza and cookies
Their new, modern combo store is the first of its kind.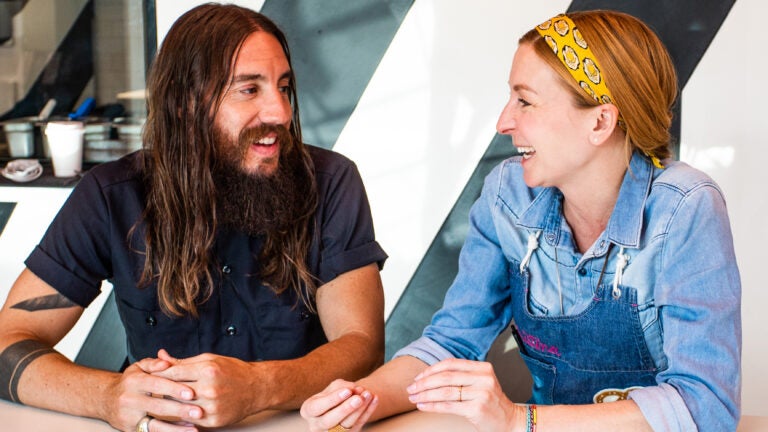 Dunkin' and Baskin-Robbins, KFC and Pizza Hut: The combo store has long been a draw for those wanting to get a quick, convenient hit of fast food pairings.
Now, James Beard Award winner Christina Tosi of Milk Bar and Michael Lastoria of &pizza want to switch all of that up.
"Those stores are the greatest [in terms of] access," Tosi said. "But I think the thing that got kind of missed in those combo stores — because it was for convenience — was the emotion that a combo store should bring. It's like, holy smokes, I can get my pizza and my fried chicken at the same time? That excites me, and they just stripped it down to convenience, which is not what we do here."
On Saturday, whimsical bakery Milk Bar and DC-based pie spot &pizza will open together in a prime location in Harvard Square, a neighborhood that has seen a number of local businesses close in recent months. Lastoria, &pizza's CEO and co-founder, doesn't want this to be seen as just another chain.
"There's a skepticism of what's considered [a] chain, which is more than a couple [of storefronts]," he said. "I think generally people get nervous. But it's like, What does [a chain] mean? Look, it's hard to say, 'Just let us show you.' But I think when people come into this space, they're going to see pretty quickly that there's an authenticity. This is built for this community. This is built specifically for Harvard Square."
Inside the vibrant shop, which is painted with hot pink ceilings and black-and-white-striped walls, the two concepts flow seamlessly into one another. In one corner, the Milk Bar counter holds plates full of cakes, cookies, and bakery swag; those picking up a milkquake or crack pie are just steps away from the &pizza assembly line, where they can craft their own pie or order a signature pizza.
Lastoria started looking for a space in Boston roughly four years ago. When he finally landed on 1-3 Brattle Street — arguably one of the area's most visible retail locations — he reached out to longtime friend Tosi (both have Ohio roots) and asked her if she wanted to get involved. Tosi, whose husband is from South Boston, knew exactly which corner of Harvard Square Lastoria was talking about.
"There are very few people that I trust their instincts, and you're one of them," Tosi told Lastoria on a recent afternoon, sitting in their colorful store.
As owners of nationally-known brands, they both knew that opening their modern-day combo store might cause some pushback from a community that has seen an influx of chains in the neighborhood. But Tosi said she embraces it.
"What I love about the community here is [that] they're like, Wait, but what are you about? What are you here for?" she said. "I think that loyalty shows a lot. And I think we're really loyal people and the only thing we want is to surround ourselves with that kind of community."
While they've been preparing to open Milk Bar and &pizza, the two friends have taken to eating their way through pizzerias across the city — Pinocchio's, Santarpio's, and three trips to Regina Pizzeria during one recent visit.
"All of my husband's family is from South Boston," Tosi said. "My family is crazy for pizza."
On Saturday, the first-ever Milk Bar and &pizza combo store will throw a party starting at 11 a.m. for those waiting in line, handing out swag and offering $1 soft serve and $5 pizzas. But Tosi said that the opening day spirit is meant to extend into every day afterward.
"The effort that we put into opening day and celebrating the spirit is also our mission any day," she said. "Because it's like, what are you waking up and getting out of bed for if it's not to find a moment to be like, I'm going to go to a combo store! And I'm ridiculously excited about eating pizza and cookies! We consider this place home, and we hope people feel the same way."
Milk Bar and &pizza; 1-3 Brattle St., Cambridge; Milk Bar: Sundays–Thursdays from 7 a.m.–midnight, Fridays and Saturdays from 7 a.m.–2 a.m.; &pizza: Sundays–Wednesdays from 11 a.m.–midnight, Thursdays–Saturdays from 11 a.m.–2 a.m.; milkbarstore.com, andpizza.com