Restaurants
The biggest restaurant openings of January
A hidden sushi bar, a whiskey haven, and an Italian-American throwback all made an entrance this month.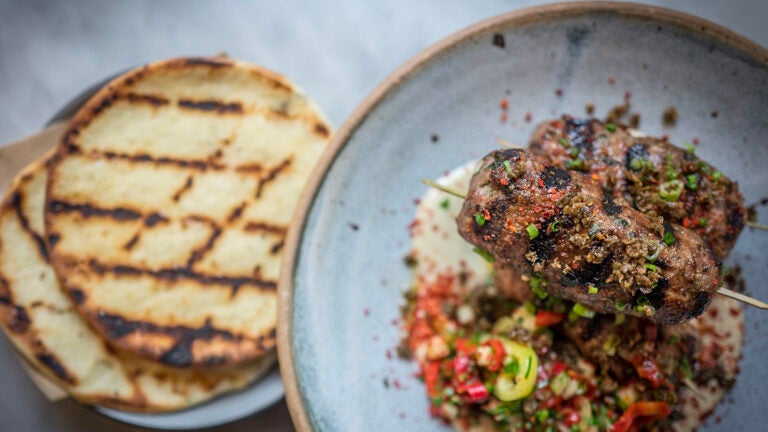 Can't keep up with all the restaurant and bar openings happening around Boston? We highlight the need-to-know newcomers that made a splash on the dining scene this past month. 
La Cucina
The ever-expanding Assembly Row received a new tenant in January with the opening of La Cucina, an Italian restaurant serving seafood, pastas, and larger entrees like rack of lamb and braised monkfish. Currently open for dinner, La Cucina will launch lunch in a few weeks, along with an adjacent market serving house-made pasta and other Italian specialty goods. In the meantime, head here for an evening meal of rigatoni bolognese and a classic negroni.
No Relation
Surprise! Tiki bar Shore Leave had been swimming along rather nicely on its own since opening in November, but the arrival of No Relation, a nine-seat bar from chef Colin Lynch, gave everyone even more reason to visit the subterranean bar. Tucked away in the back of Shore Leave, the sushi spot is an intimate affair offering two seatings each night. Dinner isn't cheap — prices range from $95 to $120 per person — but the 14-course omakase menu made with ultra-fresh ingredients is an impressive, welcome addition to the South End.
The Westland
Craving a burger and whiskey? The Westland, which opened almost seven years after owner Douglas Bacon secured its spot near Symphony Hall, has a standout version of the former and shelf upon shelf of the latter. The namesake burger here is a decadent stack featuring crispy shallots and truffled mushroom aioli, while the Westland Signature Old-Fashioned is a more bitter take on the classic cocktail. Sit at the bar, which can get a little raucous during the post-work hour, or relax in a quieter booth at the back of the restaurant.
Tradesman
Part coffee shop, part lounge, Tradesman caters to the needs of Financial District workers looking for a caffeine fix or, soon enough, a cocktail (the shop will sell alcohol in the near future). The sleek, industrial-chic vibe includes comfortable lounge chairs and high-top tables, but it's the pastries that are the main focus: airy, whimsical things that include a birthday cake croissant and a Fruity Pebbles croissant.
Longfellow Bar
Chef Michael Scelfo's long-anticipated Longfellow Bar above Alden & Harlow made its debut in January, and it was worth the wait. The two-story restaurant and bar serves elevated snack bar food, like pigs in a blanket made with melt-in-your-mouth cotechino sausage, and deviled eggs that hide a dollop of salmon roe at the bottom of the eggs. Drinks on the opening cocktail menu are named after songs from Bruce Springsteen's "Nebraska" album; My Father's House, featuring whiskey and peppermint, is a lovely slow-sipper.
Elm Street Taproom
Craft beer and shareable plates are the focus at this new Somerville spot, but it's the mug club that truly is worth noting for craft beer drinkers. Elm Street Taproom in Davis Square offers 40 draft lines and 24 bottles — drink all 64 and you'll be awarded one of the 22-ounce mugs that hang above the bar, from which you can drink any draft beer for the price of a regular pour in the future. The former Joshua Tree space has already become a busy spot for watching sports, and is poised to be packed during the Super Bowl game.
Tanám
While Tanám, a Filipino restaurant at Bow Market, held dinners last month for its community investors, the restaurant is now officially open and accepting reservations on Tock for its prix-fixe dinners. The 10-seat meals feature dishes that reflect chef Ellie Tiglao's creativity and upbringing: grilled pork belly and pancit, sticky rice and crab salad. Can't make it to one of the dinners? There's also a bar that serves late-night snacks and drinks.
Luce
When French-inspired restaurant Shepard closed on New Year's Eve, it followed in the footsteps of many surprising end-of-year shutters. But the owners quickly transformed the space into Luce, an Italian restaurant serving classic pizza, pasta, and grilled entrées. Order the carbonara pizza if you're having a difficult time deciding between carbs.
Tony & Elaine's
Another Italian-American restaurant in the North End? You could roll your eyes, but considering chef Eric Buonagurio's meatballs took first place at the North End Best Meatball Competition last summer, we'd say it's a worthy addition. Chicken parm, cacio e pepe, and lobster ravioli also make an appearance on the menu; in a few weeks, Italian subs and meatball sandwiches will be available for pickup.