Restaurants
Celebrated chocolate shop EHChocolatier opens its first retail store in Cambridge
Just in time for Valentine's Day, too.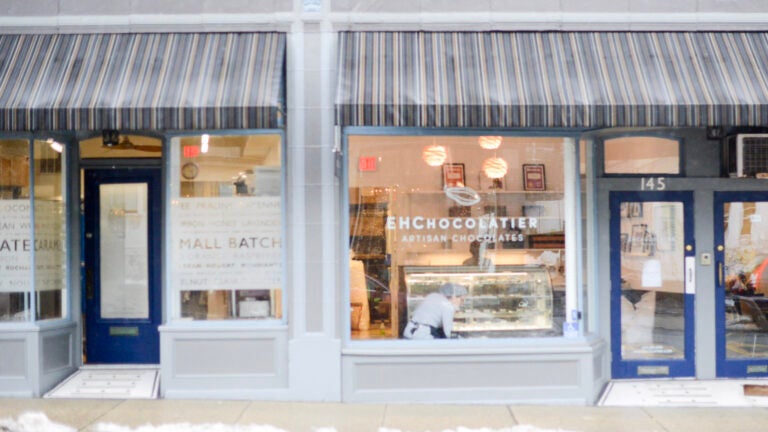 If you live in Cambridge and happen to have an unrelenting sweet tooth, 2019 has been particularly accommodating so far. The 11th annual Taste of Chocolate Festival took place in Harvard Square last weekend, and cult favorite Milk Bar will debut on Saturday with cakes, cookies, and milkshakes.
And then there's EHChocolatier, which opens its first retail shop on Friday at 11 a.m. in Cambridge's Observatory Hill neighborhood.
EHChocolatier was founded in 2010 by Elaine Hsieh and Catharine Sweeney, who met in 1999 when they were asked to bake a mutual friend's wedding cake together. Their complementary baking styles (and mutual love of sweets) prompted the launch of EHChocolatier, which they have been operating out of a kitchen space tucked away in an industrial building in Somerville. The artisan chocolate business quickly found local and national success, and has received various accolades from The New York Times, Boston magazine, Food & Wine, and more.
The chocolate shop's first retail boutique on Huron Avenue is filled with some of the company's best sellers — caramelized peanut butter cups, brown butter toffee, pecan clusters — along with more niche offerings, like passion fruit caramels. EHChocolatier also has a Valentine's Day collection available, which includes treats like strawberry chocolate roses and red hot crunch bars.
At the new store, visitors can watch chocolate being made in the open kitchen while perusing the chocolate selection. The only challenge: not eating everything you buy before arriving home.
EHChocolatier; 145 Huron Ave., Cambridge; Mondays–Fridays from 11 a.m.–6 p.m., Saturdays from 10 a.m.–5 p.m.; ehchocolatier.com