Restaurants
Chilacates just opened two more locations serving up Mexican street food
The growing empire is now serving tacos and burritos in Mission Hill and Chestnut Hill.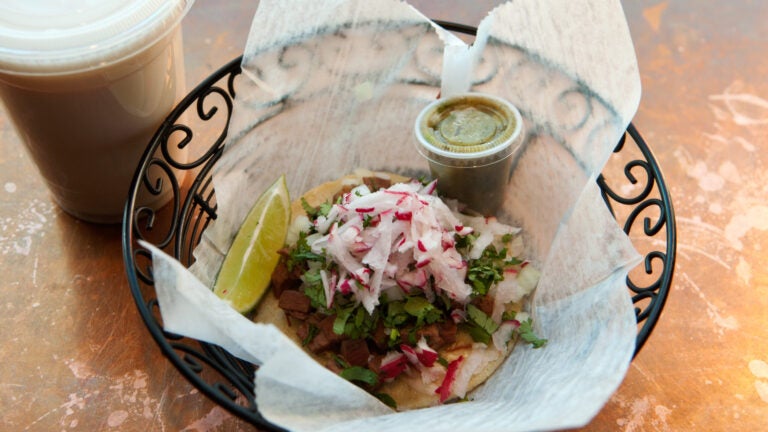 It's been a busy few days for Chilacates, a well-loved Mexican restaurant that has been thriving in Jamaica Plain since 2015. The eatery grew from its two locations in JP to four in total over the weekend — and there's more to come soon.
On Friday, Feb. 8, Chilacates opened at The Street, a shopping and dining destination in Chestnut Hill that also includes Tender Greens, Shake Shake, Del Frisco's, Legal Sea Foods, and a slew of other eateries. Each Chilacates location sports colorful, lively artwork, and The Street outpost is no different: Mexican-inspired art decorates one wall, while another includes a hand-painted mural of Frida Kahlo by Ray Liriano, a Boston-based artist.
"We have put our heart and soul into this location and are excited to finally bring our family's recipes from our Street to your street," owner Socrates Abreu said in a press release from The Street. "It has been a long time coming but very well worth the wait."
On Sunday, Feb. 10, Chilacates opened another location in Mission Hill, just down the street from the Roxbury Crossing T stop. Both outposts are serving the customizable tacos, burritos, quesadillas, and tortas that have spawned a dedicated fan base, with recipes derived from Abreu's sister-in-law and business partner Kaurys Ramirez.
The chain isn't stopping at four, either: locations in both the South End and Roslindale are on the horizon, with Abreu telling Eater Boston that the South End location may open this week. Abreu also recently took over Jamaica Plain's burger-and-shake spot Grass Fed, which he plans to reopen in the near future.
Chilacates at The Street; 33 Boylston Street, Chestnut Hill; Mondays–Sundays, 11 a.m.–10 p.m.; Chilacates Mission Hill; 1482A Tremont St., Boston; Mondays–Thursdays, 10 a.m.–10 p.m., Fridays 10 a.m.–11 p.m., Saturdays 9 a.m.–11 p.m., Sundays 9 a.m.–10 p.m.; chilacates.mx