Restaurants
Still mourning the loss of Durgin-Park? Here's how you can own part of its history.
Antique signs, dishware, and old photos are being sold through an auction.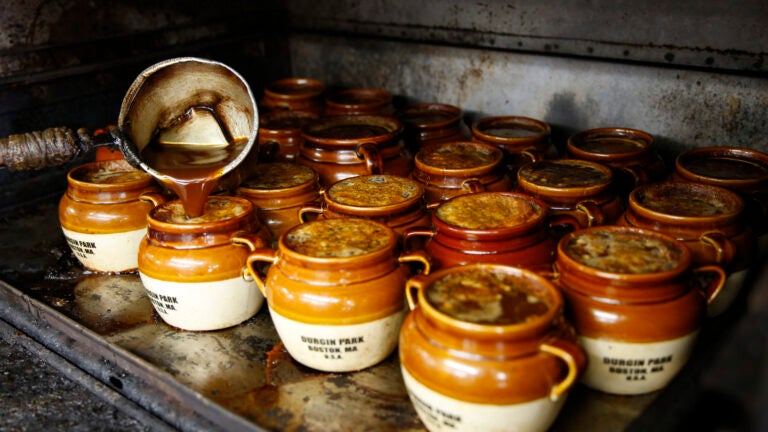 After Durgin-Park closed on Jan. 12, one of the most common refrains uttered among locals seemed to be, "I wish I had gone." The 192-year-old restaurant was a historical icon that many seemed to assume would always be around — until it wasn't.
But all is not lost. Ark Restaurants, Durgin-Park's former owners, contracted Central Mass Auctions to auction off the restaurant's 200-plus catalogue of memorabilia, and bidding is already live. Those wary of bidding sight unseen can attend a preview at the restaurant on Saturday, Feb. 16 and Sunday, Feb. 17 from 9 a.m. to 3 p.m.; all online bidding will end on Wednesday, Feb 20.
Wayne Tuiskula, an auctioneer from Central Mass Auctions, said that while the company doesn't frequently participate in restaurant auctions — it primarily deals with antiques, collectables, comic books — Durgin-Park was filled with nostalgic, historical items that piqued Tuiskula's interest.
"There's a carved, wooden folk art pig," he said, referring to one of his favorite pieces, lot #156. "It's very large, and it has a date of 1879 on it, and it's made out of several pieces of wood put together. It's a really great folk art piece."
The catalogue also features retro banners and signs ("All lobster meat received fresh daily!"), press clippings, photos, and dishware, including cases of the baked bean pots that held one of Durgin-Park's signature dishes. Another standout item is an entrance sign that displays the poem "Just a boy" on a brass plaque (lot #168). After one of the restaurant's owners, John Chandler, lost his grandson in World War II, Durgin-Park began printing the poem on the back of every menu.
Like many people, Tuiskula never actually made it to the storied spot that claimed to be "established before you were born."
"I wish I could tell you I had," he said.  "I'd heard of the restaurant often, and I planned to go visit. But I don't have a longtime connection with them."
He's received plenty of phone calls from people who have, though.
"They've been telling me stories," he said. "I had a phone call from someone who's mom was a waitress there. It's always sad to see a part of New England history close like that, but I'm thankful that [Ark Restaurants] contracted us to sell their things so that people who do have nostalgic feelings about Durgin-Park are able to have mementos."