Restaurants
Newbury Street now has a bar dedicated entirely to French wine
Clink glasses at 1855 Bar à Vins.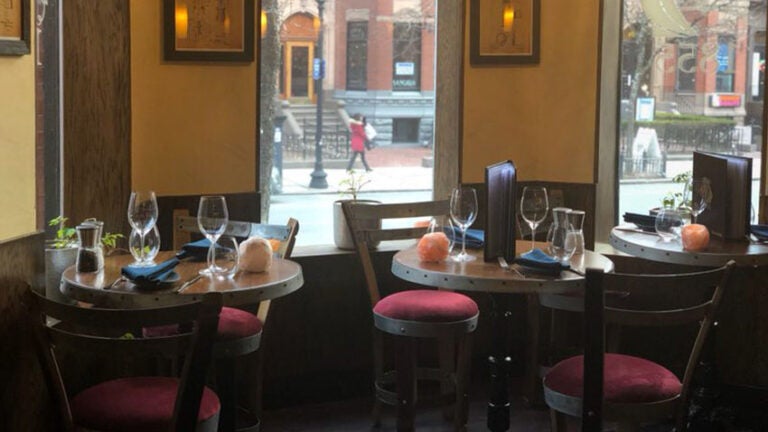 A French restaurant with two locations in Boston has added a wine bar to its roster, and it's right in the middle of Back Bay's bustling Newbury Street.
1855 Bar à Vins opened on Wednesday, Feb. 6, directly above La Voile's Newbury Street location. (Another La Voile is located in Brookline.) Referring to the year when Bordeaux was named an official classification of wine, 1855 is strictly French: More than 350 bottles of French wine are on the menu, along with 45 wines by the glass, with prices ranging from $10 to $45 per glass.
"This opportunity to take over the spot upstairs was perfect for us to extend the business," said chef Jérome Bergere. "We have two sommeliers here that are in love with wine, so we discussed it and decided to go forward."
The massive wine list includes glasses of rosé, red, white, sherry, port, and fortified wine. Bottles are classified by regions that range from Champagne and L'Alsace to the Rhône Valley. When asked about one of his current favorites, Bergere named Moulin Delille's Saint-Estephe, a cabernet sauvignon/merlot blend for $15.
Also on the menu at 1855: small plates for sharing, like beef carpaccio, sage risotto, and foie gras, along with larger plates — red snapper, rack of lamb — that are ideal for a fuller dinner experience. Apple tart, poached pears, and chocolate soufflé round out the dessert list.
While the bar is currently operating within a small time frame — 5 p.m. to 9 p.m. — Bergere said that it will be open for lunch and will add late-night hours before the spring.
1855 Bar à Vins; 259 Newbury St., Boston; Sundays–Mondays from 5 p.m.–9 a.m.; lavoilerestaurants.com/1855-2