Restaurants
Mike Kamio, founder of Anna's Taqueria, has passed away
The Boston burrito chain will be closed on Friday in his memory.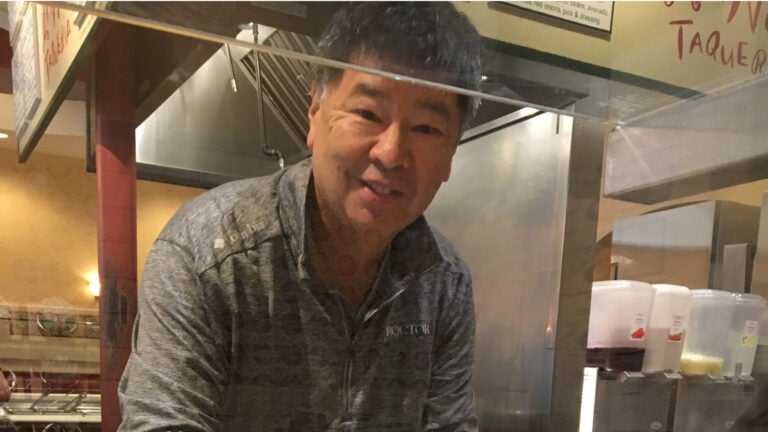 Utter the name "Anna's" in Boston, and anyone who has lived in the city will know that you're talking about Anna's Taqueria. The local Mexican chain has developed a rabid following for its stuffed-to-the-seams burritos, behemoth things that have satisfied midday cravings and cured next-day hangovers for over 20 years. (The obsession is a national one, too.)
On Friday, Feb. 8, Anna's founder Michael "Mike" Yoshiomi Kamio passed away suddenly, leaving behind his wife, Betsy, and three children: Katie, Henry, and Elliott. In honor of his memory, Anna's will be closing all eight locations on Friday, Feb. 15.
A statement from the company described Kamio's dedication to his family and friends:
"We are saddened to share the passing of Mike Kamio, owner and founder of Anna's Taqueria. Mike was defined by his deep love of family and friends, his selflessness, never-ending thoughtfulness, and willingness to be of service to all who needed his help. All locations of Anna's Taqueria will be closed on Friday, February 15th as the team comes together to honor Mike's memory; on Saturday all locations will open with regular business hours. Under the leadership of Mike's wife and longtime business partner, Betsy Kamio, the team behind Anna's looks forward to a long future as a beloved Boston institution for years to come."
According to his obituary, Kamio — a Richmond, Calif. native — attended the University of California, Berkeley, and entered the banking and finance world after graduating in 1978. After moving to Boston, he opened the first Anna's location in Brookline in 1995. The concept — a fast-casual Mexican restaurant selling tacos, quesadillas, bowls, and, most notably, gargantuan burritos — caught on quickly, and now boasts eight locations across the city: Coolidge Corner, JFK Corner, Porter Square, MIT, Davis Square, Beacon Hill, Newton Highlands, and the Prudential Center.
On the company's Facebook page, news of Kamio's passing generated a large and heartfelt response, including stories about his generosity, with one commenter remembering, "…he was a really great guy and human being, he always brought us a tray full of burritos and another tray full of nachos for us to share every time he brought over his cars," and another saying, "Thank you to Mike for feeding our family so well for so many years – our condolences to his family and to everyone at Anna's."
In a 2015 interview with Eater, Kamio shared his favorite dishes from the cherished chain he so successfully founded: "I love carnitas tacos. Not a whole lot of meat — a little meat, fresh cilantro, fresh red onion, and guacamole. And I don't want to gross you out, but lengua [tongue]. I love lengua."
This weekend, if you pay your nearest Anna's a visit in honor of Kamio, maybe order the lengua.