Restaurants
The owners of Juliet are opening a new restaurant in Beacon Hill
Peregrine will serve breakfast, lunch, and dinner inside The Whitney.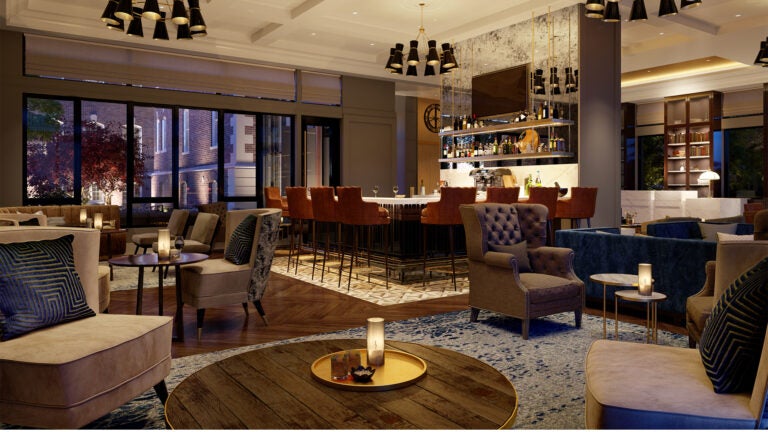 Josh Lewin and Katrina Jazayeri have built a neighborhood dining destination with Juliet, a seasonally-driven, experimental restaurant in Somerville that landed on Bon Appetit's 2016 Best New Restaurants list. In the spring, the two will launch a new restaurant: Peregrine at The Whitney, a forthcoming 66-room luxury hotel in Beacon Hill.
Lewin and Jazayeri's second project will focus on specific regions of the Mediterranean, including Sicily, Sardinia, and Corsica.
"Alghero [a city in Sardinia] has an incredible influence of Catalan culture," said Lewin, describing the partners' travels throughout the region. "Catalan is really foundational to Juliet, but we've never featured Catalan-specific flavors."
At Peregrine, he said, they'll be able to marry their cooking with a new love for the Mediterranean islands.
Opening a restaurant in Beacon Hill will serve as a bit of a homecoming for Lewin, who got his professional start as the executive chef at Beacon Hill Hotel & Bistro.
"It was always something that felt special, trying to make something of a career in cooking in such an iconic neighborhood," he said.
The partnership with The Whitney came about organically. Before they were introduced to the hotel group and offered the space, Lewin and Jazayeri were toying with the idea of, at some point, opening an extension of Juliet — in part, Lewin said, because they wanted to provide their staff with the opportunity to grow.
"We have some incredible people on our team," Lewin said. "Managers, chefs, they've all been with us for at least two years. We knew some sort of extension would be necessary for professional development. Juliet is an incredibly personal restaurant for the two of us, but over time, that personal aspect has started to become more and more about the stories of our staff as well."
Breakfast, lunch, and dinner all will be offered at Peregrine, and, like Juliet, dishes will focus on hyper-seasonality. The beverage program will concentrate on craft cocktails, as well as smaller production wine. Lewin and Jazayeri, who run Juliet under Bread + Salt Hospitality, plan to make the hotel restaurant a gratuity-free dining experience, as it is at Juliet.
"Gratuity free was an attempt of ours to eliminate two things: the cyclical nature of service staff pay, and the disparity between career kitchen and service work," Lewin said. "I think that now, with all the attention on wage [increases], you're going to see a lot of changes."
Peregrine, which will be integrated into The Whitney's lobby area, pays homage to the Peregrine falcon, a creature of the sky that flies over both Massachusetts and the Mediterranean coast.
Peregrine at The Whitney; 170 Charles St., Boston; whitneyhotelboston.com, opening in spring 2019