Restaurants
One of the co-owners of Maine's famous Palace Diner is opening a new restaurant
Flood's will offer a delicious burger and old-world flair in Portland's West End neighborhood.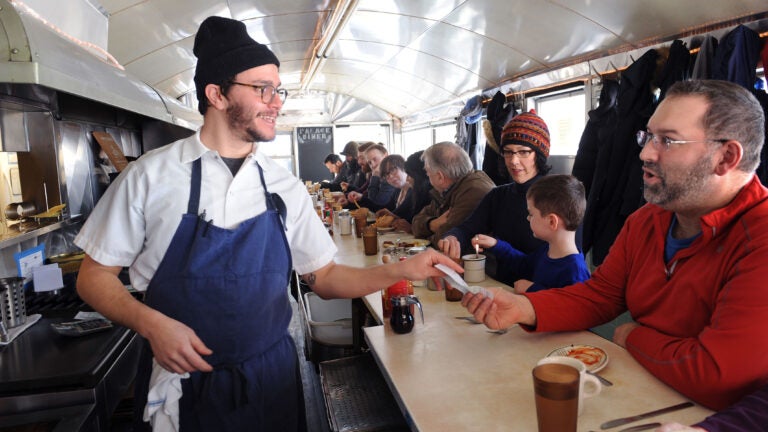 Palace Diner in Biddeford is considered to be Maine's oldest diner, a casual breakfast and lunch spot that has drawn considerable praise for its high-quality food executed inside a 1927 Pollard dining car. Owners Chad Conley and Greg Mitchell purchased the restaurant in 2013, and plenty of ink has been spilled since about its pancake stacks and legendary tuna melt.
Now, Mitchell is working on a second project, a 50-seat restaurant called Flood's that will open in Portland's West End hotel The Francis.
"[Flood's] is a reference to a writer I've always loved named Joseph Mitchell," Mitchell said (and no, there's no relation to the author). "He did a lot of fun and poignant writing on fishermen and butchers and fishmongers around New York City. He had a character [in his book] called 'Old Mr. Flood.' [The character] wasn't a real person; he was an amalgamation of characters at the South Street Seaport fish market. It kind of spoke to me, this collection of ideas and characters."
Flood's will focus on dinner when it first opens, before serving breakfast and lunch at a later date. While Mitchell, who is still in the process of hiring a chef and bar manager, hasn't nailed down specific dishes quite yet (other than "a delicious burger"), he said that the menu will have a strong focus on classic, hearty meat and fish dishes, including a Sunday roast that he hopes will "remind people of eating at their grandma's house at 3 or 4 in the afternoon." A drink list of cocktails, beer, and wine will offer hotel guests and locals a solid place to wind down in the evening.
Conley has already branched out from Palace Diner with his own project, Jewish deli Rose Foods. For Mitchell, the timing had to be perfect. When The Francis's previous restaurant — Bolster, Snow & Co. — closed in November, Mitchell reached out to Tony DeLois, one of the hotel's owners and a Palace Diner fan, to see if the space was available.
"I had been thinking about doing something else for a bit," Mitchell said. "I'm kind of a little bit of a perfectionist and control freak, so it wasn't until recently that I felt comfortable taking on a new project."
The restaurant will be comprised of three rooms, one of which sports a tin ceiling and fireplace that Mitchell said will be used for large groups and parties. Decor influences from London and Paris will give Flood's an old-world, European vibe.
After running a 15-seat restaurant in an old dining car for almost five years, Mitchell is excited to tackle something new with Flood's.
"It's a beautiful building in a great location," he said. "Anyone staying at a hotel is going to be looking for a great spot to eat. And it's good to know that at the place you found to land, the owners have a serious interest in hospitality."
Flood's; 747 Congress St., Portland, Maine; opening spring 2019