Restaurants
Udon is having a moment. Here's where to find some of the best bowls in Boston right now.
In the first installment of The Eat Index, we're featuring exceptional udon around Boston.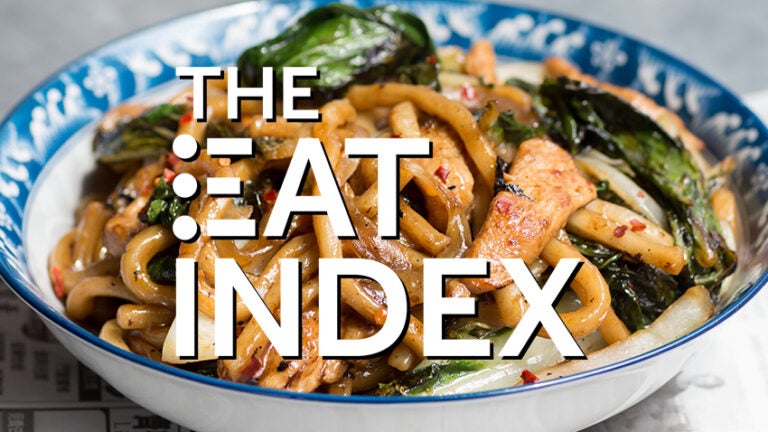 Ramen may have dominated Boston's noodle scene in recent years, but 2018 could have been called the Year of Udon, and the dish shows no signs of slowing in 2019. Often relegated to just an afterthought on Boston menus, the thick, snappy noodles made from wheat flour have become a more central ingredient as udon-centric restaurants have opened across the city. (One was even dubbed one of the best new restaurants in the country.)
With yet another udon restaurant, Futago Udon, set to open soon in the Fenway with hot and cold noodles, we found five places serving the thick strands to practice your best slurp. Take a break from ramen, put pad Thai on hold, and dive into these standout udon bowls in Boston.
Co-owners Jessica Chiep and Ronald Liu opened Love Art Udon in order to take the noodle from a mere supporting actor to the starring role. "Ramen has been wildly popular, but at the same time, udon is the younger brother gaining popularity, and we thought it'd be cool to show it off," Liu said. Inside the Packard's Corner restaurant, diners make their way down an assembly line to customize a bowl of udon with four broth options, including a local stalwart: New England clam chowder. Perhaps a more traditional choice, though, would be the Japanese curry, a thick vegan broth that can be upgraded with the addition of extra beef and onions. House-made udon noodles come in two flavors: original and a seasonal option. At the end of the line, a tempura station offers an assortment of fried vegetables, meat, and seafood — load up on a few and let them soak up the broth. (1024 Commonwealth Ave., Unit A, Boston)
Wok-charred udon noodles at Myers + Chang
Myers + Chang has operated the popular South End spot serving Asian-inspired dishes since 2007, and its sole udon dish makes for a solid reason to venture out to the lively neighborhood. The wok-charred udon noodles arrive in a bowl large enough to feed two people (or one very hungry diner), and are covered in a fiery black bean oyster sauce that won't exactly numb your mouth, but will leave it with a slight tingle. Long stalks of bok choy, large chunks of sautéed onion, and cuts of chicken are mixed in alongside chewy strands of udon, which have absorbed the sauce so that every noodle is a garlicky flavor bomb. Pair it with a light lager to quell the heat. (1145 Washington St., Boston)
Allston's Oppa Sushi, a subterranean sushi spot on Harvard Avenue, proves that a bowl of udon soup doesn't have to be heavy. The seafood udon uses a light, fish-based broth; swimming in that broth is an assortment of seafood, including mostly mussels but also squid and shrimp, along with broccoli, carrots, and onions. Although Oppa doesn't make its own udon — sushi is the primary focus here — the noodles have an elastic quality and give a nice snap when bitten into, and the seafood is fresh and flavorful. (185 Harvard Ave., Boston)
Kake udon at Ruckus
At Ruckus, an appropriately-named noodle shop in Chinatown, you'll find arguably the best (and maybe the loudest) '90s hip-hop playlist in the city. Good thing you'll be spending more time slurping than talking, as you'll also find the kake udon, the only udon dish on the menu. Place an order for it at the host stand, then wait for the steaming, umami-rich bowl to land in front of you. This is not an udon dish for the mildly hungry: The tsuyu broth is rich, thick, and earthy, and there is a more-than-generous amount of braised short rib mixed in among the noodles, along with scallions and shaved daikon. While the giant bowl could use more noodles and less broth, the house-made udon stands up in quality to Ruckus's equally great ramen noodles. (5 Tyler St., Boston)
The first restaurant in the Boston area to fully embrace udon as its star dish, Yume Ga Arakura exists on another noodle level. A line forms outside the Cambridge shop before it opens at 11 a.m. and snakes through the Lesley University food court as calls of "Good job!" (for an almost-finished bowl) and "Perfect!" (for a completely finished bowl) ring out from the restaurant throughout the afternoon. The  choices here are limited: Do you want hot udon, cold udon, or, if you're visiting Tuesday through Thursday from 5 p.m. to 9 p.m., spicy udon? For first-timers, the niku udon, which is cold, highlights head cook Tomohiro Shinoa's expertly made noodles — thick, slippery things that are swirled into a pile and placed in a shallow pool of soy-based broth. A scoop of shredded daikon, green onions, and tender beef are arranged around the udon, as is a sliver of lemon, to be squeezed over it all before eating. (1815 Massachusetts Ave., Cambridge)